Copenhagen's Louisana Gallery showcases Nairobi-based Cave_bureau, which explores decolonialisation and decarbonisation to rethink architecture in Africa
Installation view of a woven sculpture depicting the Shimoni Cave at The Architect's Studio: Cave_bureau at the Louisiana Muesum of Modern Art.

Credit: Louisiana Museum of Modern Art, Kim Hansen
'We are still grappling with what it means to call yourself an architect,' says Kabage Karanja, co-founder with Stella Mutegi of Cave_bureau, a Nairobi-based practice whose thought-provoking research is the subject of a new exhibition at the Louisiana gallery in Denmark.
'We're not always coming up with a design for a building. There's a lot more that architects can do to address societal issues that affect everyone,' adds Mutegi.
The practice's new exhibition exemplifies this approach. Don't expect images of shiny new buildings. Instead, this installation is a journey through the practice's extensive and ongoing Anthropocene Museum research project, which explores issues of decarbonisation and decolonialisation through an African lens. By learning about the past, the practice aims to 'look for sensitive ways to read, define and rethink architecture on the African continent'.
The Anthropocene Museum challenges the conventional notion of a built museum and instead is conceived as a roaming institution with a programme of exhibitions, publications, films and workshops, including work at both the 2021 and 2023 Venice Biennales. Karanja and Mutegi undertake the research alongside more conventional architectural projects, and it has become an increasingly significant part of the practice's work since it formed in 2014. Both principles had previously studied abroad, Karanja in the UK and Mutegi in Australia.
At the heart of both the practice's research and the exhibition is the notion of the cave, which inspired the practice's name. For Cave_bureau, the volcanic caves of Kenya are a touchpoint for many of its research projects as places of natural architecture and of shelter, both in antiquity and in more recent times as refuges from slavery and colonial oppression. They are also in an area of geothermal energy extraction, which provides green energy but can negatively affect local communities and landscapes, illustrating the complex nature of sustainability.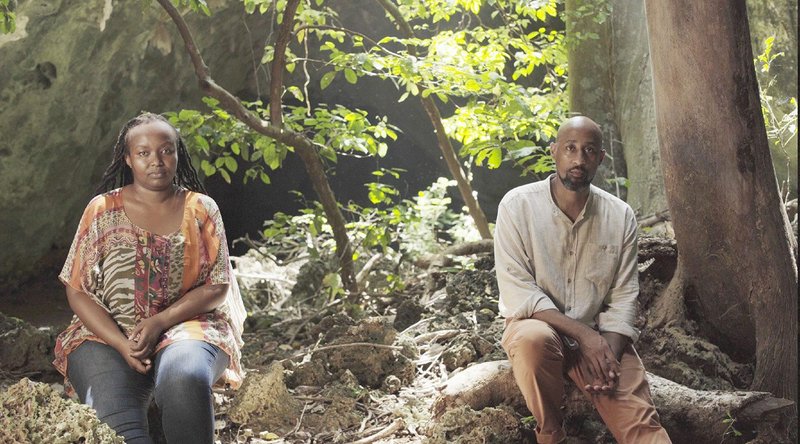 Cave_bureau co-founders Stella and Kabage Karanja at Shimoni Cave.

Credit: Densu Moseti
These caves also inform Cave_bureau's reading of contemporary rural and urban ways of living, which the practice classifies as the rural/pre-colonial setting of 'Origin', the informally organised 'Void' part of the post-colonial city, and 'Made', the former colonial area of the city now occupied by wealthier residents.
Although noting that the pandemic in effect forced people back into their home 'caves', Cave_bureau doesn't have in mind a literal return to actual caves. Instead, it looks to the past to repair the damage of the anthropocene at a time of climate change as the environment fights back against the impact of mankind.
'Returning to indigenous knowledge is a core part of our practice,' says Karanja, adding that this knowledge tends to be net zero carbon by nature. 'If we don't make amends to the way we're living, we'll be forced back to the stone-age,'
The exhibition begins with a 3D scan of a groin arch that slaves passed through at a notorious slave fort in Ghana. Here it is enlarged and transformed into an installation of limestone stalactites from a Danish quarry. Its presence at the exhibition is intended to prompt reflection on Denmark's history of slavery. Karanja hopes to address this dark past through dialogue rather than pushing it back under the rug, as part of the healing process.
Inside, the exhibition considers cave geology and its place in the history of architecture. The exhibition's showstopper installation is a 1:1 recreation of one of the Shimoni caves, created in a lightweight handwoven mesh (a collaboration with the Centre for Information Technology and Architecture at the Royal Danish Academy). This is flipped upside down to demonstrate how its geometry can be used to collect rainwater. In this way, says the architect, it is transformed from a structure of trauma to one of healing. Other caves are represented in different materials including bronze, limestone, timber and plastic, some creating using 3D scans to create exact replicas.
The Anthropocene Museum includes several projects derived from the practice's research into caves. These include Cow Corridor, a restoration of long-lost routes through Nairobi to ancestral Maasi grazing grounds. Karanja feels that architects have been far behind in the 'huge colonial unpacking' that needs to happen, whether with regard to the legacy of boundaries drawn up in the Scramble for Africa or the impact of extractive industries. Another exhibit references the anti-colonial freedom fighters who found refuge in the Mbai cave.
Cave_bureau's proposal to restore Grenfell Tower as a vertical park to commemorate the lives that were lost is shown alongside a work by Khadija Saye – an artist who died in the fire – from the Louisiana's own collection.
Cave_bureau is comfortable with its dual build/research activities; current projects include a community water infrastructure project at Suswa that harvests steam. Conceived as part of the Anthropocene Museum research, it has received part funding for proof of concept delivery.
'We are still architects at heart. We build and look at ways of building sustainably. The two [research and building] aren't mutually exclusive,' says Karanja.
The exhibition is the final instalment of the Louisiana's six-show The Architect's Studio series, which aimed to present work by architects from across the world 'whose sustainable and socially aware practices take on the challenges of globalisation'.
Curator Mette Marie Kallehauge says the gallery was drawn to Cave_bureau's activism and 'reverse futurism' at a time when architects need to rethink their roles.
'It's very important to decolonise before you can decarbonise, and architecture plays a role in this,' she says.
Cave_bureau's Karanja says the two museums – Louisiana and Anthropocene – engaged on a level playing field despite their very different natures:
'We looked into their heart and soul, and they did the same.'
The practice's hope is that visitors to the exhibition will be challenged by the subject matter rather than just approaching it experientially.
'We hope it'll provoke something that makes them go home and reflect, and hopefully make a change,' says Mutegi.
---
The Architect's Studio: Cave_bureau, until 26 November 2023, Louisiana, Denmark