Tyler Thurston of the Bartlett tackles Brexit and the climate emergency with engrossing, colour-saturated intensity - and Greta Thunberg - to be 3rd winner, student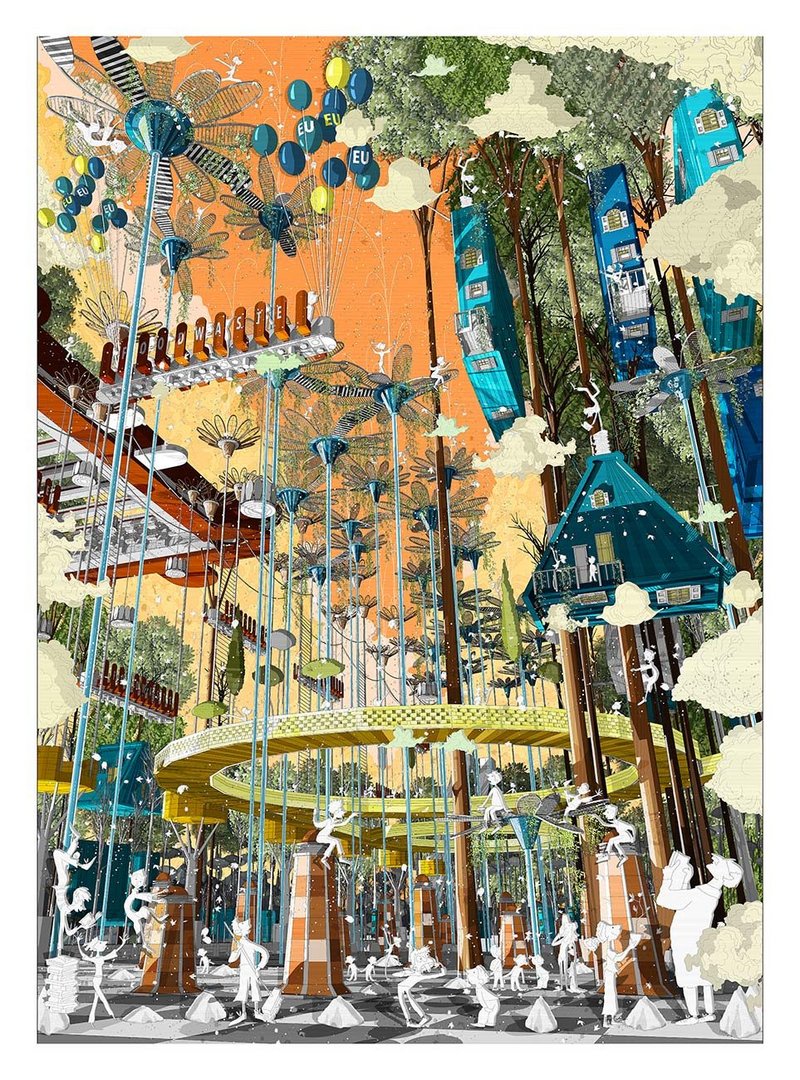 The Ingredient High-line. 1016 x 1372mm, hand drawn and coloured using graphics tablet.

Credit: Tyler Thurston
Student: 3rd Winner
Tyler Thurston
Bartlett School of Architecture, UCL
Themes of Brexit and survival are at play in post Part II Tyler Thurston's project, EU-topia. As a proposed sequel to Roald Dahl's 'George's Marvellous Medicine', it looks to create a new EU, inhabited and governed by children, at the birthplace of Europe - Crete - with the aim of educating adults into the sustainable lifestyles they themselves seem incapable of adopting. In addition, the project looked at symbiotic community living with water management at it centre, the children as 'guardians' of this most precious resource. In this way, there is something of the Greta Thunberg to Thurston's narrative.
In their engrossing, colour-saturated intensity, the three images taken together caught all the judges' eyes. 'I love the homogenised triptych nature of the three images,' declared Ana Luisa Soares, co-founder, Fala Atelier, echoing the admiration all had for the presentation's combined richness. Perhaps there was not the unique style that Kester Rattenbury, professor of architecture and cities at the University of Westminster, craved, who called the work 'accomplished yet familiar,' but there was acknowledgement around the table, picked up by Rory Chisholm, 2021 Eye Line winner (practitioner), that the work was 'definitely a contender'.
It came down to the wire between this and an eventually commended entry, but the enthusiasm and glee - and impressive technical skill - with which Thurston approached geo-politics and the critical issue of water management in times of devastating climate change ultimately won him a worthy third place.
---