From colliery to Portmeirion, Katherine Jones presents different versions of Wales in a style reminiscent of Sri Lankan architect Geoffrey Bawa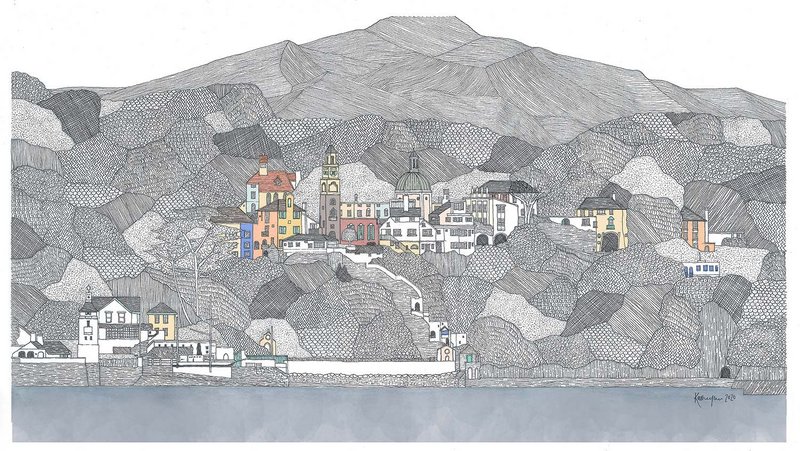 Portmeirion. 420mm x 240mm, pen, ink and watercolour.

Credit: Katherine Jones
Practitioner: Joint 2nd Winner
Katherine Jones
Architect
Two variations on a theme of Wales gained this place for Katherine Jones, who enamoured judges with 'flattened' representations of its highly dimensional natural landscape - even if that wasn't the country that Rory Chisholm, 2021 Eye Line winner (practitioner), first referred to when discussing her pared-back drawing style: 'The tradition of oblique flat representational drawing is highly developed in Indian art and those very aspects seem to come through here. Its accuracy comes through the innate detail rather than the forcing of perspective.' Jones' style reminded him of the drawings of Sri Lankan architect Geoffrey Bawa, he added.
One of her Rotring pen images, of Clough Williams-Ellis' Portmeirion Italianate fantasy village in north Wales, built from 1925 and 1975, beguiled Niall Hobhouse, trustee, Drawing Matter, even if he wasn't quite sold on the topographical accuracy: 'The Portmeirion image charms me just because the style seems to match the absurdity of the place,' he noted, adding: 'It looks like Portmeirion on the Sorrentine peninsula as the hill isn't half that high'; though with Snowdonia in the distance, was its' foreshortening intentional?
Jones' sectional rendering of the subterranean workings of Cilely Colliery near Tonyrefail, created from historical images of the coal mine is, according to Jones, 'a "pieced" together representation of what the mine used to look like.' And while Andy Turk, CEO of sponsor Siderise, liked her 'fascinating' drawings, it seemed Kester Rattenbury, professor of architecture and cities at the University of Westminster, and Ana Luisa Soares, co-founder, Fala Atelier, while appreciating them, were less taken by their interpretive quality, happy to see the work take second place.
---