Alan Power's oil on canvas depictions of his own fictional account of a resident in his firm's assisted living housing 'speaks of poetry'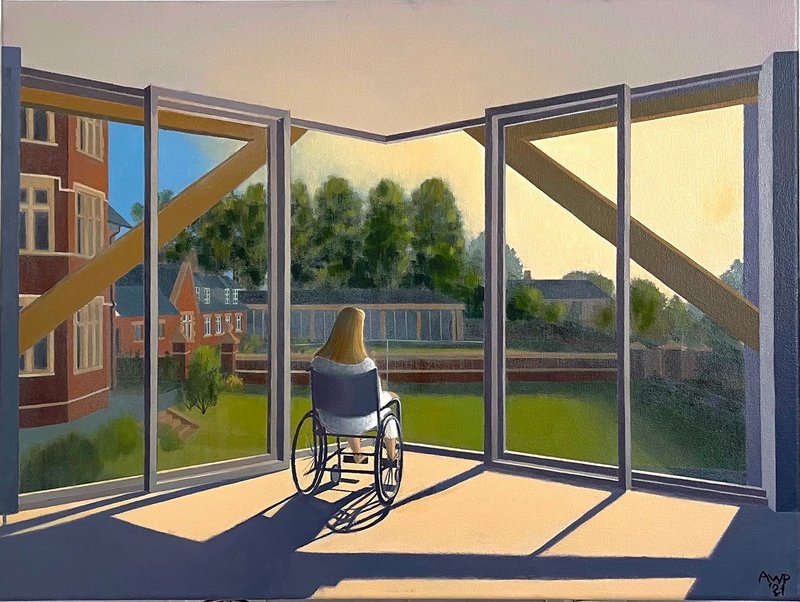 Interior. Early morning. 610 x 508mm, oil on canvas.

Credit: Alan Power
Practitioner: Winner
Alan Power
Alan Power Architects
'It was late June, and there was a glimmer of light behind the blinds, signifying the start of the sun's ascent for the day. She eased herself out of the bed and into her wheelchair.' Practitioner Alan Power's emotive fictional account of a resident in his firm's assisted living housing overlooking a garden in Leicester was as evocative as his oil on canvas renderings of it. Power (who came third in 2018 Eye Line) wrote that his design looked to address the 'perceived' needs of its occupants - and it was that perception element that so engaged the judges; splitting their opinions was the nature of what was actually being described.
Rory Chisholm, 2021 Eye Line winner (practitioner), was gripped by the image's ambiguities, saying 'it could be seen as an optimistic but realistic; that no matter how good the architecture, a sense of separation will always be there for those using it.' Adam Turk, CEO of sponsor Siderise, thought the work 'thought provoking. Power seems to be highlighting the beauty of existence and the sense of isolation that can stem from that.'
Niall Hobhouse, trustee, Drawing Matter, was initially 'uneasy with oil on canvas for an architectural drawing, though I have no problem with the (Interior) image's emotional loading - it's great.' Ana Luisa Soares, co-founder, Fala Atelier, felt more ambivalent. 'I like the powerful composition but don't know if it works as an architectural depiction of the project,' she said. 'If such is the feeling they are eliciting in their building, it leaves me asking if the building works?' Chisholm saw this as a reason to push the project, thinking it a fair point 'but that's why I like it. It doesn't adhere to what architects usually try to do.' Kester Rattenbury, professor of architecture and cities at the University of Westminster, agreed with the 'Interior' if not the 'Exterior' image's emotional aspect, noting 'a strong sense of surrealism in a lot of student work this year and I feel that aspect comes over in this (practitioner) entry; the content is highly charged.' Chisholm, championing the work throughout, concluded, 'It's one of the only images that speaks of poetry, and that gives it real value and makes it the best in its category.
---