The lockdown effect is evident not only in the entries for our eighth annual drawing competition but the balance of entrants between student and practitioner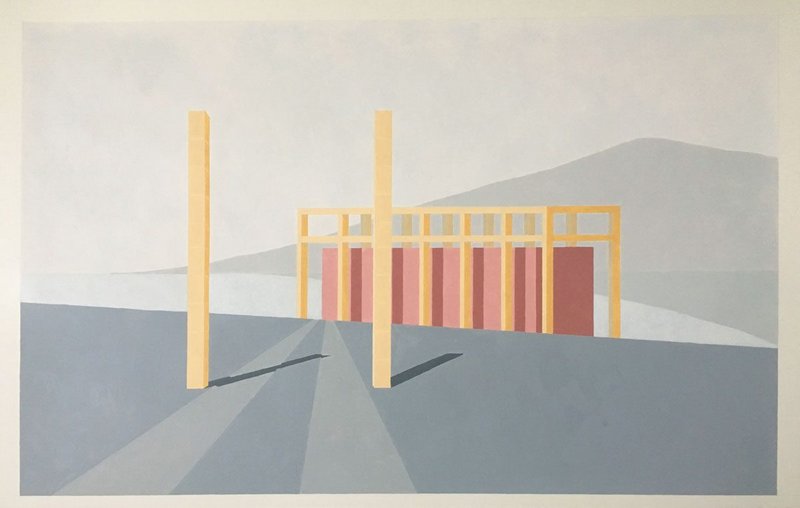 Colonnade House by Jerome Flinders.
Was Eye Line subject to the lockdown effect? At a time when it is hard to think of anything that has not been touched by the Covid-19 crisis, RIBA Journal's drawing competition, now in its eighth year, also came within the para­meters of the pandemic's flattening curve. But rather than reducing overall numbers – editor Hugh Pearman still had to whittle down nearly 300 entries – there were shifts in the makeup, with student entries down and practitioner ones up. This anomaly was firmly put at lockdown's door, though for reasons that remain unclear. Pearman felt that practitioners, finding themselves with time on their hands, could finally concentrate on the craft rather than the practice of architecture. And students, their educational schedules disrupted almost beyond reason, were perhaps preoccupied with just dealing with their 'new normal'. Eye Line judge and Central St Martins tutor Verity-Jane Keefe backs up the latter assumption. She encouraged her own students to enter but confirmed that some, understandably, 'were overwhelmed and just couldn't get into the headspace to submit'.
But submit others did and needless to say, Covid-19, lockdown and the burgeoning Black Lives Matter and climate activism debates all featured this year; though it was to prove that the more expositional the reference, the less likely it was to make it through. Muhammad Sahrum's confrontational 'Hidden Liberty' was a bold call to arms but judges were intent on work exploring grey territory rather than black and white, polarised views. And so the more interpretative absence of occupation evidenced in, say, Dante Vinole's 'Equal Access Paused', a lockdown pencil study of the halted DDA works on St Paul's Cathedral's north transept door, caught the critics' eye.
For sure conventional architectural representation – and there were many good examples – failed to excite the judges this year, except in one case of hand-drawn bravado; perhaps the pandemic had left them feeling more reflective and contemplative, searching for images whose layers invoked subtle moods or memories. Examples of temporal architecture, tracing the passage of time, had its moment in the sun, with competent projects of adaptive reuse scrutinised, but none deemed tangible enough to win opinion over; there was, alas, not enough 'romance' in the 'ruin'.
Given the times we live in, there seemed no particular appetite for dystopias – a staple of previous Eye Lines – but Jerome Flinder's flat, soulless de Chiricoesque imaginings captured a sense of our society's current stasis. There was a counterpointing freshness to Agata Malinowska's 'Welcome to Brexitland', a proposal for an industrial scale urban mint production plant – a menthol-belching factory 'posy' with which to bring round] a leaver nation. 'As a dystopian image, it rewards interrogation…with a charm all its own,' thought one judge. 'No charm in dystopia – that's why it doesn't work for me,' argued another. And so it, like its mint, went up in smoke.
What did reward interrogation was our practitioner winner, which, one judge pointed out, 'seems dystopian but when you drill into it is actually really fun and playful'. All admired its Escher-like shifts of scale, an 'intelligent CGI' that draws you in and then sports with your perceptions. Curiously, this one sat quietly under the radar throughout the judging process; invisibly snagged in the net of the panel's deliberations until, true to its own smoke and mirrors nature, it appeared out of nowhere to win.
By contrast, our student winner, with a presentation that beguiled all the judges, stood out from the get-go; and while the manner of the eventual selection couldn't have been more different, both entries were similarly crafted and propositional. In the physical experience of what have been some dark months, they conjured myth and Cartesian geometry to evince a sense of delight, hope, and much-needed optimism, as you'll see on the following pages – brought to you with the support of our competition sponsor Delta Light.
---
EYE LINE 2020 JUDGING PANEL
Hugh Pearman Editor, RIBA Journal
Jan Ameloot Managing director, sponsor Deltalight
Tatiana von Preussen Director, vPPR Architects and teacher at Columbia University
Verity-Jane Keefe Artist, teacher on Architecture MA at CSM, artist-in-residence Barking & Dagenham
Morag Myerscough Artist & designer
Ed Crooks Artist, designer and 2019 Eye Line practitioner winner
---