A beguiling but technically expert and surreal study of surveillance capitalism wins Mengqiao Zhang of the Bartlett winner, student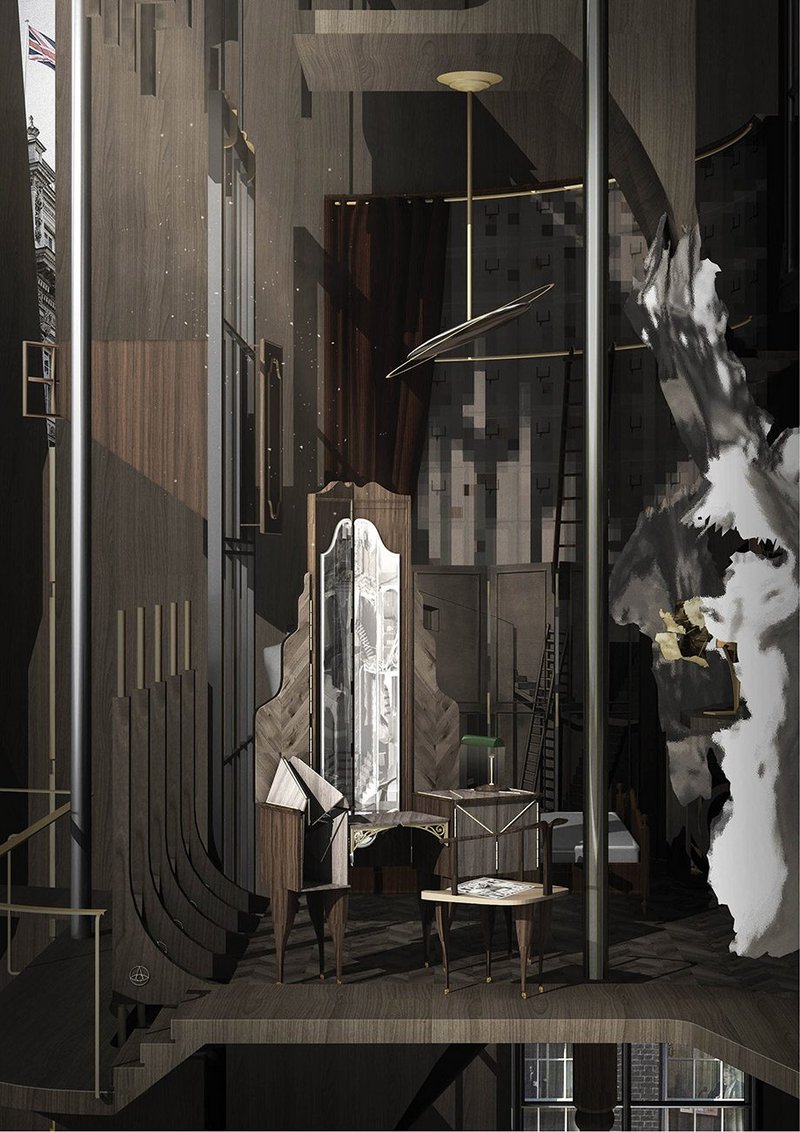 Mr Smith's Dwelling - 'The Bedroom and Changing Room'. 840mm x 594mm, digital rendering.

Credit: Mengqiao Zhang
Student: Winner
Mengqiao Zhang
Bartlett School of Architecture, UCL
In this project, Zhang looks at issues of surveillance capitalism and 'translates George Orwell's 1984 storyline, symbolic objects and metaphors into architectural space. Mr. Smith is designed to be a parallel protagonist for hybrid cupboard dwelling; the cupboard can be unfolded, showing duality of appearance and substance.'
Judge Kester Rattenbury, professor of architecture and cities at the University of Westminster, believes that recent drawing is moving towards the surreal. That was vindicated by Zhang's project, seducing all the judges in Mr Smith's bedroom's uncanny intimacy. In bedroom and changing room, furniture and objects camouflage themselves, with the dresser mirror creating distorted reflections and perspectives, with a 'rare' window offering glimpses out to Downing St and the surveillance state' current seat of power - ironically now, a centre of surveillance scrutiny itself.
Rattenbury considered it 'a very beautiful surrealist image that's not just about the render; it feels as if the drawing itself is a form of exploration.' Niall Hobhouse, trustee, Drawing Matter, was similarly effusive about the work, adding that it 'feels like a cross between a real and utopian project; especially the Bedroom image that's merging the real world and surrealism.'
Zhang's second image 'The Bell Room' takes Winston Smith's love of the rhyme 'Oranges and Lemons' to turn the famous bells of St Clement's into a fruit machine, dispensing juice as they ring. Hidden behind a painting in his 'gallery' the compelling stylistic variation on a theme resonated with the judges. Adam Turk, CEO of sponsor Siderise, loved 'the 1984 metaphors and the resulting complexity of the images,' while Rory Chisholm, 2021 Eye Line winner (practitioner), enjoyed 'the Bell Room image's clear sense of narrative while the Bedroom has an altogether more ambiguous quality.'
For the judges it was clear that the work displayed both a thoroughness and rigour despite the complexity of Zhang's narrative, creating images that not only evidenced great technical expertise but which drew the viewer into a covert and tenuous world on the fringes of current reality. All these considerations made it this year's clear winner.
---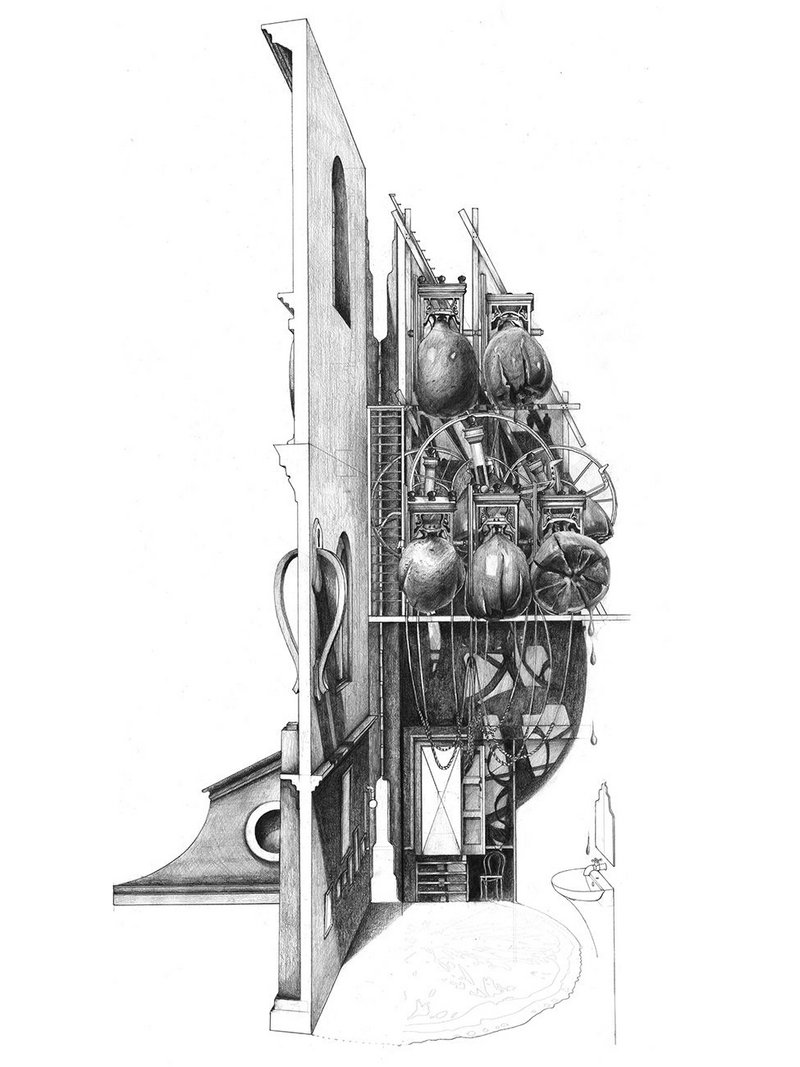 Mr Smith's Dwelling - 'The Bell Room'. 840mm x 594mm, hand-drawn.

Credit: Mengqiao Zhang