FleaFolleyArchitects' immaculately realised tribute to the enset or 'false banana' tree is one of a series of installations at Wakehurst botanic garden in Sussex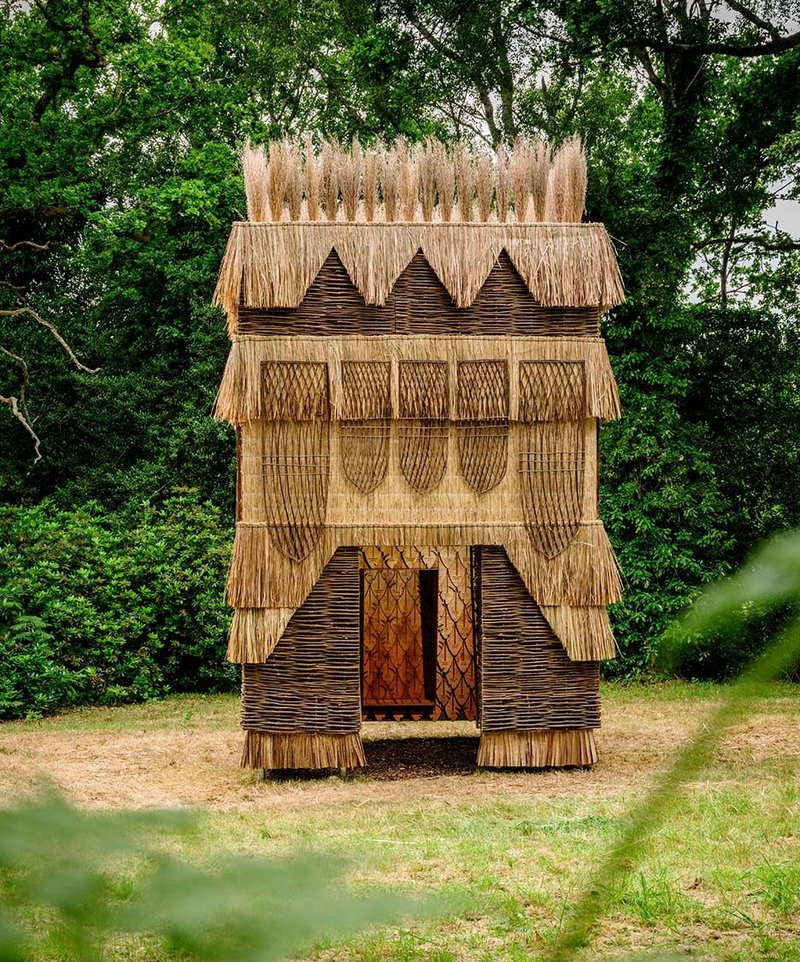 The False Banana Pavilion, designed by FleaFollyArchitects, part of the Nourish artwork series at Wakehurst.

Credit: Jim Holden © RBG Kew
Encountering the False Banana Pavilion deep in the Sussex countryside is a surreal moment. A jolly hybrid of Ethiopian and English materials and form, the structure cuts a jaunty dash in a small clearing surrounded by mature trees at Wakehurst, Kew's wild botanic garden. You half expect it to shake its ra-ra skirt-like cladding and do a little dance.
The pavilion, designed by FleaFollyArchitects, is a tribute to the diversity and climate resilience of the enset or 'false banana' tree – a wild relative of the domestic banana – and is part of Nourish, a summer series of artworks in the extensive Wakehurst landscape. These function on several levels: as striking artworks in themselves, as devices to enhance exploration and appreciation of the landscape, and as references to the work of Wakehurst's plant scientists.
Asked to focus on one of the research projects underway, FleaFolly was drawn to the resilience of the enset, which is able to adapt to different climatic conditions – there are more than 1000 variants. It has been described as 'the tree against hunger', with some 20 million people in north Africa relying on it as a food source. It is also used for medicinal purposes as well as for rope and cladding. Kew is working with Ethiopian research partners to better understand how it is pollinated, and its resistance to pests and diseases.
'It's a quite amazing crop,' says Thomas Hillier of FleaFollyArchitects, who built the structure themselves in 12 days. 'But not many people outside Ethiopia know what it does.'
While FleaFolly's pavilion design takes references from the tukul huts traditionally found in Ethiopia and in particular the woven huts of the Dorze people, the practice was determined to avoid creating a pastiche. Instead, it also found inspiration in the materials and fencing techniques local to Wakehurst, resulting in a design that happily channels both English and Ethiopian influences.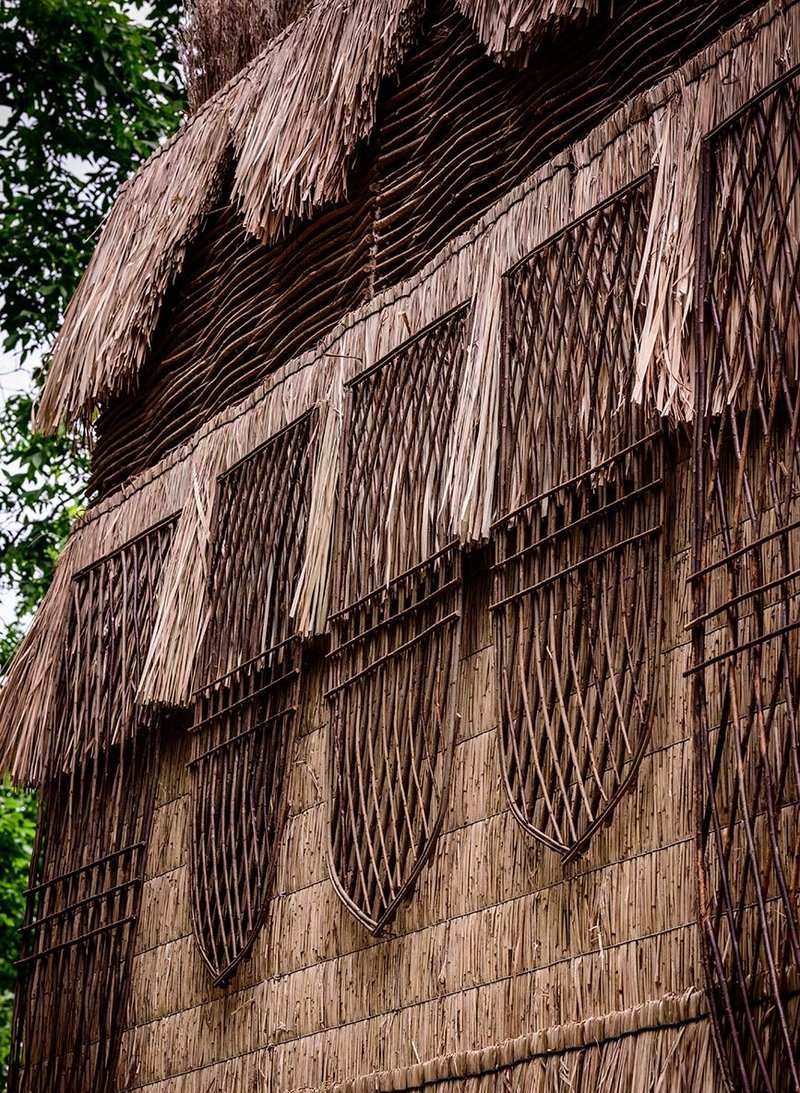 FleaFollyArchitects took inspiration from both Ethiopian and English materials and forms to create the cladding for its False Banana Pavilion using woven hazel, reeds and grass.

Credit: Jim Holden © RBG Kew
It's immaculately realised. Rising 6m, the pavilion's tall walls are formed by a combination of woven hazel fence panels, water reed panels and grass on a timber and ply sub-structure. Real banana leaves are used for the trim at the bottom (enset wasn't possible to source in sufficient quantity), while hazel trellis panels create a shield-like pattern. The whole thing is topped off by grass tufts.
The 3.2m x 3.2m interior is lined with 900 banana-leaf-shaped birch-ply shingles, each inscribed with the name and location of one of the many mapped varieties of enset and stained in shades from red to green. FleaFolly incorporated a seating nook and hopes the space will provide a quiet and contemplative space. A square oculus above lets in light.
The pavilion is demountable, and the architects hope it may live on after Nourish in a different configuration elsewhere. It is the most architectural of the Nourish installations, which range from sound pieces to large-scale interventions. Visitors don't have far to go before they encounter one of two Hidden Dimension artworks by Malgorzata Lisiecka inspired by subterranean networks of mycelium. Her intention was to draw attention to these mysterious, hidden networks by symbolically bringing them into the light and making them visible.
Created in woven ropes of willow and surreal in bright blue, the artwork appears to have risen out of the ground and slithered through the landscape, tendrils hooking themselves around handy trees in an invasive caress.
The second, even more spectacular installation deeper into the gardens cascades down through the landscape, looping round trees, and rising to form a woven arch over the path for visitors to pass through. The colour is certainly high on impact if a little jarring, suggesting an alien rather than natural form. It was a surprise to realise, when close-up, that it wasn't made of plastic.
For me, the standout art installation was John Grade's Isla. This is a beautiful suspended cloud-like sculpture, strung between several trees in a small verdant valley. The upper canopy is a shoal of suspended leafs lapping against each other as they move in the wind. Below is another smaller tier and beneath that an end cluster of larger leaf forms. Inspired by the frailejón plants found on Colombian hillsides, it draws the eye into the valley and is a delicate yet arresting addition to the landscape.
Nourish lures the visitor through Himalayan glades, rock gardens and lush water gardens, the latter the location of a very noisy México Mágico soundscape of chirrups and tweeting. Helen Law's Future Feast, meanwhile, is an assemblage of recycled materials from the site with a canopy of disks derived from the patterns of x-rayed seeds from Wakehurst's Millennium Seed Bank collection, which contains some 2.4 billion seeds.
---
The Nourish series of art installations is at Wakehurst, West Sussex, until 18 September