Scientists are developing super materials from some most unlikely beginnings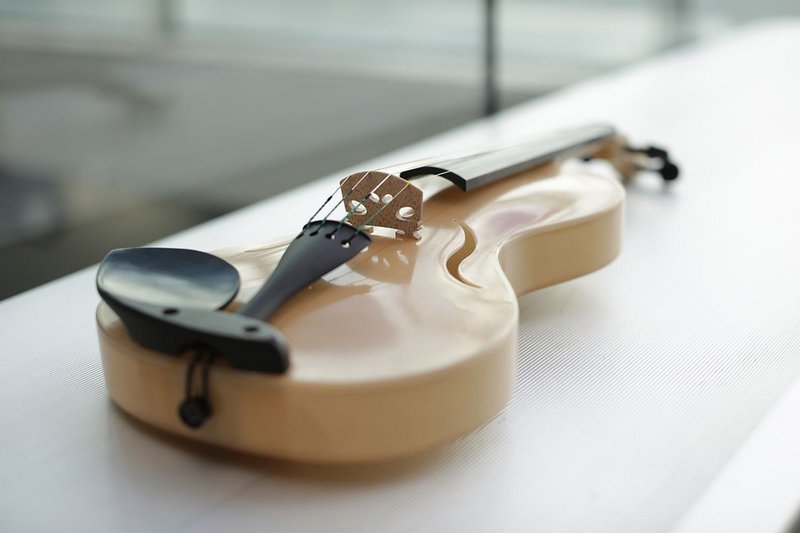 Spider Silk Violin made by Luca Alessandrini using silk from the Golden Orb spider

Credit: Luca Alessandrini
Could spider silk ever be a useful (human) building material? How about transparent wood, 'printed' sandstone, or a bio-plastic derived from crabs hells? These and plenty more seemingly fantastical notions will be explored from February at The Building Centre's SuperMaterial exhibition.
According to curator Lewis Blackwell, the exhibition is driven not only by the wealth of material exploration and invention currently under way but by the need to develop a more circular economy.
'There are brave new questions about what makes materials acceptable, and what relationship we should be having with them,' says Blackwell. 'There's potential to harness the technology of materials to be a positive creator in the environment.'
The exhibition is showing more than 25 materials, many still in development or in the early stages of their application on buildings. It's fascinating stuff. Architect Dirk Hebel has developed a new material made from bamboo fibres and resin that could be used to replace steel rebar. A transparent wood veneer is being developed that has potential use in semi-transparent facades. A printed sandstone, devised by Swiss architect Michael Hansmeyer, could potentially carry out precision stone sculptural repairs. Stone itself is also celebrated as a super material, with a look at using this most traditional of building components in a new, high-tech way.
Several of the exhibits look at how the building skin could have a positive impact on the surrounding environment. Made of Air is developing carbon negative building products from material that has absorbed CO2 in the atmosphere. Others are creating active building materials. Architect EcoLogicStudio has created a building skin that uses light to generate spirulina, an edible algae that can be harvested. The University of the West of England has developed 'smart' bricks that can recycle wastewater and generate electricity from sunlight. Cellulose energy-generating flooring devised by the University of Wisconsin-Madison converts footsteps into power. The exhibition also includes scientist Dr Rachel Armstrong's research into protocell-based metabolic materials, and their potential for building a reef to protect buildings from flooding in Venice.
And as for that spider silk, the show explores the considerable strength and acoustic properties of silk made by the Australian Golden Orb spider, including its use in acoustic panels as part of a new composite material. There's even a recital featuring a violin made using spider silk. Listen, and learn.
---
SuperMaterial 1 February-28 April, The Building Centre, Store Street, London, WC1E 7BT