The battle to build the Parisian landmark makes for rather more compelling moments in this new French film than a romantic subplot, depicted as the driving force behind the tower's creation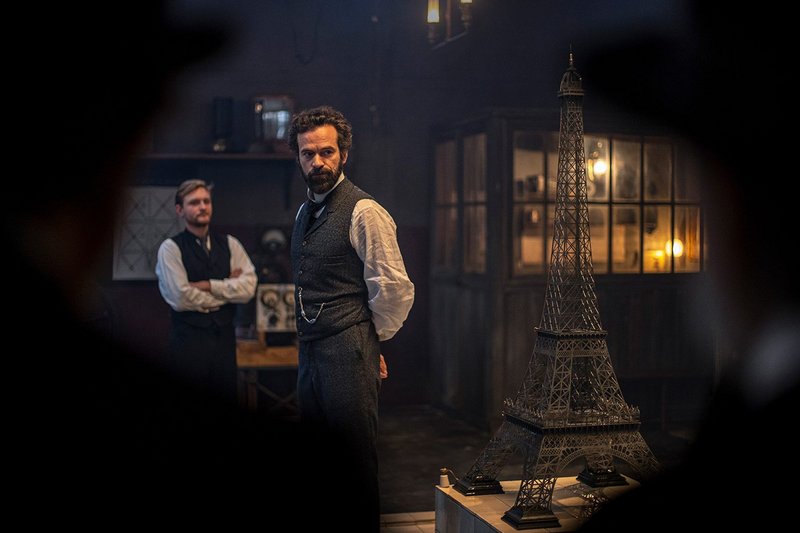 Gustave Eiffel (Romain Duris) with his model for the design of the Eiffel Tower from the film Eiffel, directed by Martin Bourboulon.

Credit: Antonin-Menichetti
'You will never look at it the same way again,' proclaims the promotional spiel for Eiffel, a new film about the great Paris tower.
Directed by Martin Bourboulon, it's a very watchable French-language film that promises a new narrative to explain why Gustave Eiffel, having previously been apathetic about entering the competition to design a new monument, suddenly became fired up with a great enthusiasm for the project. This drove him not only to triumph in the contest, but to then tenaciously see his 300m-tall vision through to completion as the focal point of the 1889 Paris World Fair.
This change of heart, the film suggests, was not down to some great architectural epiphany but spurred by a rekindled passion for a lost love, Adrienne Bourgés. Through a series of flashbacks, we learn how Eiffel (Romain Duris) and Bourgés (Emma Mackey) had a whirlwind relationship some 20 years earlier, but their engagement was suddenly broken off.
That much is known to be true. The film's intriguing proposition has them meeting again in Paris at the time of the architectural competition when he is fresh from his work on the Statue of Liberty in New York.
Eager to impress her, he takes up the challenge of the contest with renewed vigour, rediscovering some of the dashing spirit of his younger self. Unable at first to convey his love openly (she is now married), he instead uses the audacious project to express his love. As he battles to get his tower built, they begin an again-doomed affair.
Gustave Eiffel (Romain Duris) presenting his design for the Tower in the film Eiffel, directed by Martin Bourboulon.
There's a lot to enjoy, including Eiffel's barnstorming presentation of the design to the judges, involving a dramatic demonstration of how it will withstand lightning and wind. Then there are the trials of the construction as Eiffel goes from the glory of the victory to being vilified by all – local residents are worried it will collapse on them, the Vatican is angry it will steal Notre Dame's glory, his financial backers are getting cold feet and even the artists of Paris are petitioning against it.
Eiffel talks about the tower as a monument to Paris that can be enjoyed by all, and we are encouraged to see the tower as part of an emerging modern age, with the film also giving prominence to the early motorcar, then a very new phenomenon.
The film employed the services of six architects and 12 engineers to build the set, and the construction of the early stages is gripping, especially the drama of the four legs linking to form the first level platform. I'm not sure I really understood the technical intricacies of Eiffel's system to construct the foundations so close to the Seine, but they clearly must have worked as planned, despite a few ropey moments shown in the film for added dramatic effect.
We don't get much by way of character insight. Although it is billed as a love story, the battle to build the tower seemed rather more compelling than the protagonists' romance. So it's hard to feel that emotionally invested in them, even in the spirited Bourgés, who has a particularly raw deal, with the film imagining a highly melodramatic – and tragic – break-off of her engagement.
Yet, in this telling, it is her self-sacrifice that enables the tower to be completed, since her well-connected husband had suggested if she left him for Eiffel, it might result in funding difficulties for the tower.
There's no way of knowing whether any of this imagining could ever have been more than mere fancy, although it seems likely that the two did indeed meet again since, in real life, Eiffel's son married Bourgés' niece. But it's certainly an enjoyable conceit. And it's a scenario that appears to have the blessing of Eiffel's descendants, who have endorsed the film as 'a beautiful tribute to our ancestor'.
But while it could, in theory, be possible that the tower was fuelled by Eiffel's desire to impress his rediscovered old flame, the great denouement at the end surely stretches credulity too far. When finally (spoiler alert), we got to see what Eiffel, fresh from triumphantly completing his tower, has been furiously sketching at moments throughout the film, it turns out to be Bourgés' first name, Adrienne, the A in the distinctive form of the tower.
How fortunate, remarked my viewing companion, that her name didn't begin with a less cooperative letter, such as P. But that preposterousness aside, this is an enjoyable enough rom-architecture yarn that does indeed shine a different light on the tower.
---
Eifeel will be released in UK and Irish cinemas on 12 August. Running time: 108 mins / Cert TBC??