Is it a clamshell or a ship?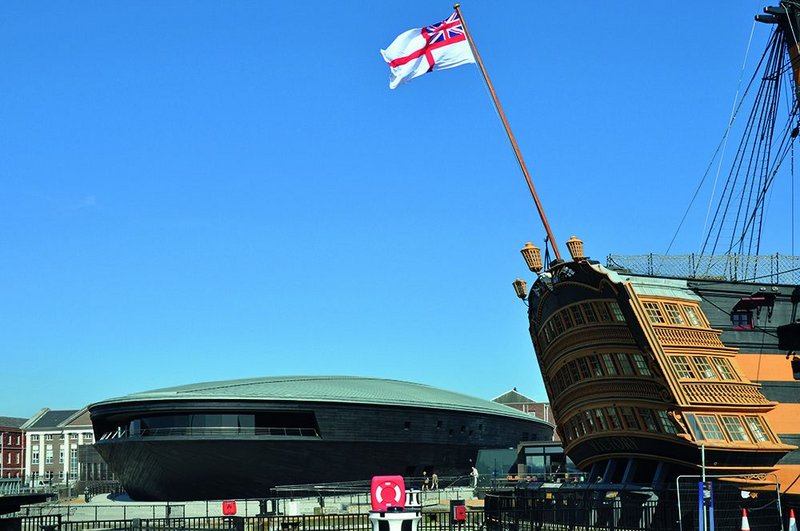 The elliptical, black timber-clad Mary Rose centre in Portsmouth Historic Dockyard, by Wilkinson Eyre with Pringle Brandon Perkins + Will, was built around the venerable temporary structure housing the salvaged Tudor naval flagship, still being sprayed with preservatives at the time. The sprays have finally been turned off after 30 years, though it will take a further five years for the timbers to gradually dry out in a 'hot box' at the centre of the building.

This does not prevent the giant slice of ship – a large portion of one side of the vessel, complete with sections of deck - becoming the main exhibit in the new building, through a series of viewing windows. The conserved salvaged objects form an unparalleled Tudor collection – including everything from original longbows to the skeleton of a giant archer who fired them, plus the heavy bronze cannon which some say caused the ship to capsize as it sailed out to battle the French fleet in 1545. Many of these objects are displayed in their correct positions in a mirror-image implied hull facing the original.

Chris Wilkinson and Chris Brandon have kept the interiors dark and moderately claustrophobic in an attempt to give something of the feel of life below decks – though the decks of the Mary Rose were considerably taller than those of Nelson's flagship Victory alongside, half its age. And no, says Chris Wilkinson, the building is not really meant to look like a ship, it's just that it was set out from the geometry of the original hull, so as to hug it quite closely. It's a highly insulated steel structure, its black timbers acting as a rainscreen.