When opened in 1915 by the Lyons organisation, London's Regent Palace Hotel, just north of Piccadilly Circus, was Europe's largest.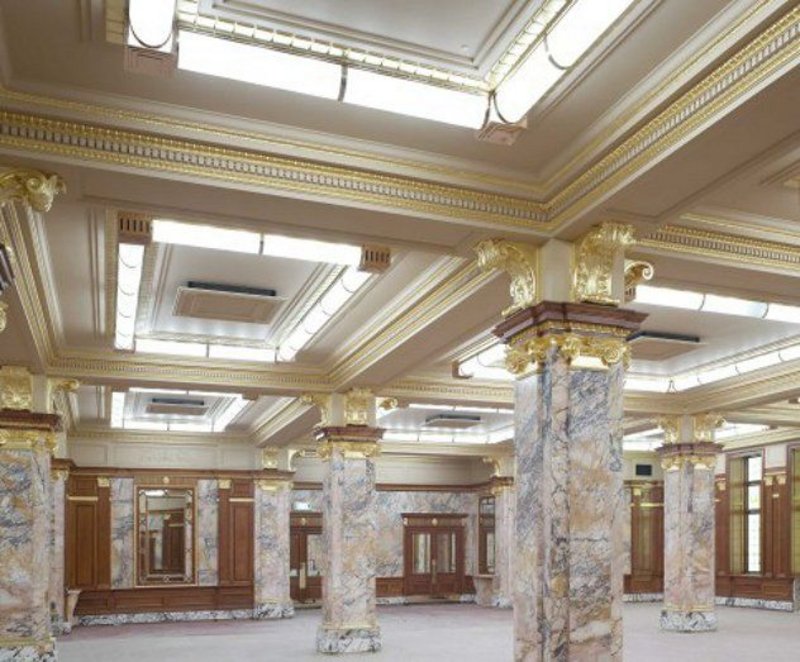 The cream faience-clad steel-framed building by Tanner, Wills and Ancell was built on Crown Estate land. Cheap and cheerful in the manner of Lyons' Corner Houses, its best period was in the interwar years when some of its bars were redone in Art Deco style. Later it fell into decline and acquired a seedy reputation, though its restaurants were revived in the 1990s. Now it has been redeveloped by the Crown Estate as part of its £1 billion, 20-year regeneration programme for its Regent Street estate.

No longer a hotel, it is designed by Dixon Jones and renamed 'Quadrant 3'. It is essentially a new office building dropped into this triangular site, but preserving the three original corners. Residential and retail uses complete the mix.

Dixon Jones uses new glazed faience in cream, blue and green to distinguish the three main facades. Inside, conservation architects Donald Insall Associates have restored and reinstated the historic interiors.

It's distinctly a stealth building, with the large bright office atrium, spanned by walkways, starting at first floor level: former US vice-president Al Gore's Generation Investment Management is a key tenant, attracted by the building's sustainable credentials. From street level, though, the bulk of the office component is cleverly concealed. Its huge basement plant room will also serve the adjacent redevelopment of the former Cafe Royal by David Chipperfield.

Dixon Jones has done well, handling its palette of rich materials with restraint and confidence. Let's be clear: this was never a great Edwardian building but it had its moments, and those moments have mostly been preserved. For most of us, that will mean the occasional visit to the semi-basement restaurant and bars, to be run by Jeremy King of Wolseley fame. It's a big old chunk of urban renewal: its success will probably be judged by the fact that few will notice it.

Shame they didn't keep the name, though. "Regent Palace" is rather more evocative than "Quadrant 3", wouldn't you say?