Birmingham Town Hall, architecture in Turkey, photography and the Third Marquess of Bute are probed in books published this autumn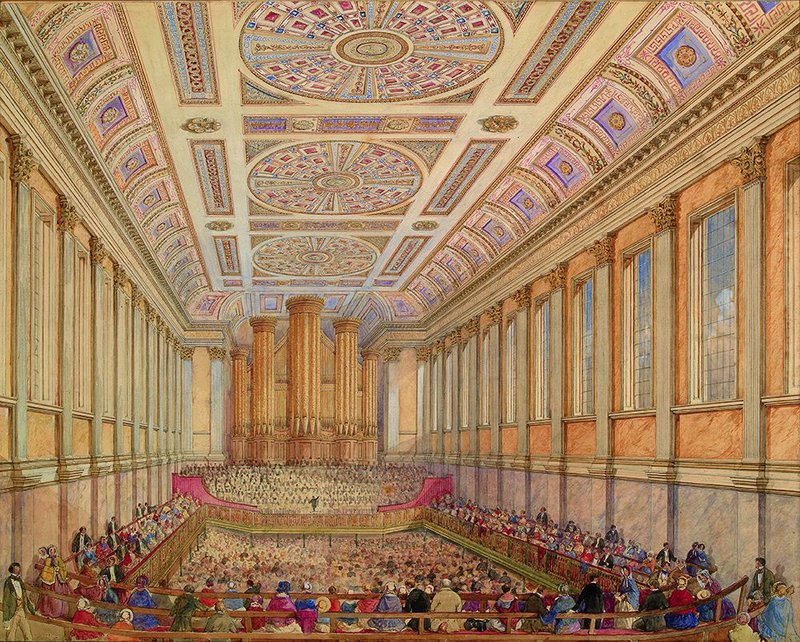 Meeting inside Birmingham town hall, c.1860, artist unknown.
Birmingham Town Hall, an Architectural History
By Anthony Peers
Lund Humphries, HB, £30
This is not one of your local-interest-only publications. Rather, it throws fascinating light on the emergence of the 19th century profession of architecture – and the growth of the civic pride of the great industrial centres – as seen through one key building. Birmingham's neoclassical town hall and concert hall involved a competition, dirty dealings, dodgy contracts, deaths, bankruptcy and two architects at each others' throats over who actually designed it. Inevitably construction delays and rising costs played a part in the story too, but when opened in 1834 – the same year the RIBA was founded – it was among the best and cheapest of the great civic buildings of England. In 2005-2007 it underwent a £35m restoration, in which this author was instrumental.
Those two young architects were Joseph Hansom and Edward Welch, partners who individually entered the original competition. Hansom – later the inventor of the Hansom cab, founder of The Builder magazine and much else – made it to the shortlist, whereupon Welch joined him on what turned out to be the winning scheme. Hurrah! And then, of course, their troubles began, as many other competition-winning architects have experienced.
In retrospect, they should have not made themselves personally and financially responsible for the performance of the contractors. Hansom and Welch became on-site construction managers as well as designers. Hence their bankruptcy when costs inevitably rose (initial estimates of the cost were ludicrously low, another persistent feature of public building projects down the ages). The upshot was that another architect was drafted in to complete the building, in the process making some unfortunate changes. The partnership of Hansom and Welch dissolved acrimoniously.
Despite all this, the building, based on the Temple of Castor and Pollux in the Forum at Rome, was and is a triumph, socially as well as architecturally, the scene of key political and cultural events over the decades. This book is an impeccably researched and fascinating record of an era. HP
---
Turkey
By Sibel Bozdogan and Esra Akcan
Reaktion Books, PB, £16.95
If you pay enough attention to this book you will get a political and social history of Turkey since the First World War. Sibel Bozdogan and Esra Akcan start with the newly independent state's identification of modernism as a tool for nationhood and document the relationship between architecture and society until the shift to economic liberalism and boom in shopping malls.
If you pay enough attention to this book you will get a political and social history of Turkey since the First World War. Sibel Bozdogan and Esra Akcan start with the newly independent state's identification of modernism as a tool for nationhood and document the relationship between architecture and society until the shift to economic liberalism and boom in shopping malls.
A critical strand is the shift in architects' attitudes to the political system, which is characterised by two moments. On 1 May 1977, following a second military coup, the Revolutionary Workers' Union staged a huge rally in Taksim Square in Istanbul. In the front line was the Chamber of Architects and Engineers, holding up 'one of the largest, reddest banners'. The event turned into chaos after unidentified gunmen killed 34 and injured many more. The second moment is in 2010 when 'Young Turks' Kerem Erginoglu and Hasan Çalisar won Architectural Review's Best Building award. Çalisar: 'Rather than say important things, it is much more important to deal with all the criteria including design, detail, finance and building permission to produce quality jobs.'The authors suggest that 'enforced obedience' after the 1980 coup d'etat squeezed out radicalism. However, a pragmatic approach by architects has fed innovations within the boundaries of zoning laws and regulations – particularly in housing.
The authors describe the 'renewal' which unplanned gecekondu (built overnight) homes are being subjected to as deeply unjust. They set this mass housing against the country's affluent gated residences. This is a book that knows its place in historiography and wants to be out there on the side of the just with City of Quartz author Mike Davis. This is particularly transparent when housing is the subject, although Davis' writing is far more convincing.
And for the future Bozdogan and Akcan offer just a hint of what there might to come with a move towards Turkey's Muslim neighbours in the Middle East and Asia, perhaps the beginning of a new era... EY
---
Camera Constructs
Edited by Andrew Higgott and Timothy Wray
Ashgate Publishing, HB, £65
This book presents a series of investigations into an 'insidious' form of representation: photography. The case studies all have their roots in an understanding that cameras construct the worlds around them, and none more so than architecture; it was to easily-photographed static buildings that the early camera first turned.
Photography is how most architects experience other buildings, through the feedback loop of architectural journals and now the web. In their introduction Higgott and Wray detail how this promotes abstracted visions of architecture while pushing inhabitation, space and materiality into the background. A rarely seen picture of photographer Julius Schulman with furniture piled high against a wall to ensure clear space for a shoot shows quite how explicitly inhabitation was pushed aside. Carola Ebert demonstrates how nature was foregrounded in German bungalows of the 1950s and 60s. Published shots were taken from the gardens – a trope that persisted with private vistas remaining the subconscious message of bungalow photographs even at the lower end of the market.
Peter Blundell Jones, comparing photographic and first hand experiences of Hans Scharoun's complex and hard-to-photograph spaces, points to how closely the canon of architecture follows those which photograph well. 'Architecture is suffering because it is no longer experienced for itself but replaced by a mediate proxy,' he writes dammingly.
So far, so easily packaged. But this book grew out of a conference and reflects the variety and unexpected thoughts that surfaced there. Two chapters at the end touch on how photography is being used to explore space in new ways and three dimensions through stereoscopic photography. In particular, Nat Chard takes us inside a 1920s psychic research room with banks of cameras set up to record events like ectoplasm arrivals in stereo.
Like this contribution, this book takes the reader just a little further behind the lens than they might expect. EY
---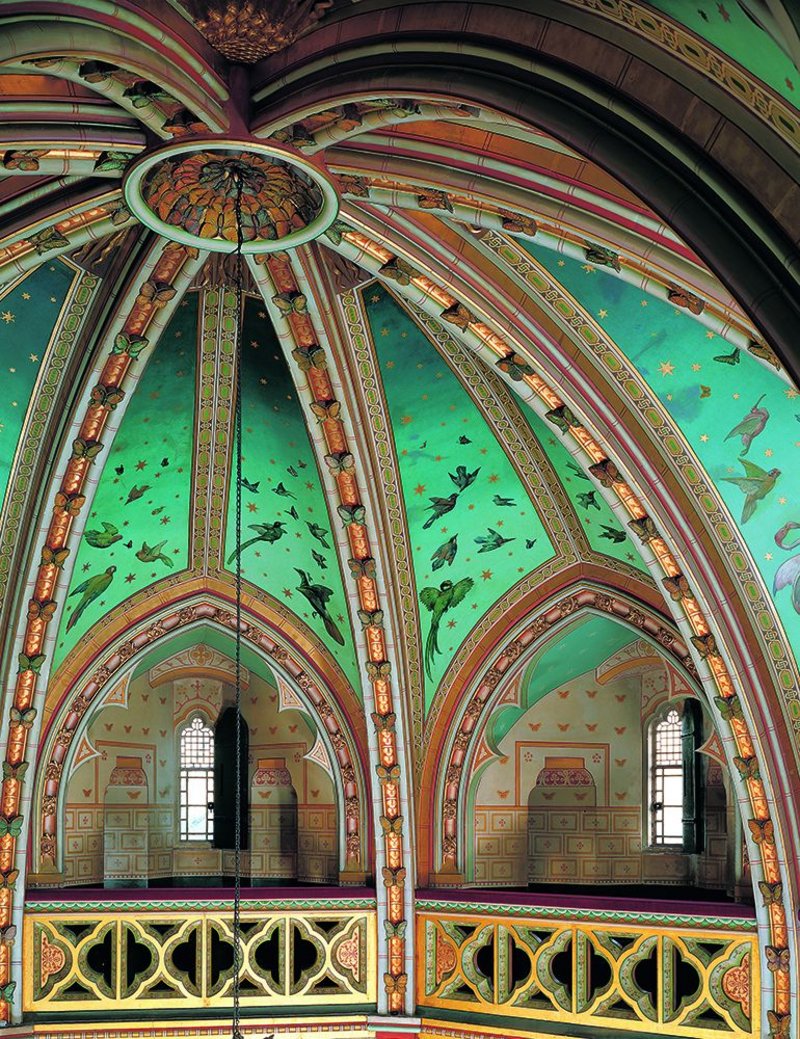 William Burges' elaborate ceiling in the drawing room at Castell Coch.
The Grand Designer: Third Marquess of Bute
By Rosemary Hannah
Birlinn, HB, £25

The Third Marquess is the one who built Mount Stuart, Cardiff Castle and Castell Coch, who restored Falkland Palace and Greyfriars Convent, and the one who hired William Burges. The one whose colossal wealth stemmed from the coal mines of South Wales, but who lived a lot of the time on his Scottish island. The one who sometimes designed his own clothes, and who was a Roman Catholic convert not afraid to criticise his church.
The Marquess (1847-1900) was by the standards of the day a progressive, a champion of women's rights, and an approachable family man. It's remarkable that this is the first biography of him. Rosemary Hannah is well qualified to write it, having lived on Bute and gained a PhD from Durham University on the Third Marquess, presumably the foundation of this book. It's a good story. If you have to be fabulously rich, you might as well be an artistic patron and, long after the Welsh coalfields closed down, the buildings – especially the interiors – are his principal legacy. Burges found a great patron for his flamboyantly joyful Gothic trope, indeed the Marquess liked things even richer than his architect, who had an austere side.
Yet as Hannah points out, Bute seemed remarkably unconcerned about the welfare of those who created his wealth, even when Mayor of Cardiff. 'At no point did Bute indicate the slightest awareness that it was south Wales that generated his tremendous riches, and that he owed it a debt of gratitude,' she writes. Eccentrically different as he was from most grandees of his time, for Bute that was a step too far. This, however, is an exemplary biography.