Exciting or frightening? If you are uncertain what the future holds, this show will pose plenty of questions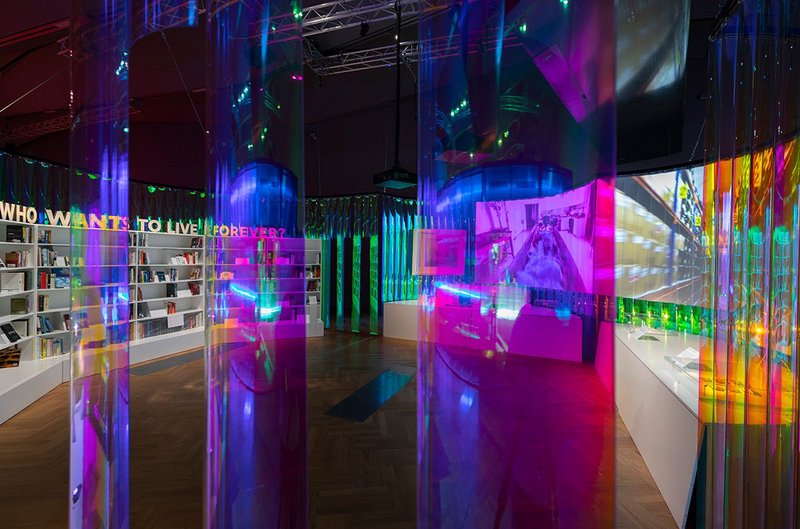 Installation View of The Future Starts Here exhibition

Credit: Victoria and Albert Museum London
At first, it's hard to know whether to be uplifted or depressed by the content of The Future Starts Here, the stimulating new exhibition at the V&A. On the one hand, it is full of ingenious and fascinating innovation; on the other, it holds a mirror to the flaws of the present and points to a future with decidedly dystopian tendencies.
Hackable domestic devices, the perils facing migrants, the challenges for democracy, the place for humans in a future of AI, and the very sustainability of the planet – these big, difficult issues are explored through the designs and technologies emerging today that will, we're told, shape the future of tomorrow.
While there is a definite overlap with some of the territory explored in the annual Designs of the Year exhibition at the Design Museum, this engaging show is arranged rather differently by themes of Self, Public, Planet and Afterlife.
Located in the museum's new Sainsbury Gallery, we can step inside one of IKEA's flatpack refugee shelters, relax inside a driverless car, and learn all about the messy process of Cyropreservation. There is an installation of Eenmaal, the Dutch restaurant for one featuring single-person tables, shown here topped with bottles of Soylent, a meal substitutes aimed at those who find food preparation too challenging. This can be seen as either useful innovation or an eloquent demonstration of how digital connectivity does not necessarily bring human contact and community. While we marvel at devices such as Brett, the intelligent robot that does the laundry (still a work in progress since this turns out to be a surprising complex task), therapeutic robots and automatically rocking cradles, the exhibition sets out the flipside too with questions such as 'But as we expect more from technology, do we ask for less from people? And 'will we forget how to love and care for each other?'
Throughout, we're encouraged to consider such flipsides – the issue is not the innovations themselves, but how we use them and their implications, whether they be Fitbits, genetically modified food, driverless cars, Uber, or super-fast swimsuits. Some exhibits suggest a general move away from reliance and trust in traditional authorities towards a necessary self-reliance and empowerment. This is particularly the case with refugee and conflict-related exhibits including the model of the Rojava new people's Parliament under construction in northern Syria. Designed by Studio Jonas Staal, the building's arched structure is inscribed with principles such as 'gender equality' and 'self-defence'. Meanwhile the very need for the emergency assistance app Cell 411, designed for those not wanting to involve emergency services, is a sad reflection of mistrust of authority. Designed by Virgil Vaduva, the tap screen app alerts friends and family with options such as 'police arrest,' 'I am in danger' and 'I am pulled over'.
There's plenty of architecture in this exhibition, particularly in the section on cities. Croydon Council's Brick By Brick property company is shown as an innovative example of local government becoming empowered to tackle the shortage of affordable housing. The Willesden-based The Collective Old Oak is included as the world's largest co-housing development. Most projects however are international – ranging from a Syrian teenager's My Aleppo vision of a better future for his city to the necessarily defensive design of a school in Afghanistan by Mario Cutuli Architetto. There's a model of the crowd-sourced bridge Luchtsingel in Rotterdam, and discussion of its implications for state responsibility and taxes, and the more extreme idea of a Floating City micronation off French Polynesia proposed by libertarian organisation The Seasteading Institute. Foster + Partners crops up several times. The practice's Apple campus in California is included, although the exhibition points to a lack of engagement with the surrounding community, while Masdar City in Abu Dhabi is presented as 'an incomplete green utopia' that may never come to fruition. The practice's remarkable project for a 3D printed Martian Home is included in the section on space exploration.
The exhibition concludes with a look at the future of humanity and the idea of living forever. As well as the fascinating tool kit for Cyropreservation, it's good to see a model of Arakawa + Gins' Bioscleave House, conceived as 'a house to prolong your life' through its use of undulating contours that supposedly stimulate the immune system by making people use their bodies in unexpected ways. More soberingly, The Svalbard Global Seed Vault, a doomsday shelter for food supply, is no whacky conjecture but a necessary precaution against future catastrophe.
This thought-provoking and illuminating exhibition invites visitors to question innovation and how we use it, and to consider what part we can play in shaping the world. Ultimately, it is a call to arms for engagement: 'The future we get is up to us. The future starts here.'
The Future Starts Here, until 4 November 2018, Victoria and Albert Museum, Cromwell Road, London SW7 2RL