With CVs grounded in the London offices of Hopkins and Arup, this family team – the first of RIBAJ's 2020 Future Winners – has ambitions way beyond its Marlow base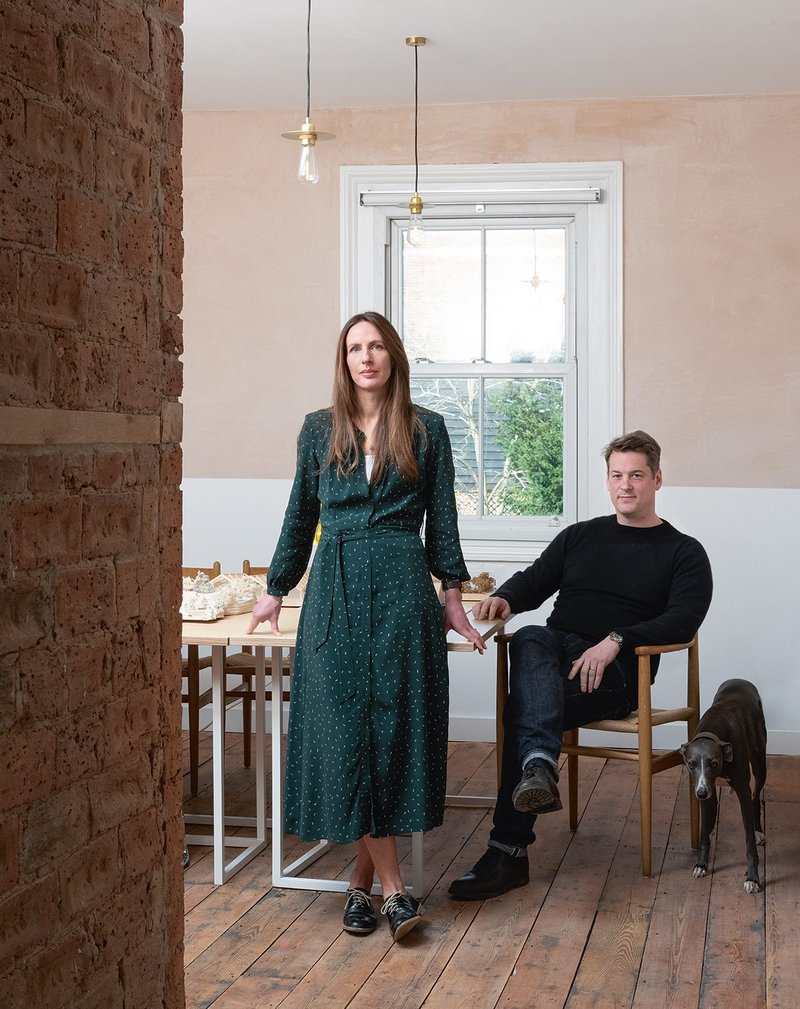 Amy Napier and Steven Clarke with Frida the dog in their new studio in Marlow. There is still a bit of renovation work left to do.

Credit: Ivan Jones
'We didn't always think we were going to start a practice in Marlow,' explains Steven Clarke, one half of Buckinghamshire-based Napier Clarke with his wife Amy Napier the other. 'That wasn't always the intention.' After Manchester School of Architecture the couple had started their careers in London and spent 15 years living there until moving to Marlow in 2010 after the birth of their second child. 'I was still commuting for three years. We were always thinking should we set up an office in Marylebone? But the reality was it just didn't fit with family life balance.'
They had chosen Marlow because of its proximity to this part of London, one they tended to use most because it was where they met working at Hopkins Architects; Napier between 2001 and 2011 and Clarke from 2004 to 2014 after five years at Arup Associates. At the time it would have been more natural to move from their flat in Kentish Town to east London and set up a studio there as many of their friends did, but Clarke says 'it didn't feel right'.
Yet Napier Clarke didn't appear immediately. It emerged out of freelance work Napier did on return from maternity leave; a former boathouse refurbishment in Norfolk and a local Marlow project. 'We were living it,' explains Napier. 'Steven coming home in the evenings to discuss work.' The Boathouse was shortlisted for three RIBA Awards (small project, conservation and sustainability) which reassured them that after so long in big practice they could still design. But the company was only incorporated in 2014 when they finally got a job with enough fees for Clarke to leave Hopkins. That was Pennycroft, a 430m2 new build house nearby.
With advice from Napier's dad, a successful businessman, Napier and Clarke realised there was opportunity in Marlow, that they didn't need to commit to London to get work.
'The quality of the architects here was different to what we could offer. There was a window to bring new ideas and thought that people couldn't find… There was a lot of pastiche going on – there still is,' says Clarke.
It is not the practice's intention to be local, however, and it reviewed the decision recently before buying a permanent office above a tile shop on one of Marlow's main shopping streets. Should the practice move to High Wycombe with faster train lines? It still has ambition for a London studio at some point but maybe one in Birmingham first. It does want a project base locally but also to reach further afield for different, more technically complex types of work the pair were used to. A Hopkins scale practice is far off, yet the aspiration is no slimmer. Given the office's location in a comfortable home counties town surrounded by upmarket interiors shops like Fired Earth, this seems surprising. Napier and Clarke are intriguing, gently quirky and quite tranquil. They don't come across as hard-nosed, out to smash the status quo.
For them it's all about making sure the work becomes commensurate with their experience. Keeping a wide network of contacts is partly how Napier Clarke has expanded its breadth. A local client representative, for example, introduced the directors to Gage Properties for a job to convert and extend another boathouse, this one on the Thames, seven miles from the office, into nine homes – three in original buildings, six as attached terraced longhouses. The Old Boathouse is currently the practice's biggest scheme by number of units. The herringbone black and white cladding, corrugated metal roof and powder coated metal details evoke the older buildings in a contemporary arrangement.
Finnamore Wood, a project it picked up by recommendation, has a similar approach; five houses this time on the 24ha wooded site of a former young offenders institute in an Area of Outstanding Natural Beauty (AONB). The single-storey barracks have been reinterpreted as a series of passive-designed staggered low-rise barns in flint and timber.
The practice also enters the occasional competition, where there's a personal or professional experience connection and every box can be ticked. Amazingly, it won the first it entered, for a new visitor centre and learning building at the Black Country Living Museum in 2015 against 23 Europe-wide entries. Clarke, who grew up in Yardley Wood, pulled a Birmingham-based team together, including a close engineer friend from school. Napier, who is from Sheffield, had also worked on Hopkins' Holkham Hall visitor centre, which meant the firm had strong CVs for the task. The design's steel frame and profiled metal cladding links the new building to the industrial heritage of the museum and its location near Dudley. Part of a bigger masterplan by Glancy Nicholls, it will sit at the high point, overlooking an expanded, recreated town.
This approach fits with a pattern of Napier Clarke's work that is contextual in situation, form and materiality. It is purposefully sympathetic, referencing immediate conditions, even being subservient. It's an instinctive response to briefs, but happens to help with planning approval in often densely populated contentious areas. At Pennycroft, for example, it was a planning requirement that the house should have an arts and crafts bias, which explains the traditional brick and tile, asymmetrical entrance and triptych and clerestory windows. However, it was the practice's decision to demolish the existing house to better align the new one with its suburban neighbours. At Project 17 to 21, another private house, this time won through a competition advertised in the Architects' Journal, the design is set apart from the original listed house, wrapping along the contour of the land to half disappear.
'You can do housing projects, which will help turnover, but it is things like the Black Country Living Museum that will expose us as a practice,' adds Napier.
So what next? Napier Clarke has 24 projects on its books and four more waiting to be photo­graphed, including a pro bono science room for the directors' children's school (hopefully a foot in the door to the education sector). It wants to hit more £3-10m projects, ultimately expanding the office from four to around 20 people, which would be possible in the new office by extending at the rear. The Birmingham studio may materialise in the next year as Clarke sees similar opportunities to Marlow there – a number of good practices but not many to step in alongside HS2 and the Commonwealth Games in 2022. He's also personally invested: 'It's frustrating the way things work there with so much knocking down and starting again. The city doesn't seem to understand that buildings can last more than 20-30 years.'
The thirst for bigger and different work is also about being able to implement knowledge and interest in architectural sustainability strategies. When domestic clients are faced with spending £30k on a heat pump or a better kitchen, they'll nearly always choose the latter, which doesn't compare with the emphasis the pair were used to at Hopkins.
An international RIBA competition project last year shows Napier and Clarke have the appetite and acumen to do it. They came second to Hawkins\Brown in the scheme for an innovation centre for Johnson Matthey, a sustainability tech company with 14,000 employees. Its products include retrofit emissions filters for buses. Napier Clarke went in with the exact team Clarke had worked with on the 2013 WWF-UK Living Planet Centre in Woking: Expedition Engineering, Atelier 10 and Grant Associates. Inspired by the sustainable products, spiral airflow movements and local vernacular structural frame systems of the site in Sonning, the design was a timber gridshell hyperbolic cone that spun into the landscape – context responsive and show-stoppingly elegant.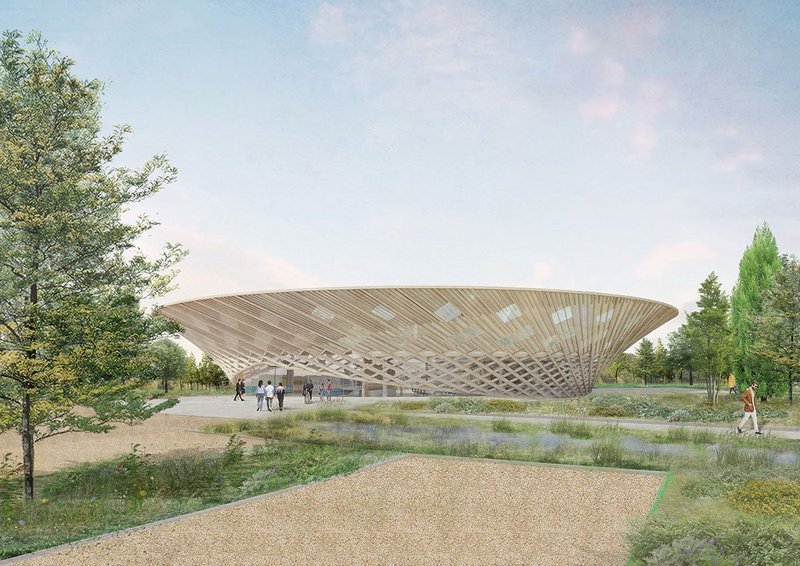 The runner-up competition entry for Johnson Matthey Innovation Centre in Sonning.

Credit: Napier Clarke