Manchester-based Editional Studio uses its approachable shopfront studio to win work and propagate its passion for sustainable architecture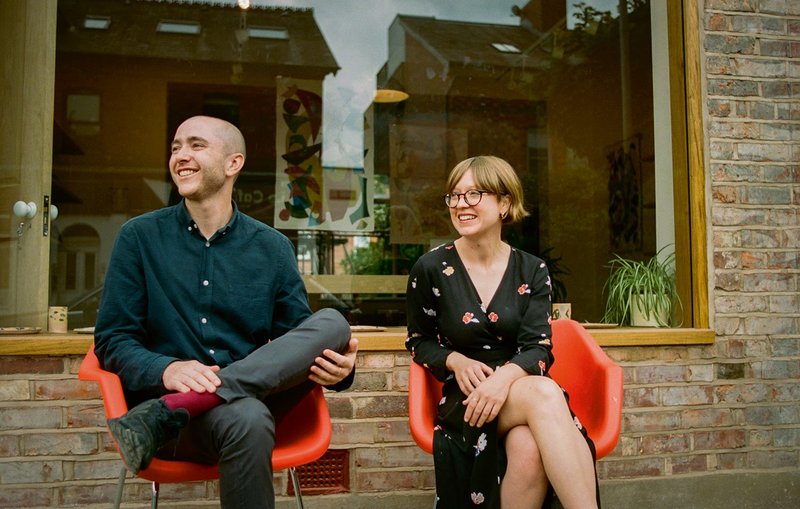 Jack Richards and Jo Sharples outside their office/ gallery.

Credit: Zora Küttner
From its office-cum-gallery in Chorlton-cum-Hardy, Editional Studio is on a mission to excite and educate. Even my taxi driver, who until now has insisted there's going to be no shopfront anywhere along this respectable south Manchester residential street, is caught unawares when it appears – and pulls up quickly.
With a large picture window to the street beneath a bold, blue sign, it's definitely looking more like a gallery than an office; intriguing models of tile or hemp within, A1 posters hanging in the space's depth, each a sobering statement of the construction industry's effect on global carbon emissions with slogans like 'Solar won't save us'. Its exhibition and pamphlet, Decarbonise Your House Now, is the result of the practice recently winning RIBA research funding to look at how small practices might better communicate climate change imperatives to clients. But it feels like a unilateral declaration to upturn the status quo in favour of retrofit, recycling and renewables.
Editional Studio's directors Jack Richards and Jo Sharples met on the first day of their degrees at Manchester School of Architecture and have been friends ever since – even doing their diplomas together at London Met University. Richards then worked for Karakusevic Carson on its Colville Estate regeneration before returning to Manchester in 2014 to work on Hodder + Partners' city projects; Sharples to Caruso St John and then Casswell Bank. But carving a joint path was clearly on their minds. Sharples came back to Manchester to teach at Sheffield University and, in 2018, set up Editional Studio with Richards, who teaches there too. Firm friends to firm directors, both wearing sustainability credentials on sleeves – Sharples is a Passivhaus designer; Richards an accredited retrofit coordinator.
Educating is a core part of the firm's social agenda, evidenced not least by its gallery space, born of a deflated former balloon shop owned by a friend; both this and the flat above comprised the firm's first project. It highlights the partners' interest in sustainable retrofit, community engagement, educational outreach and architecture's intrinsic cross-disciplinary nature. Previous shows included local artists, ceramicists, furniture-makers, even a sustainable Christmas pop-up. Drawing in people from the street has also proved a good business card. 'We found people were less intimidated by walking into an opening to talk about a project than the formality of an office,' says Sharples. In fact, it's how they've found the majority of their work.
But these aren't extensions of their work as much as manifestos. Take the exhibition model in front of the firm's office desk, which shows tiles proposed for an extension. These have been made by the client –a local ceramicist – from locally excavated clay. 'The brown ones were dug up from clay in her back garden,' says Sharples, 'and the pink and green ones from waste clay, inspired by capping bricks on walls in Manchester. She made and fired them both in her studio.'
It's clear the firm is about 'fabric first' in a deep way, tempered with a large dose of pragmatism. Experience has taught them that advocating for sustainability in prescriptive ways didn't work.
'You'd spend ages preparing a detail package for a contractor but they wouldn't engage with it,' explains Richards. 'Now we try to embed sustainability in designs from the outset; principles like local sourcing, minimal steel use, reuse of original fabric or use of external wall insulation.'
But for Editional Studio, it's not just about improved technical performance but the aesthetics that can arise from it. 'We want to get people excited about the architectural potential, and that's what's currently missing from the world of retrofit,' adds Richards.
An example of this ethos is Shady Nook, a new-build passive house on an idyllic 1.6ha site outside Stockport. The timber-framed, highly insulated three-bed home will be clad in stone sourced from within a 10-mile radius and local slate on the roof. But it means tough conversations with the client, who, with a growing family, understandably wants the house to be bigger. 'We'll say: if it's twice as big you still need more energy than if it's not passive but three times smaller,' says Sharples. Negotiating this – along with discouraging wood burners – is stuff they have to tip-toe through gingerly with clients.
The pair are prepared, for the moment, to fight at this domestic level. They accept that there's no big client in Manchester ready to take on board big-picture stuff. But they are working with a community land trust in its negotiation to purchase the old Chorlton Picture House and create a community facility rather than seeing it demolished for housing. Editional Studio was struck by its elaborate neo-baroque interior, hidden from view by a bad, modern brick add-on.
I remark on the fairytale nature of the Shady Nook visualisations and ask about their influences. They mention a few names but none seem to fit with what I'm seeing. 'As we're using local materials and trades, it may feel William Morris or Lutyens … arts and crafts maybe,' muses Richards, 'we're trying not to be dogmatic.'
'It doesn't come from language or style,' adds Sharples. 'I think we're always considering materials first and seeing how form shifts relative to that.' Their introspection, I feel, belies their ambition: 'You can buy the Decarbonise pamphlet at the Whitworth Art Gallery but our hope is that you'll get it free at B&Q.'