Having worked together for 10 years, the founders of Glasgow-based New Practice are still looking for opportunities to do things differently whether it's on diversity, meanwhile spaces or social responsibility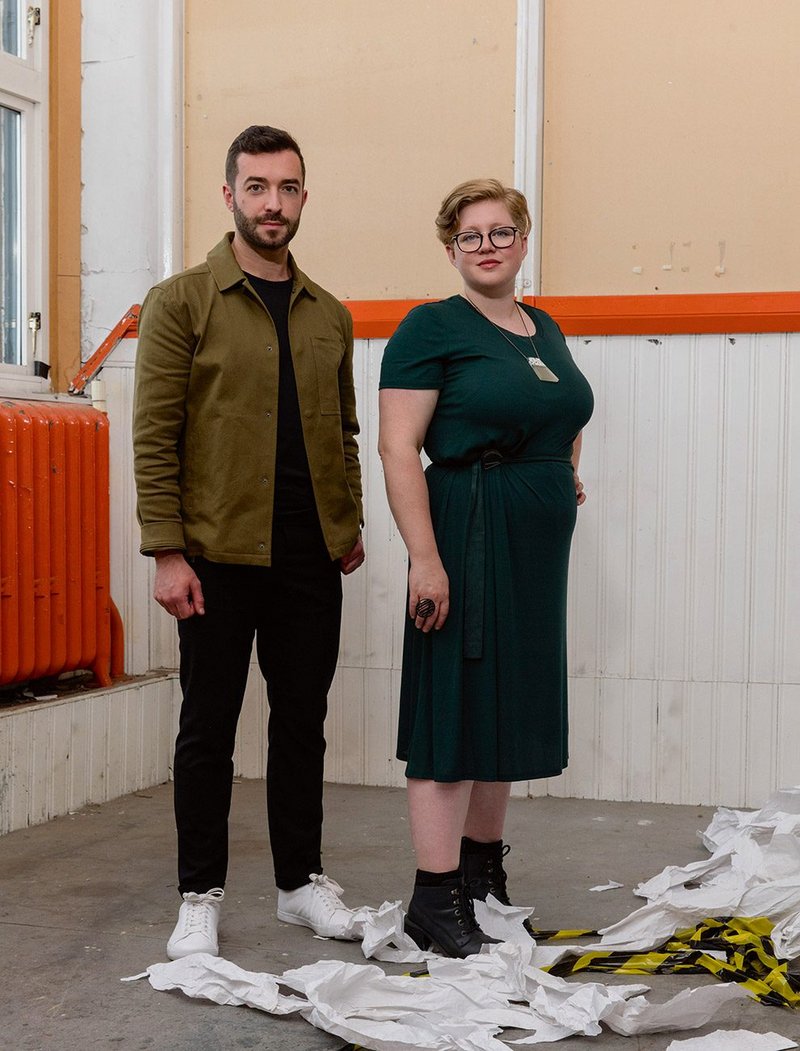 New Practice founders Marc Cairns and Becca Thomas

Credit: Alexander Hoyles
What's in a name? For the founders of Glasgow-based New Practice, Marc Cairns and Becca Thomas, their snappy moniker is a subtle statement of intent. 'We were never going to use our own names', says Cairns. 'The office is not about our architectural egos; it's about challenging how the built environment is made'. It also announced a fresh start for the pair, who had previously collaborated with a third partner as Pidgin Perfect, building a reputation for socially engaged placemaking projects. That was three years ago so the 10-strong practice is no longer new-born, but perhaps the suggestion of novelty won't date. 'We are always looking for new ways to practice', says Cairns, 'so it feels apt'.
Confident and fluent – thanks to a short-lived sideline as a TV presenter – Cairns does most of the practice's public presentations, but is only speaking for both directors now as Thomas is on maternity leave. Would she take a different line on anything? 'Probably, but we've talked so much over 10 years that we know each other very well'. They met as masters students at Strathclyde and discovered a shared interest in community-led urban design, which evolved into a practice more interested in grass-roots organisation than festishising details for fancy back extensions.
Though aligned in attitude, they have complementary strengths reflected in defined responsibilities. Thomas is creative director and oversees design. Cairns handles operations and develops the complex relationships involved in many of their projects. 'We are yin and yang', he says, 'but with me identifying as a queer man and Becca as a woman, we've both experienced the difficulties the profession has in being inclusive'. In their own firm that feeds into a commitment to diversity, and to making a positive atmosphere. Being flexible about time allows team members to pursue all manner of side projects. 'We are in a national wellbeing crisis', says Cairns. 'Practice leaders have a responsibility to tackle that'.
Other objectives for the new firm were to build more, and to leverage experience of how change happens in cities – or doesn't – gained in earlier years through a usefully 'naive' impulse to get stuck in. One calling card was its own home at Many Studios in The Barras, ten minutes' walk from Glasgow city centre, which the architects had created from a derelict market building. With curator Natalia Palombo they formed a community interest company, secured government funding and assembled like-minded tenants.
Those convening skills are vital to New Practice's work as two-way translators between the machinery of urban development and the public. Most engagement projects take some physical form – like turning a cargo bike into a pop-up exhibition – or involve collective activity based around design and making. 'Standing outside a shopping centre with a clipboard on a wet Wednesday is not the best use of our skills', says Cairns. During lockdowns the architects developed creative, narrative-based on-line communications; one example is a tool to engage Portobello parents with the idea of active travel. 'That's the sort of microscopic intervention that can have a big impact in people's lives'. Acting as local design champions for projects by larger practices has provided another point of entry to important conversations on the changing city.
New Practice also relishes a mix of scales in its built work. Much of it to date is in meanwhile use, or 'worthwhile use' as Cairns prefers to call it. 'Lots of wee things can quickly make a compelling portfolio'. Opportunities to do bigger things have also started to arrive, notably the newly-complete Kinning Park Complex. The community-owned space in an Edwardian school was in a parlous state. New Practice helped to win funding and fully revamped the building, stretching a modest budget to add joyful touches to pragmatic accommodation for work and events.
Geographic scope has also grown, across Scotland and further south. Appointment to the Mayor of London's architecture and urbanism panel led to projects for several councils in the city, where two staff members are based. In Cambridge, where developers U+I and Town are planning the 5500-home Core Site scheme, New Practice is adapting buildings for use as workspace which will be redeployed when the district is complete.
So what's next? The firm is ambitious to do more, but not at the expense of its intimate culture, or by doing work for the sake of it. 'It would be interesting to do a totally new building with people who share our values', he suggests. 'No houses for oligarchs'. Going on past form, New Practice won't be waiting for an invitation, or taking no for an answer. 'Glaswegians come from the school of "If you don't ask, you don't get",' says Cairns. 'If we are not given the right opportunities, we make them'.