The south London practice used self-development as a means to start a practice, carrying out every role from hiring a site workforce to marketing - now this has proved its way for other clients too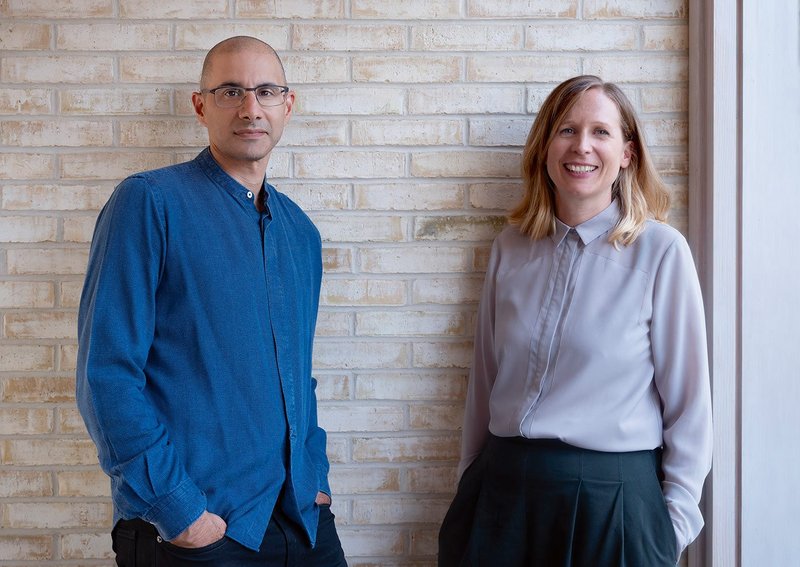 Ty and Nicola Tikari, whose work combines both their theoretical and practical backgrounds. Ty studied at the AA, while Nicola's studies in Munich included six months working as a plumber

Credit: Claudia Leisinger
'Communal garden doesn't really work,' says Ty Tikari as we look down into the four fenced-off gardens on the ground floor between the front and rear blocks at Rye Apartments in Peckham, south London. They are a bit gloomy in mid-February, but also a surprise from the expected central communal entrance leading through to a beautifully planted shared garden.
'Everyone likes to think they work but nobody who buys a flat wants a communal garden,' he continues. 'When you are involved in the whole process, you realise the reality; that people want their privacy.' I don't doubt it – plus, as Tikari Works co-founder and Ty's life partner Nicola Tikari points out, there is plenty of communal space on Peckham Rye common, which the scheme overlooks.
We are viewing Rye Apartments' shingle and concrete exterior as all the units are now occupied – sold or let –following their completion in March 2020. By 'whole process', Ty is referring to the fact that Rye is one of the practice's self-developed projects. The studio did everything from finding a site through to designing the branding, website and marketing material. It has retained the freehold so it is now dealing with leaseholder issues too. For Tikari Works, this all means a lot of work that is not carried out by your average architecture firm. It gives it a whole view of the picture and a direct relationship with users. 'When you do sales viewings, you see the immediate reaction of buyers,' says Ty.
Ty was born in Calcutta but his parents emigrated to California when he was young, so he grew up there. Nicola is German. She studied in Munich, Ty at the Architectural Association. They met in 2000 in New York where they were both taking a year out before their final year of studies – they settled in London as a neutral ground afterwards. Before starting Tikari Works in 2014, Nicola worked at Nagan Johnson, Stephen Davy Peter Smith and Studio Egret West, often on residential projects; Ty at John Lyall Architects, Jestico + Whiles and John Smart Architects (now Craftworks). It was at the last of these that Ty was exposed to architecture as a wider discipline – site surveying, financing, construction management, sales and development.
He had wanted to set up his own office for a long time. 'Both being foreigners, we didn't have an established network of people we know or other contacts apart from other architecture students,' he explains. 'We are also not natural networkers, that's not our core skill, so we felt that using the skills we had made the most sense; to use development as a way to starting a practice.'
This was the long game, dependent on the right opportunity. The first project was a planning gain that came along in the form of a derelict care home in Forest Hill, which they got permission to convert into eight apartments and financed through commercial lending and savings. Although Tikari Works didn't have the resources to build it, the deal earned them enough to buy another plot – a house and tyre garage.
The first project built out, however, was Pocket House, also in Peckham, which began as a feasibility study for a private client for the site of a double garage. Tikari Works won permission for a house on three levels, which Ty and Nicola then built as their own home. It was nominated for RIBA House of the Year 2019 and put the practice on the map. At Rye, the ambition was to scale up the qualities of Pocket House in an apartment building. The office didn't just design the scheme, it also acted as the contractor, directly hiring an eight-to-ten-strong team to work on site.
It is this type of work the practice hopes to move into more, where it can be involved in the whole process but for other developer clients; meaning its experience as a developer-architect becomes just a means to prove its abilities.
'As a developer you are strapped in for the whole process; a minimum of three years,' says Ty. 'All that while you are sitting on a mountain of debt and exposed to things outside your control like Brexit and Covid. Ninety-nine per cent of sites are dead-ends, but you have to cover overheads and need the capital to maintain four people in the office running projects, including ordering materials down to the last nail.'
'We rely on our skills to move quickly on working out whether something is feasible,' adds Nicola. 'Life savings are going into every project, so you need to have good nerves.
Tikari Works is now moving into the second stage of its office by working on diversifying its portfolio. Gondar Gardens, for example, is a scheme for a small developer in north London where it is starting afresh from first principles on a complex infill site to formulate the brief for four residential units with a diamond plan. It has also recently been approached by John McAslan + Partners to collaborate on a mixed-use scheme, and there is a house in Germany potentially in the pipeline.
The practice still has its own self-developed projects running alongside, including a nine-unit housing scheme in planning, which it hopes will reach Passivhaus Standard. After eight years, Tikari Works has earned itself the latitude to experiment, with architecture that carefully balances all the usual architectural drivers with an additional eye to cost, quality, maintenance and, of course, what people want. What a formidable way to start.
---