With the knowledge to create sophisticated designs, Minesh Patel's next task is to find the scale that makes the most of it, while becoming a role model practice for diversity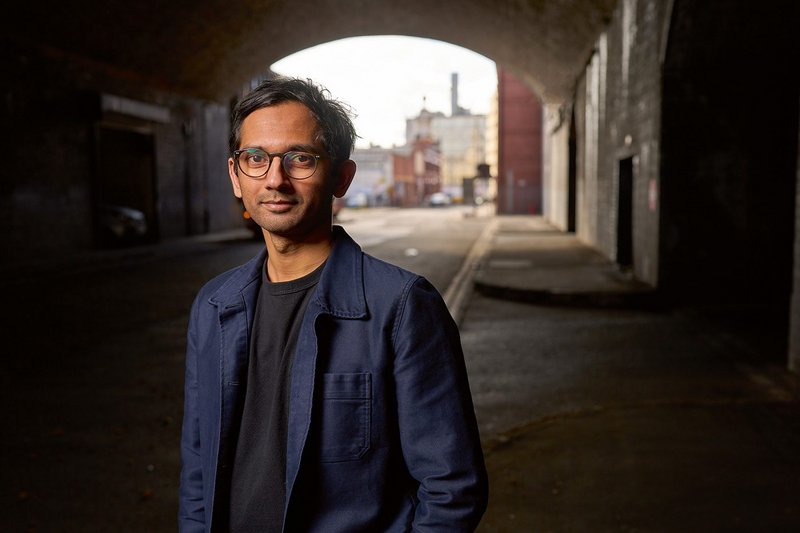 Director Minesh Patel outside his office in Digbeth, Birmingham.

Credit: Edward Moss
There's a row of locally listed Victorian terraced houses near HS2's Digbeth station in Birmingham – charming buildings that have seen better days. Minesh Patel Architects has just been appointed to bring one of them back to life – its own office, in a converted red brick two-storey warehouse by a soot-covered railway arch, backs onto its garden.
'It's a good time to be in Birmingham,' says studio director Patel. 'There's a lot of development and exciting projects.' Patel grew up in the city and saw a gap in the market for a small practice. Lately, Digbeth has blossomed from an industrial area into Birmingham's creative district, full of breweries, start-ups and studios. BBC Midlands announced last August that it will move into the old Typhoo Tea building further down the street from the terrace of houses. There's an area masterplan too.
'I started Minesh Patel Architects in October 2019,' he says. 'I'd always had it in mind, and it was now or never – give it a go. I'd moved back home so I didn't have rent, mortgage or responsibilities.'
Patel will be 35 this year. The practice doesn't have a huge portfolio of completed works, but beautiful flat evocative drawings on its website show a level of design intent acquired through previous experience. Patel studied for Parts 1, 2 and 3 at the University of Nottingham and spent years out at Glenn Howells Architects working on the Paradise and Exchange Square masterplans, 2 Chamberlain Square, Arena Central and Southampton Arts Complex. Eight months after qualifying, he went to work for three years at O'Donnell + Tuomey as a project architect on the University College Cork (UCC) Student Hub – a restoration and five-storey extension with ground floor market hall events and exhibition space. It has all that firm's classic attributes including brick floors and exposed concrete, which is why he went – 'to learn how to do concrete'.
For the first 12-18 months the practice entered competitions and registered with directories, including the Yellow Pages. That's how it got its first couple of projects – mid-pandemic when families were looking to extend their homes. Then word started spreading, also via social media.
'I had never worked on residential projects; it can feel like starting all over again with small domestic schemes,' he explains. 'But because UCC was a restoration, the detailing and construction were similar. It's enjoyable working with clients, but I don't know if Birmingham has a market for such architecture. To achieve the level of finish that makes it worthwhile as a practice, you'd need to spend more money than your house was worth.'
This can mean clients come and go, even if, as at Ulverley Green Road, designs can be pared back. Another avenue of work has been feasibility studies for small local developers. North Street in Walsall, an elegant proposal for 18 flats, is one such scheme, and a proposal for housing on the cusp of the greenbelt near St Albans in a rural and residential context. The design has features of both – timber cladding, flint plinths and tin roofs that reference local barns. The issue is that when they get to pre-application advice stage the projects require more consultation that the clients aren't prepared for.
Yet the practice has around four domestic projects ticking over at any one time. One scheme for a newsagent in Wolverhampton goes to tender and on site soon. The budget was 'bare minimum', so the resolve was to make the most of proportions, colour, tones and textures through simple material choices of brick, render and tiles.
Patel's ambition is to grow and work on larger projects like those he's worked on elsewhere. Two years in, the practice started getting noticed in ways that are propelling it forward. In 2021, Haworth Tompkins approached it as a local architect to join a team bid for one of the plots on the 14ha Smithfield development – a huge flat concreted site adjacent to Digbeth and the Bullring. Working collaboratively on facade designs that reference the local context took most of the practice's time in the past year. That's why Patel brought Part 1 colleague Patrick Allan on board – who he found on LinkedIn. It's good for the practice, but a shame small local firms can't be involved at Smithfield without being invited as collaborators by London studios.
At the end of the interview Patel adds: 'One other reason why I started a practice was to promote diversity as there is a lack of it in the profession, with few role models. It's also why I named the practice after myself. It's good for people from minority backgrounds to see successful and good quality architecture practices in the media. I felt I was in a good position to build on that… people with more diverse backgrounds are put off culturally at university and before. If you are from a working class or immigrant background, there's no family or friends network that can provide support through project work.'
'Eighty to ninety percent of the practice's enquiries from people/organisations with minority backgrounds,' he explains – a statistic that should be the opposite way round even in the relatively diverse West Midlands. 'We're missing out on a huge chunk of potential opportunities. It isn't talked about, but it's the reality.'
This begs the question of what holds back a more proportionate balance of enquiries. The only silver lining might be that the practice is more approachable to some clients than other firms, enabling architecture to reach wider audiences than it might otherwise. But it's no consolation.
How can Patel rebalance the mix? Hopes rest on growing and getting work with larger developers and local authorities that wouldn't have such biases. That the practice recently won an invited competition for a substantial project for a local charity, is perhaps an element of progress.
Read more about other Future Winners