Unknown Works takes an energetic, adventurous approach to work. It's keeping the practice busy across the world, writes Isabelle Priest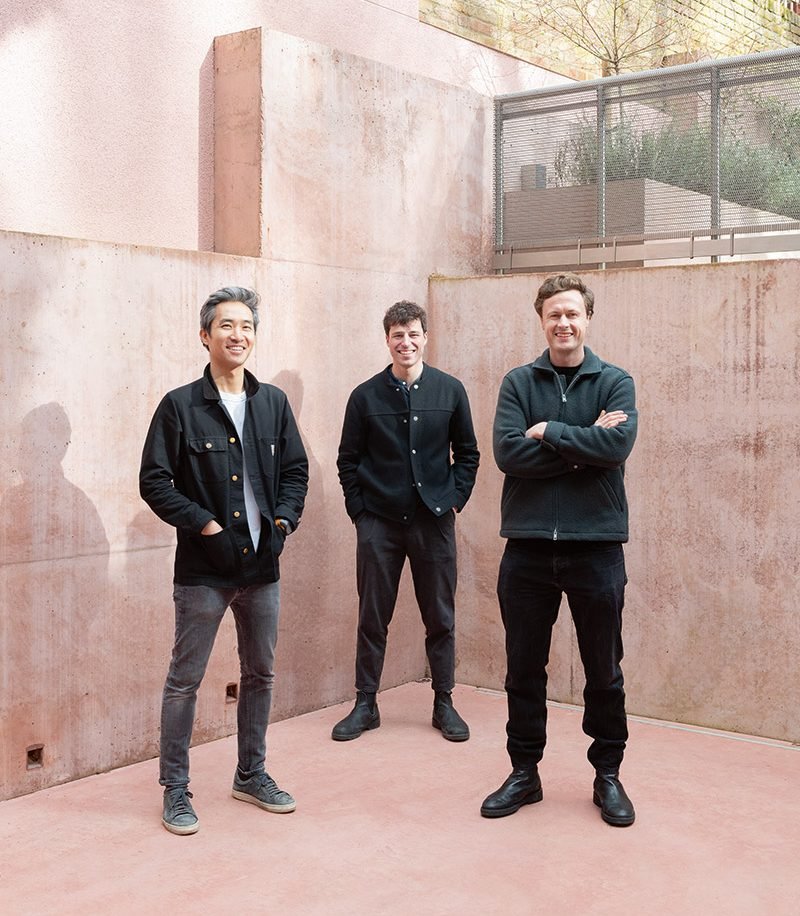 Unknown Works directors from left Kaowen Ho, Theo Games Petrohilos and Ben Hayes at Pigment House, north London.
Unknown Works signed the lease for its first studio in February 2020. The vaulted double-height space overlooking Gillett Square in Dalston, east London – with a separate meeting room – was bigger than the team needed so it always planned to let a few desks. But as the globe plunged into Covid lockdown, what's interesting is what the practice did next. To cover the shortfall in rent, the directors went out to the hotchpotch square to ask if any of the small businesses and organisations there needed help from an architect. Amazingly, it worked. One client that came out of it, the Vortex Jazz Club, moved back into its newly refurbished venue last November; acoustic work had already been done.
This bold move is emblematic of the unfettered intensity with which Unknown Works' directors go about their work. The three friends – Theo Games Petrohilos, Ben Hayes and Kaowen Ho – met 17 years ago at the Bartlett with the same levels of energy. I know because I was there with them. Each had access in multiple ways to the worlds of architecture before that; family, work experience at top studios. That they run their practice with the same untempered approach to meet, make and build is astonishing, although, Hayes says, it can sometimes be 'a bit naïve'.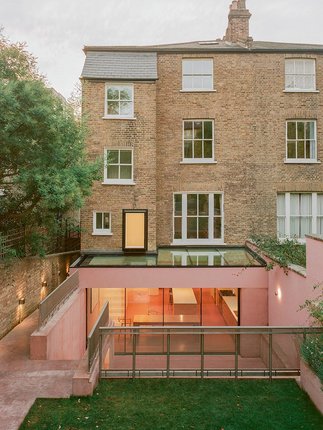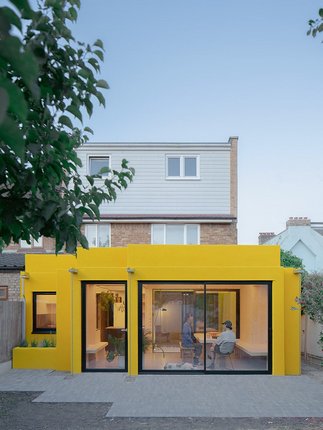 Sat in the meeting room, with lunch on the go among Unknown Works' seven staff next door, Games Petrohilos explains that they set up together because they wanted to 'do cool things. It sounds cheesy, but we're best friends.' Their second-year unit trip to New York was seminal. They stayed an extra week and were interested in how they 'reacted in different ways to the same thing' and vice versa – music, the city, buildings. Games Petrohilos went to do part I at Alsop, Hayes at Foster + Partners, including in Beijing, and Ho also at Foster's and then in Beijing for Henn Studio B. It was an exciting time in China and Unknown Works still has projects there.
They all returned to the Bartlett for their master's degrees. Hayes won the RIBA President's Silver Medal for his final project and between them Games Petrohilos spent six years at Studio Egret West (hence the communal lunch making), Hayes at Niall McLaughlin Architects and in Hong Kong at Rural Urban Framework, and Ho at Haptic, Undercover Architecture and Heatherwick Studio.
'The nice thing about Heatherwick is that it takes something that could be megalithic and monumentally massive, picks out the lovely little bits like a handrail or a doorknob and goes to town on those,' says Ho. Similarly, Hayes went from designing at superscale to starting almost with detail at McLaughlin's.
Unknown Works' approach could be seen as exhausting, unsustainable even... it's not for them. It's about getting lift-off
The aim has always been to make stuff that gets built; they even build things themselves. They have been moonlighting on projects and competitions since their master's degrees. Their meeting room doubles as a workshop; the saws and tools pushed to one side now. The moment when the directors realised they were formally becoming a practice was for their 2018 London Design Festival submission (although they had intended it for LFA). The project became Space Gap – a play on 'wealth gap'. It was a way for them to respond to the housing crisis and high-density development as a design, political and social issue. A spatial diagram demonstrating housing square metres per person became an installation in Olympia with a three-day programme that the directors curated and organised themselves. One half of the money came from the Arts Council and the other through crowdfunding. They spent three months making it happen, including building the pavilion and individually casting its 50 concrete plinths. They folded in as much as possible, as if it was their last shot, although in fact it was the beginning.
They had already done a similar thing for their 2015 submission to the Chicago Architecture Biennale. The team designed an ambitious community kiosk and everything that could happen in it, cold calling businesses there to be involved.
This is the naivety Hayes talks about – putting in so much of themselves. From the sidelines, Unknown Works' approach could be seen as exhausting, unsustainable even. For some it might well be, but is it for them? The trio have been operating like this for nearly 20 years, so clearly not. It's about getting lift-off. Their accomplished CVs disguise the reality that twice they graduated during recessions; first in 2009 and then in the 2012/13 double dip. The experience of it being a 'weird time' and 'really hard to get a job', as Hayes and Games Petrohilos remember along with anyone of these years, is difficult to shake. Working extra hard and hustling are perhaps inevitable.
Unknown Works is 'a curious non-name'. It's anonymous and yet it communicates something about not knowing the answers when the firm sets out on a project. Perhaps this extends to how and when it seeks projects, getting them however it can at that moment. One of the practice's first domestic schemes came through a chance encounter on the street. A man, who turned out to be a famous musician, approached Ho, inquired what he was doing and asked him to redesign his house. The rest has rolled from there – by word of mouth, for people they know from university and school, and introductions. The personality differences between Ho, Hayes and Games Petrohilos punctuate a scale from outgoing, outspoken and forthcoming to considered, collected and relatively calm. But they are sociable. For example, at Games Petrohilos' refurbished flat in Kentish Town, an oversized table and crazy number of chairs fills the tight space to entertain as many friends as possible. That musician has become a repeat client. The directors are good at carrying people with them, but the chummyness could be isolating to others.
What of the architecture? You've guessed it. Each project is an opportunity to drive a new thread, uncover a new area of design that also pulls the project together. The approach is not predictable and is a clever way to upskill. At Pigment House, a lower ground extension in Dartmouth Park in north London, the practice experimented with coloured concrete and shuttering. CLT House, an overhaul of a 1950s suburban home in Leyton, east London, was Unknown Works' first full CLT scheme. They chose the material for speed and sustainability, but the team pushed it in every detail, making handmade circular light switches the memorable thing – photographs compel you to demand to know how they work. In-your-face yellow exterior paint adds 'sunshine' to the post-war street.
On site now is the Energy Revolution Gallery at the Science Museum in west London. Displays here are being built using reclaimed archive shelving from the museum's Blthye House storage building. Design time in the office is about transforming one thing into another, pieces of 1:1 prototypes lie about the meeting room/workshop. At Scott's restaurant in Ho's home city of Chengdu, China, on the other hand, 3D scanning was the theme, and means to recreate the iconic British chippie. The kitchen became the retail unit space and the architecture becomes an inhabited fold-out GRP facade. Everything is subverted, down to the restaurant serving river rather than saltwater fish because it is 1400km from a coastline. The work at the moment is about pushing limits and learning, produced using a known language of contrasting computerised graphical imagery.
Rapidity of ideas and getting in among many streams of work gives Unknown Works its highs. Perhaps you are reading this with a trepidatious feeling of chaos and energy. That's OK. Great architectural partnerships have come out of groups of best friends. It's not clear yet what kind of architecture will emerge. For Unknown Works, it will evolve – perhaps magically, into something that's probably really decided. The creative spark and gutsiness that the directors get from each other, that took them out to Gillett Square, promises to keep watchers on the edge of a dizzying seat. It was difficult, at university, not to think that this is what the route to success in architecture looks like. It still is.
Read more about other Future Winners