Jessam Al-Jawad and Dean Pike are of one professional mind, building unexpectedly complementary work streams in upmarket retail and social housing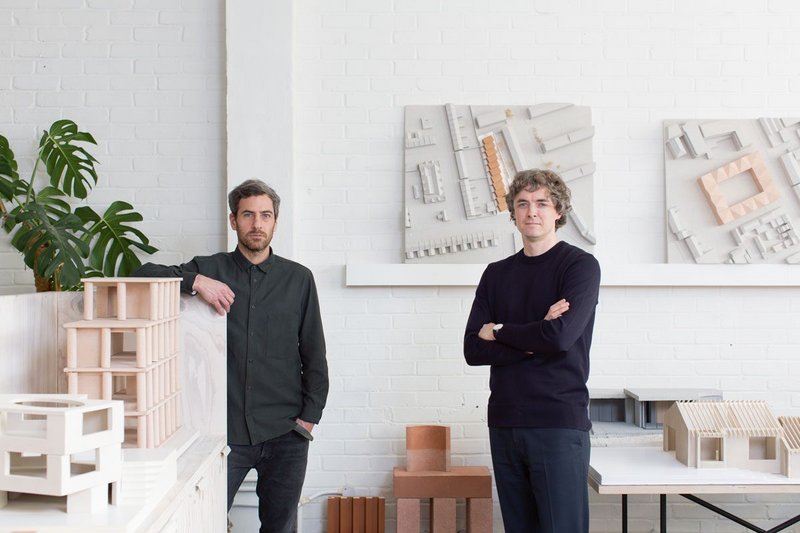 Jessam Al-Jawad and Dean Pike photographed in the east London studio that the practice has occupied since its foundation in 2014.

Credit: Agnese Sanvito
A couple of years after Jessam Al-Jawad and Dean Pike established their studio, its live projects included a boutique on Rome's Via del Corso and a social housing scheme on a disused garage site in Hackney. 'We always wanted a diversity of work that allows us to grow as an office and as individuals,' says Al-Jawad. 'We want every project to be different from any we've done before'. Now six years old and seven-strong, east London-based Al-Jawad Pike has a portfolio that is notable for its range, with quantities of both retail and residential work, but unified by a few common threads. Among them are a taste for weighty, tactile materials and an enjoyment of construction: 'How you put things together in a way that is joyful to experience,' says Al-Jawad.
These shared interests were present from the pair's first meeting as diploma students in a Bartlett unit taught by Níall McLaughlin and Yeoryia Manolopoulou, recalls Pike. He was already working at David Chipperfield Architects, and introduced Al-Jawad to the practice. Both went on to spend 10 years there, and its influence is present in the practice's 'attitude of reductiveness and intention to keep it simple', says Al-Jawad. Long association has clearly led to a close understanding between the partners, who habitually describe their interests and opinions in the plural – 'we like', 'we want', 'we think' – and having made a point, smoothly hand over to the other for elaboration.
Departing to set up their own practice wasn't a grand plan. 'It happened quite casually,' says Pike. 'We were doing competitions together and waiting to see what materialised.' Opportunity knocked with RIBA's 2014 Regent Street Shop Windows Project, which paired the architects with perfumier Penhaligon's to develop a temporary installation. They subsequently pitched Penhaligon's with a concept store design and secured a few months' steady income to develop the work. 'It was now or never,' says Al-Jawad. In their early 30s, they were 'old enough to have delivered a lot of work at Chipperfield's, but still young enough to be able to work a bit harder and not be too scared that things might not work out'.
That confidence paid off, and the concept store proposal became 10 Penhaligon's shops in Europe, the US and Asia. More work in the luxury retail sector followed. Four Italian outlets for leather goods maker Celine are lined in grey concrete and nougat-like terrazzo, and feature onyx display cases and resin shelving. In Manchester, a flagship store for fashion brand Allsaints employs a tougher palette of concrete and textured render with galvanised steel ceilings and shelving units. Outside the conventional store environment, the practice has designed a pop-up structure for Chloé in Beijing, and elaborate settings for Burberry runway shows at London Fashion Week.
The latest addition to the practice's retail portfolio is a concession for skin-care brand Aesop within the London department store Westfield. Wrapped in a wavy wall of straight and curved terracotta-coloured concrete blocks, it demonstrates the architects' interest in creating strong architectural character through the imaginative organisation of inexpensive materials.
'Working in retail is good for a young office because you get to build quickly,' says Pike. 'The turnaround for a project is maybe six months and then you've got something to show.' Store design also offers considerable scope to experiment, adds Al-Jawad. 'We see retail projects as essays in what might later become a larger piece of work – an opportunity to try things out at a smaller scale where we have quite a lot of creative freedom.'
From the outset the practice focussed on developing parallel strands of residential work. 'Rite of passage' back extensions led to commissions for new private houses. At the same time, it was looking to break into social housing. Success in a 2016 competition led to an 11-home development of townhouses and mews homes for Hackney Council, which is approaching completion. Another scheme for the same client is on site.
This work is usefully complementary to the retail projects – slow-cooked, and with the constraints of site, programme and tight budgets that provide 'different design opportunities and more challenges', says Al-Jawad. The same sensibility is brought to both fields. In a two-storey house extension on King's Grove, Peckham, blockwork is used to create architectural character in a way that prefigures the Aesop store. Budget is also an important influence on the studio's design approach, says Pike. 'Often there isn't money for fine finishes; not overloading projects with too many materials is a way of keeping them economical.'
At King's Grove glazing bars are hidden behind slender beams, and oak joinery meets blockwork in crisp, undisguised junctions – details that give the impression of simplicity but are hard to achieve. 'We didn't work with top-end builders,' says Al-Jawad. 'There's always a struggle in the execution. It takes hard graft, persuasion and resolve.' That can mean doing more work than the fee can reasonably sustain. 'Sometimes you're prepared to do that for your portfolio, but it doesn't really work for bigger housing projects when you've got salaries to pay.' There, says Pike, the architect's inclination to focus on a project's essential character is advantageous: 'It's about not over-complicating the design, and maximising the potential in certain areas – maybe a really nice brick, high ceilings or big windows – that you can protect through the procurement process.'
In its current housing projects the practice has been employed to oversee construction, but that may not be the case in the larger-scale work it is pursuing. 'There's a high probability that an architect's details will be corrupted in the execution,' says Al-Jawad, 'so we're thinking now about how to manage that.'
As well as bigger housing projects, the practice's long-term aims include being in contention for the sort of large international cultural projects that seemed more common before the financial crisis, should those opportunities come again. In the mean- time, says Pike, 'we are into building and learning through that process. We'd like to continue to grow in size insofar as that allows us to build more, and to try new things. Our ambition is just to continue to produce and realise strong ideas for projects.' Work to date – pragmatic and refined, varied but consistent – has laid solid foundations on which to build.