Directors Jonathan Hagos and Tom Bell decided to broaden their work beyond the food and drink sector just at the right time. Now the young practice focuses on community-led schemes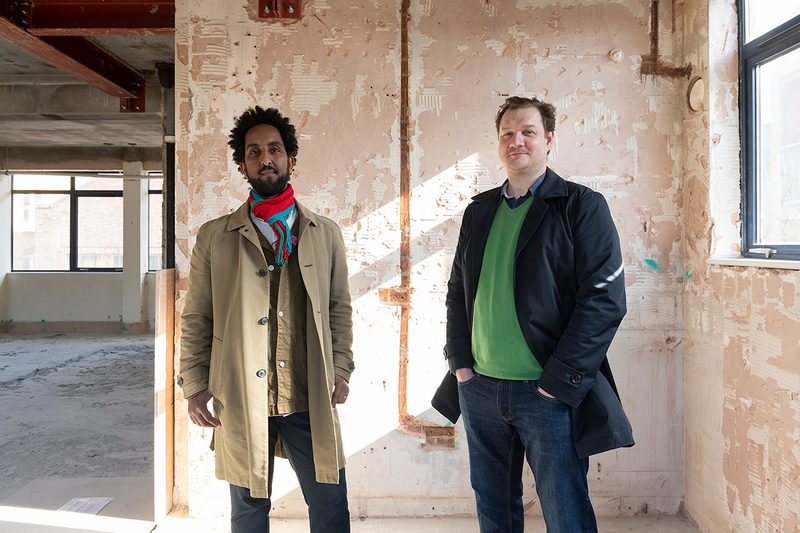 Jonathan Hagos (left) and Tom Bell (right) at Freehaus Design's Africa Centre currently under construction in Southwark.

Credit: Ivan Jones
'I'm glad we did a business plan,' explains Tom Bell. 'If we hadn't planned every step of the way, we would be in a very different position now.' He is referring to the Covid crisis and the dire effect it could have had on his practice, Freehaus Design, which until recently relied heavily on commissions from the food and beverage sector.
Bell and co-director Jonathan Hagos set up the practice in 2012 and, during its first five-year plan, clients included Benugo, Square Pie, Bocca di Lupo and Yotam Ottolenghi. They were good clients, as were the fees but, explains Hagos, 'at a certain point we became cognisant that our exposure to more orthodox architectural stuff was missing – for example, most obviously, building foundations.'
'Food and beverage needed to be a stepping stone,' adds Bell. So at this five-year point the directors decided to make a curveball hire by recruiting Ana Beatriz Fernandes, a graphic and digital designer, to refine how the studio presented outwardly and refocus towards other types of work. The directors also decided to become more specialised – Bell became a certified Passivhaus designer and Hagos an RIBA conservation registrant. Fernandez added wayfinding and placemaking to the toolkit to provide a one-stop shop for clients.
Today, the main projects on Freehaus's books are engagement and community-led schemes, many of them backed by the Mayor of London's Good Growth Fund. It has far fewer food and beverage projects, which is just as well after the year that sector has had.
'Beatriz helped with logos, tone of voice, the website and how to weave food and beverage into a wider narrative,' explains Bell. She encouraged the practice to spring clean, relinquish some ambitions and promote others, enabling them to draw out the ingredients of its existing work that could demonstrate broader experience and competencies to clients – social and co-working spaces, cafés and listed buildings, working with multiple stakeholders and multi-headed clients and dealing with rapid turnarounds.
Hagos and Bell met in 2009 when Bell was working at Consarc Architects in London's King's Cross and interviewed Hagos, successfully, for a job there. Their paths had crossed before then, but they'd never been introduced. Bell did his Part 2 at the Bartlett while Hagos was there doing his Part 1. Hagos was scouted from the end of year show to work at Squire & Partners, returned to the Bartlett for his Part 2 and then worked for several small firms including Studio Cullinan and Buck Architects.
Bell, on the other hand, spent six years at Wilkinson Eyre working on Magma, Building Schools for the Future and a stint in Hong Kong where he grew up, before joining Consarc. He was keen to see variety in practice, not just big projects, and to be client-facing and also work on a civic scale.
While at Consarc, the two formed many of the values Freehaus is founded on, working on projects such as the Icon Innovation Centre in Daventry and Oriental Club extension in central London.
They left Consarc at the same time – Bell effectively starting Freehaus in his spare room before getting in touch with Hagos, who was working as a production designer with his now-wife Nina Gerada on a feature film concerning migration from north Africa across the Mediterranean (he has also dabbled in making TV commercials). Bell and Hagos spent the first eight months plotting and discussing how to shape the practice.
'As we knew we wouldn't be able to draw big salaries at the beginning, the emphasis was on what Freehaus could offer us,' says Hagos. 'Tom had got married a few years earlier, I was about to. We knew we wanted to have families and we were conscious of creating a practice that didn't take over our lives. We wanted a team that would have positive experiences in architecture and the workplace – no one stuck drawing toilet layouts.'
We're speaking via Teams – Bell in the Cotswolds, where he lives, and Hagos in London. What's particularly noticeable about the three-way conversation is the relationship between the directors. It's not that practice directors are usually fast and loose with each other, but here the their dynamic is extraordinarily cordial, respectful and civilised. There isn't any interjecting, no talking over each other – it's about waiting one's turn to speak, checking the other is finished. Perhaps it shows a thoughtfulness to PR that has been fine tuned over a year of remote working. More likely it seems to signal the circumstances of how they were brought together from an ultra-professional angle and how they have conducted themselves ever since through appreciating their mutual understandings of the subject matter and values, with differences potentially pushed more to the side.
You might expect this backdrop of propriety to lead to work that is lacking in flavour but, strangely, it doesn't – and we wouldn't be featuring Freehaus as a Future Winner if it did. Rather, the food and beverage projects forced the practice to engage with graphics, texture, colour, branding and not be afraid of interiors that are particularly resonant with trends happening in architecture now. It put Freehaus at the frontline of other business's profit and loss, embedding the idea of socio-economic sustainability. It was also an arena to play out the directors' founding ideals of collaboration, co-design and collegiate practice.
The practice started up with a few projects in hand, including the Clement James Centre in north Kensington and an Eritrean community church and Eritrean café (for Hagos's mother in Woolwich), but many of the early jobs came through a contact at design agency Here Design. This led it to Ottolenghi, Benugo and schemes on the high street, at Luton Airport, and within cultural institutions such as the V&A, Natural History Museum, Barbican Centre and for a co-working hub at Imperial College in 2018.
'It's about making sure the clients are custodians of their project,' says Hagos. 'When we talk about co-design it is not about shirking responsibility, but a successful and sustainable project is one where the client has authorship early on.'
This thinking and realignment at the five-year point means the practice is now entering competitions (it didn't bother before) and winning them (Rainham Innovation Centre) – and the phone is ringing. It is also going beyond briefs for clients, such as expanding a potential German bakery project into a food business incubator hub in Berlin.
When coronavirus hit, the directors were concerned that the many publicly funded projects might fall by the wayside, but they haven't. To the contrary, the pandemic has reinforced the embedded socio-economic sustainability and objectives in these projects at the Africa Centre in Southwark, the Tampery in Tottenham opposite where the 2011 London Riots started and at the Clement James Centre, which is in the shadow of Grenfell Tower. The practice's small amount of selected residential work (like Wilton Way in Hackney) has also remained buoyant. It could be just luck, but step inside a conversation between Hagos and Bell for a few hours and it surely doesn't look like it.
Hear more from Tom Bell of Freehaus at the Guerilla Tactics my practice event on 5th May 2021.