McGinlay Bell's directors grew up, trained and now practise locally, including a formative eight-year spell working for NORD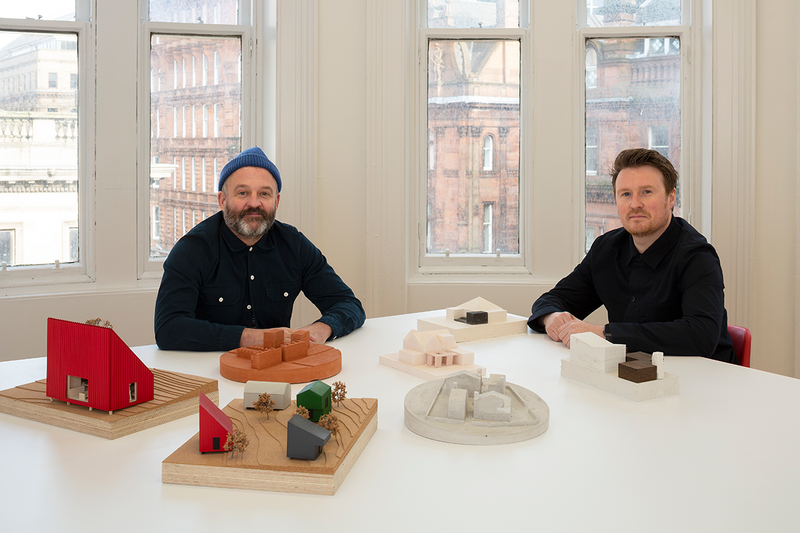 Surrounded by their working models, Mark Bell and Brian McGinlay in their new Baltic Chambers office in the heart of Glasgow.

Credit: Keith Hunter
Young Glasgow practice McGinlay Bell is living proof of the benefits of staying close to home. Its directors, Brian McGinlay and Mark Bell, hail from Glasgow and Kilmarnock, were made in Glasgow and, for the most part, their frames of reference proudly revolve around this city. Speaking on video call, they initially come across as an odd couple. McGinlay, slickly coiffed in a crisp deep navy shirt buttoned to the collar, seems the model of the driven, aspiring designer; whereas the more grizzled Bell, shy at first and wearing a blue flannel shirt and beanie, appears more like a Firth fisherman. After a while the shirt's conceit of a Vivienne Westwood logo will be revealed; and as for the reticence, like the eponymous lozenge, it's not long before he warms up too.
Setting up on their own in 2016, the two might have carved a niche for themselves in local domestic extensions and one-off houses, but the sense is that they have their eyes on bigger prizes – an ambition thwarted over the pandemic year though they both retain a Celtic optimism in adversity. The practice has just completed their latest home, Bearsden House, on Glasgow's northern fringes, a sizeable and stealth-like private home of full glazing, black-stained timber and dark brick, displaying a clear ability to successfully manipulate materials – especially here in a conservation area. But it's the plan they feel proudest of. 'It had a narrow frontage and a very long plan on a landscaped site, and it was important that the spaces connected back to nature in a particular way,' explains Bell. 'We cut courtyards all through the plan so every part of the building was connected to a garden space; pushing the idea of filtering the home through the landscape … in the end we could have built it from anything.'
These obsessions with plan and materiality are born of a very specific lineage, both directors having been part of the core team at Robin Lee and Alan Pert's NORD Architects. The two first met in 2001 in their fifth year at Strathclyde University, where they were both exposed to the experimental teachings of Jonathan Charley, Per Kartvedt and head of cultural studies, David Reat. 'They were driven by social, political and environmental issues of architecture and encouraged us to be thinkers, to question, to be optimists!' says McGinlay. The move they subsequently made into commercial practice might seem strange – McGinlay to JM Architects and Bell to RMJM's Glasgow office working under Paul Stallan – but it allowed them to cut their teeth at a larger scale and in office management. 'It taught us about how firms actually run,' recalls Bell. 'At RMJM I was thrown in at the deep end and got the confidence to work on £50 million jobs with 15 builders on site shouting at me; so I was never intimidated by the move to an office of our own and small-scale work.'
But it was the experience at Nord from 2007, McGinley joining just prior to Bell, that proved formative for them both. The eight years they spent there saw them involved with some of its key schemes, including the 2010 Shingle House in Dungeness for Living Architecture, for which Bell was project architect. NORD's skill with materials feeds into McGinlay Bell's own work. 'The domestic stuff lets you test out the brick, bronze or walnut detail but it's in the commercial realm where these play out,' says Bell.
NORD dissolved in 2015, but the two felt the benefits when they set up on their own. Their elegant and delicately detailed Phase II of the Glasgow Film Theatre followed on from NORD's Phase I, as did the £4 million Maryhill Locks housing in Glasgow – a former NORD project and McGinlay Bells' largest to date. The scheme comprises 40 two, three and four-bed brick 'private affordable' homes for client Bigg Regeneration on a narrow site with a steep level change down to the River Kelvin. The terraces offer views and potential for habitation of the roof spaces, all embellished with decorative metalwork details at the thresholds and openings. It is the kind of project that, McGinlay hopes, will finally get them noticed for public housing, though Bell caveats this with a refusal to work for the punitively low fees most of these offer: 'We're a small firm; we simply can't afford to do that.'
As it stands, ongoing relationships with former firms and the wider consultant team has kept them in the commercial work they're craving. After being shelved for a year, two commercial projects in Glasgow city centre are coming back to life and, post-pandemic, look like they'll be developing into something more interesting, thinks McGinlay. What was a standard office refurb at 101 Vincent Street now has the potential to address 'the changing nature of office space – how you move away from raised floors and suspended ceilings and talk instead about domestication and control of your own space'.
For their first foray into masterplanning, they are developing a scheme in Dundee for publishing giant DC Thomson. McGinlay says they have to get their head around how to reinvigorate a whole area of the city centre by bringing the client's disused 20,000m² West Ward Works back into active use. Bell recalls a study trip to Berlin and a visit to Hackesche Höfe in the city centre as an influence on their thinking. Its office blocks punctuated with public courtyards of leisure and cultural activity are seen as a model for the practice's Dundee proposal for offices and start-up spaces enlivened with live/work, gallery and leisure spaces – 'active public spaces that permeate through the private blocks'. The proposal brings together corporate office space with small business incubation and a 'makers creation campus' with Dundee University. This isn't just about urban planning, it's a broader imagining of what uses might be possible. 'We're helping the client to build a vision of what the programme might be,' says McGinley.
With projects looking like they will pick up, the firm has just moved into new offices in anticipation. Not before time, I sense. Both partners, having spent a year working remotely while online teaching a cohort of future architects at Strathclyde, are champing at the bit to be a 'live' office again. 'It's the critical dialogue that's missing and we're itching to get back to that play-off from one another to how a project develops,' muses Bell on the missing engagement. 'Catching something on screen as you walk by that could make all the difference to a project – and that we learned from NORD.'