Tenacity and realism have paved a steady course for MMAS founders Garreth McMahon and Fearghal Murray in Northern Ireland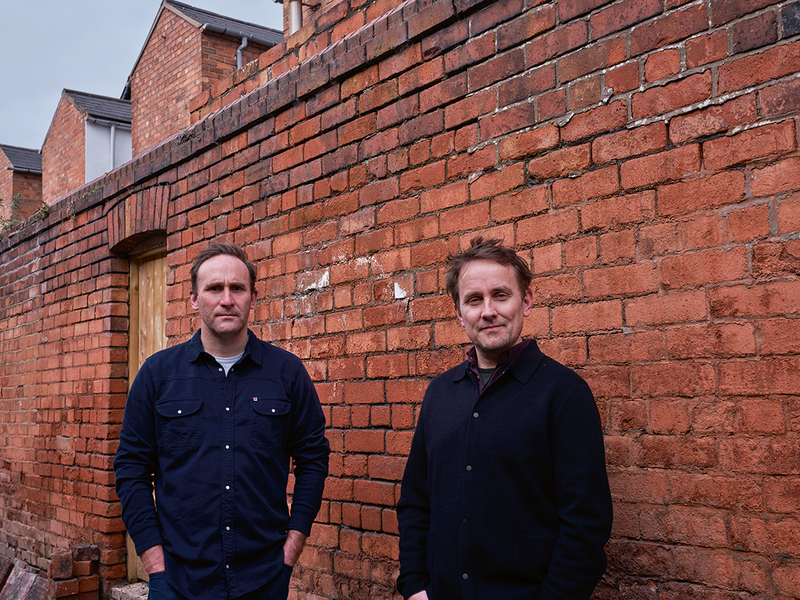 MMAS practice founding directors Garreth McMahon (left) and Fearghal Murray in Belfast.
The bulbs carefully planted by Garreth McMahon and Fearghal Murray are starting to bud at MMAS in Belfast. RIBAJ first talked to them about doing this profile in early 2019. The duo set the practice up in 2013 but it has taken six or seven years to get financial stability. Only now are they getting the type of work they wanted and are happy with to speak in depth about it. A charming and clever community farm on the edge of the M1 motorway in the west of the city is about to finish on site, and a sprawling country house made of clustered components, clinging to the edge of the fields in Dungannon, will complete in a few months' time. They say that slightly too many projects on paper haven't materialised – perhaps these hang more heavily in their minds than they need to. We were already interested and impressed back then. Though as with other articles, it is a shame we can't now meet in person.
So we are stuck on Teams. Me grounded in London, McMahon and Murray are in their studio in an enormous converted former woollen mill where there are usually around 50 individual businesses. The office is right at the edge of the Falls Road, a key interface in an urban environment that still shows the marks of its sectarian past. The Cupar Way Clonard peace wall, originally built in 1969, is at the end of the street; the 3.5m tall North Howard Street metal gates interface is just around the corner. The practice will soon be six people, with a new joiner due in April.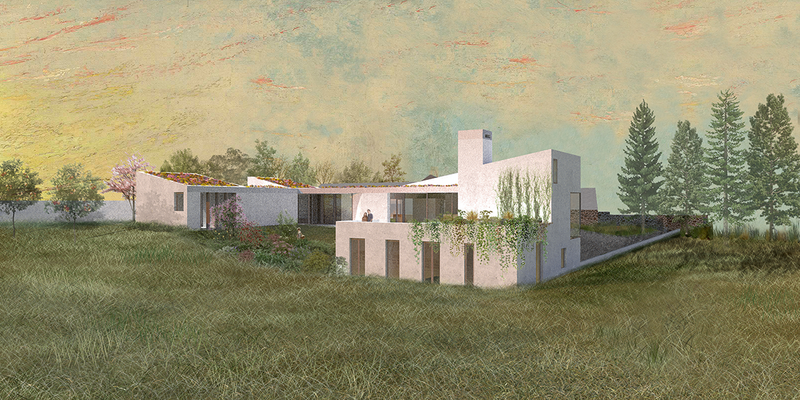 The house at Dungannon is inspired by the clustered buildings of Irish vernacular architecture. Murray and McMahon see parallels with southern European architecture in its courtyards and single room plans.
The pair are feeling upbeat; coronavirus has brought about a shift in thinking in Northern Ireland. There is an urgency among political leaders and others that hold the purse strings to give Belfast's public realm rapid attention – to improve how people can move around the city and to consider what to do with commercial spaces when business activity returns. Road engineers have dominated this type of work for decades, but now there is growing recognition that architects should be involved – and not just the big firms. Procurement impediments to commissioning smaller practices are being addressed too. MMAS has been appointed to a few more public realm and community projects that have coincided with the health crisis: a parklet with kiosks in collaboration with OGU on five parking spaces at Castle Place, and a pavement-widening scheme on Adelaide Street. MMAS's portfolio is peppered with diverse projects, but McMahon and Murray had been prepping for this kind of tipping point for some time.
The two met while working at Mackel & Doherty Architects in 2005, right in the middle of the roaring Celtic Tiger economic boom. McMahon had just done Part II, Murray had finished Part I. There was a lot of positivity playing out after the 1998 Good Friday Agreement in Northern Ireland in the early 2000s. Interesting work was sloshing around. The national and local governments were investing in public buildings, tourism and museums like Titanic Belfast as well as the smaller grain. McMahon and Murray were introduced to architectural practice on a diet of community projects and small interventions like Irish language schools (Ciarán Mackel is a full Irish speaker). These were often temporary and modular, restricted by funding, but had potential to make decent architectural projects. This type of work rubbed off on McMahon and Murray.
Of course, the Celtic Tiger only lasted so long. By 2012, the 2008 financial crisis had bitten in both Northern Ireland and south of the border. McMahon and Murray had to leave Ciarán Mackel and ended up working together from an attic, starting at the bottom with small residential clients because public procurement processes wouldn't take into account previous experience gained elsewhere – a chicken-and-egg conundrum.
'Post Good Friday there was a lot of tourism-focused investment while other things festered away,' says Murray. 'Recently there's been a realisation that there needs to be urban regeneration in those neighbourhoods.'
'Our approach all along,' adds McMahon, 'has been forceful in identifying blighted sites then doing pro bono work to get involved and make contacts, sourcing leads, pushing ideas towards councillors to prise the door open. But it is a difficult place to practise architecture because you get in with one council and then it changes.'
In these ways Belfast is more of a big town than a city like Dublin and London. The urban farm project started pro bono. But McMahon and Murray are not Belfast-grown. McMahon is from County Tyrone, Murray from County Armagh. They came to work here because of the Celtic Tiger optimism, wanting to get to know their capital and be part of progress. Being 'from the sticks' has given them a healthy distance in proposing change, but it hasn't quite gone to plan.
'Architects can be over optimistic about curing social division,' explains Murray. 'Urban problems are common to UK and Irish cities but they are heightened in Belfast. There's a lot of broken streetscapes… Initially we were frustrated because as architects you want to build but we have realised the role is softer than that. It is about resetting the perception of young and old people – who live, for example, around a wall [built along sectarian boundaries] – and what they want for it. It's about leading conversations about changing that wall or potentially taking it down.'
But the process for instigating change in these areas is complicated – in the first place even in identifying who owns a wall or interface. And ballooning tourism over the past 20 years has given the walls value. Resistance to change can be strong – even children not around during the Troubles start with a defensive mindset. However, growing work in regenerating the city comes full circle for MMAS which can draw on its early community work experience of very fixed budgets. The pair are inspired by David Leech's work ennobling buildings by assembling standardised elements. MMAS is now on an approved list to develop feasibility studies for Development Trusts NI, which helps groups acquire public land to pass onto organisations like social enterprises that can make good use of it. It recently made a proposal to reclaim a leftover plot of a 1980s housing estate that people had been using to do 'doughnuts' in cars. The practice wants to make it into a community garden with a protective pergola as a front entrance to the estate. The steel and timber frame is rudimentary but the excitement will be in the detailing.
All the while the domestic work has been ticking over and during the past year schemes that had been on hold since, say, 2017 have returned. Briefs are integrating more home workspaces and the work tends to be rural as McMahon and Murray have always kept a foot back home. But the commissions tend to have very lean budgets as end values rarely warrant a higher-end approach. A scheme extending a Victorian terrace in Belfast called Glandore Drive completed four houses for an unbelievable £280,000, including roof terraces and enhanced bay windows that captured a porch-like space over the front door.
'No two projects are the same,' says Murray. 'We're always trying to do more with each item' – a sill is a seat in a house, a clustered house re-establishes a typically Irish vernacular and landscape, a park is a tool to promote social cohesion. There's also a former workhouse in Clogher that will accommodate a playgroup, Sure Start and Early Years Centre that is sensitive to its austere history but turns the site round to redefine its future. As spring gets under way, MMAS's approach is blossoming.