nimtim is one to watch, punchy designs, big ideas and articulate founders put them in our Future winners – along with their commitment to community involvement and diversity.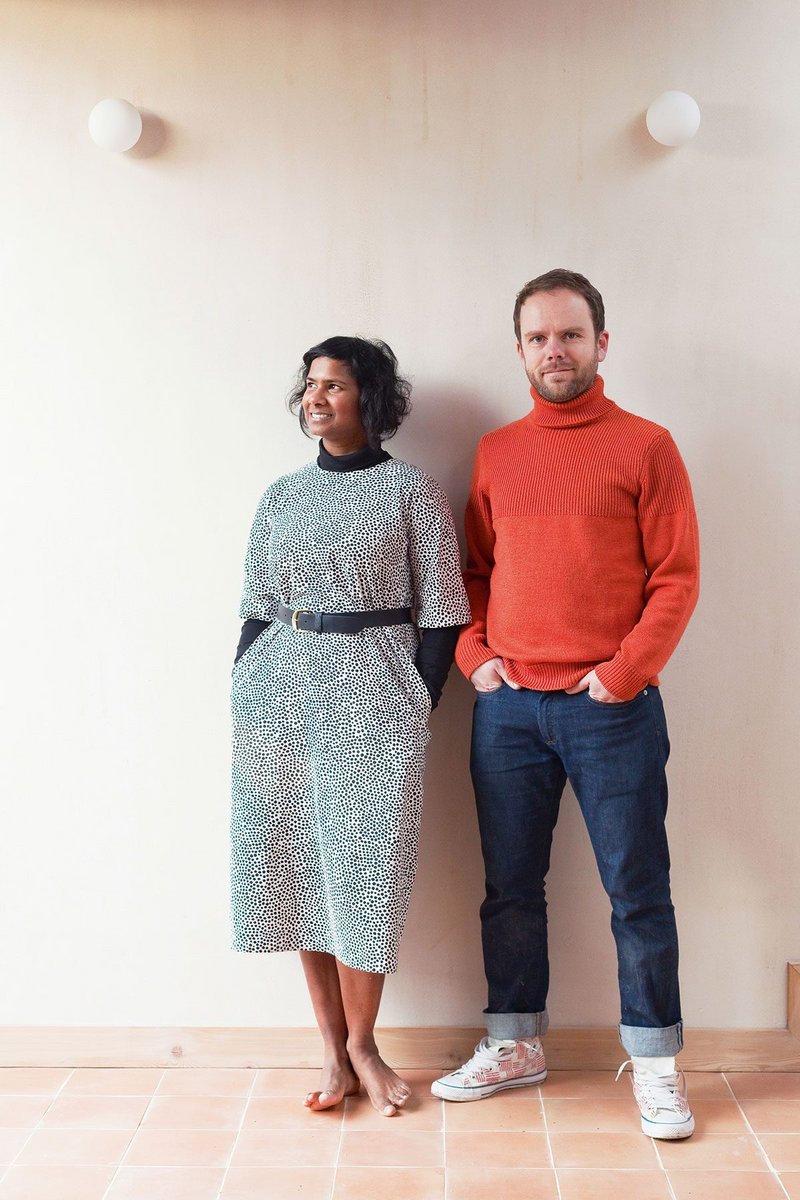 Nimi Attanayake and Tim O'Callaghan of nimtim bring playfulness and seriousness to their projects.

Credit: Agnese Sanvito
'We are working at 150%,' says Nimi Attanayake. 'It has been an incredible year for us.' She and husband Tim O'Callaghan have been nimtim since 2013. Their diet has been eye-catching, inventive, and often colourful, back extensions and homes from their base in East Dulwich, south east London. Their foundation of private homes, many of which have been published across the world, turned in 2020 into something more tangible in the city they grew up in. This included a mixed use feasibility study in south London, and Croydon's Brick by Brick competition for Housing for a Better World, which linked them to a network of supportive practices in the same position and led to invitations for Attanayake to join review panels and steering groups. And early this year the practice won an invited competition to re-imagine neglected plots as part of the Becontree Estate's centenary programme.
It didn't look like 2020 would be a good year: 50% of its work dropped off, was cancelled or put on hold in the first lockdown and the pair had to make one person redundant. 'It was a bit touch and go in June or July. We found ourselves with a lot of time on our hands,' say O'Callaghan. They now see the value of having taken a step back from busy delivery.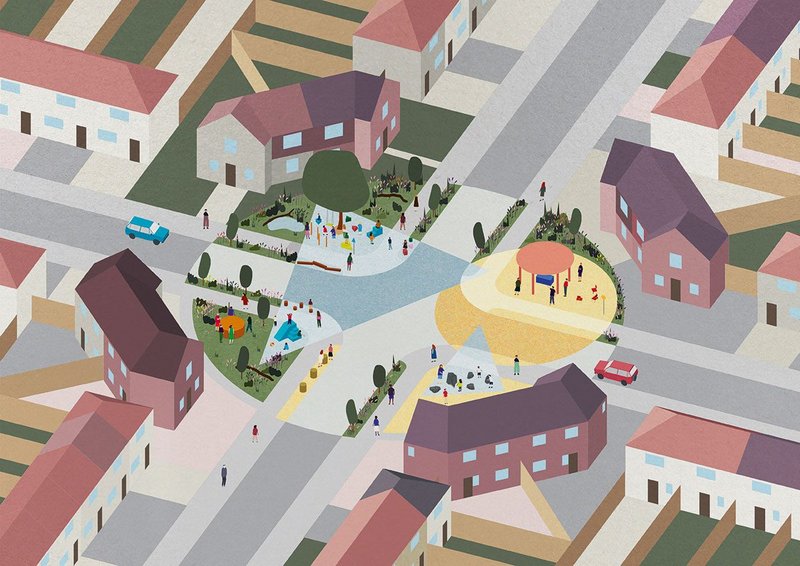 Early ideas for corner plots in Becontree.

Credit: Gilbert Leung
They had always tried to do research but last year they reworked the firm's website, showcasing larger and strategic projects, whether built or not. Tucked in a corner are happy deliveries of domestic projects. After increased posting on social media, particularly Instagram, they have over 10,000 followers. And O'Callaghan did more writing. More importantly they thought about their values and future. 'We wanted to talk about bigger ideas and to start projecting our ambitions,' says Tim. 'It was a chance to really focus on our approach and values... Listening to every voice and turning that into a unique response.'
You can get a direct insight into those values by reading his piece on the practice website about Grenfell. It details publicly not only why nimtim will not specify Kingspan or Celotex products but also, in a nuanced way, the potential for architects to become the ethical and moral guardians of a project: creating safe and sustainable places. It is a bold statement when the practice is stepping up to larger projects in housing and mixed use schemes. And, while it is being lauded by Wallpaper, Elle Deco and Architects' Journal, O'Callaghan added a note of reality, tweeting that he earned just £21,000 in 2019/20. He puts many of the problems of the profession down to the poor remuneration – including its lack of diversity.
Speaking out about anything isn't easy. Being a spokesperson and representative on ethnicity and gender is harder, but Attanayake finds she is increasingly asked to do it. In the search for diversity those who are women or from a minority – and are obviously gifted and successful – are in high demand from event organisers, universities, the media, design review panels and competition selectors. It is both a blessing and a curse, especially if you fit into two of those categories like Attanayake who has Sri Lankan heritage. But she takes it with good grace. It raises nimtim's profile, and she says being a mixed practice definitely contributed to the upturn in 2020. And nimtim is playing its part in helping address diversity, including working with the Stephen Lawrence Charitable Trust to mentor a student, work with the Architecture Foundation's Young Trustees and giving lectures and joining panels for various universities.
Nimtim's shift in gear is inevitably quite slow. Its seven projects on site are all domestic. In the last seven years these have grown incrementally from neighbours and family friends turned clients with small budgets to those with more money and ambitions attracted by their reputation. That was one step up. But can the skills of such projects be applied to others involving whole communities? Perhaps it can via the briefing game nimtim has developed and plays with clients: family members put down counters for different activities showing where they do them now and where they'd like to (along the way making counters for extra activities as needed, like kids playing drums or sword fighting). 'You get more from this than with straight questions; the counters prompt a conversation,' explains Attanayake. In lockdown this has moved online to Miro.
For the Becontree project nimtim is imagining hyper-local consultations of such conversations, with a tea urn alongside. 'It is possible to have genuine co-creation on big projects,' says O'Callaghan. 'Especially now local authorities are involved.' This method is in its competition bid for a masterplan on London's Old Kent Road. Working with Stitch and Jas Bhalla, also on the team was a local young peoples' group and a community group – who played a part in the submission. 'You have to go in with an open mind, to show you are listening,' says O'Callaghan.
Playfulness and something rather serious come together in nimtim – it's tempting to suggest one is Attanayake, the other is O'Callaghan. Particularly given their colour coding of themselves, with Attanayake in black and white patterns and O'Callaghan in block colour, or even better, colours. But never mind what comes from who, this duality seems to run through many of their projects – raising questions and answering them in fresh ways. Take their Generation Game house which had to work for both teenagers and an ageing grandparent. Research for this led to bigger ideas on housing generations together and the need for both intimacy and separation, and nimtim developed this in conversations with locals at for its work on Croydon's Housing for a Better World competition.
As project sizes grow and with a practice of eight, Attanayake and O'Callaghan have had to step back from design, with some reluctance for Attanayake – she loved being close to clients and choosing materials and fittings. During lockdown the pair were also juggling schooling and care of their five year old adopted daughter; each took 50% furlough. The freedom they sought of being able to control their own time in their own practice is less obvious as work has increased but it is nothing like some firms. 'I worked at OMA,' says O'Callaghan. 'So I know what long hours look like. And they're not efficient.' So they operate with some capacity for competitions and bids – enough to give a fighting chance for the next big project.
'I don't know if we will ever be a big practice,' says O'Callaghan. 'But we would like to be part of something larger,' completes Attanayake.
Read more about RIBA Journal's Future winners. Hear more from Nimi Attanayake speaking about nimtim at the Guerilla Tactics my practice event and their project in Becontree.