Buildings are adapting to energy needs in climate crisis, but where's the urgency, asks Eleanor Young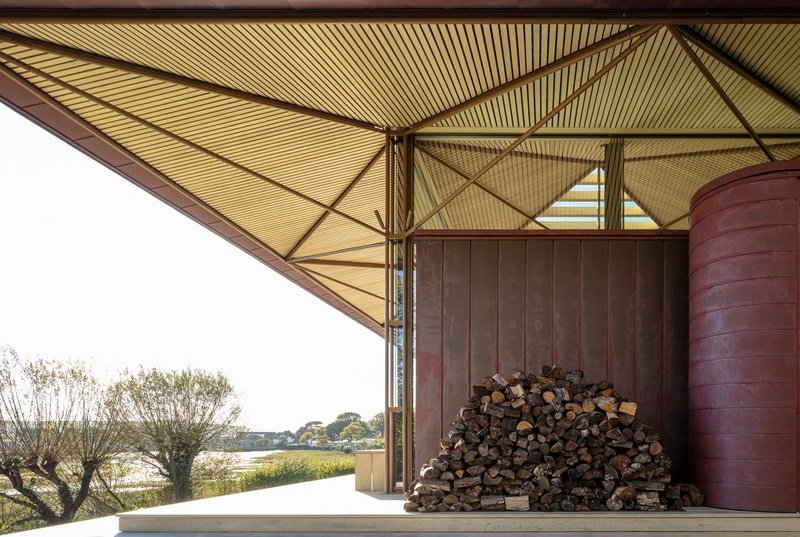 The copper-clad cylinder at Niall McLaughlin Architects's Saltmarsh House houses the hydraulic interface with the remote air source heat pump.

Credit: Nick Kane.
A growing number of buildings are being completed without gas supply. Those I have visited are the advance guard, with engineers and architects who have read the writing on the wall for fossil fuel. They have switched to the electricity grid and its good proportion of renewable energy.
The German government recently announced draft legislation to ban gas or oil heating in all new and refurbished buildings by 2024, according to Bloomberg. And in 2019 the UK government had its own stab at a similar announcement. 'We will introduce a Future Homes Standard,' said Philip Hammond, chancellor of the exchequer, 'mandating the end of fossil-fuel heating systems in all new houses from 2025.'
It is not yet in regulations. You may remember the consultation for the Future Homes Standard and particularly its foundation, Part L of the Building Regulations, two years ago – many, many of you responded. We still await the standard and revised regulations, anticipated later this spring.
If it wasn't for the climate emergency the glacial pace would be a relief; it feels like the rules are changing so fast that it's hard to keep up. Who has even got their head around ventilation according to Approved Document O, or worked out that merely a couple of flat refurbs on a tall building may get your insurers jittery and need to go through an extra planning process for scrutiny by the Building Safety Regulator?
With the extreme weather events we are already seeing in the UK, architecture and construction are going to have to adapt rapidly over the next few years, even if legislation – and sometimes technology – lags behind. So we see LETI's new guide unpicking comparisons between newbuild and refurbishment, continuing its method of essentially crowd-sourcing knowledge from the industry. And beyond that are the RIBA 2030 Climate Challenge and ongoing work to define net zero carbon for UK construction by the RIBA and others.
It is hard to say how a ban on fossil fuel heating might come through – there are proposals to add hydrogen to the pipes with natural gas to reduce its carbon intensity – and heat pumps, the obvious successors, are still clumsy, clunky and pricey, at least at a domestic scale (now there's an example of a technology lagging behind).
What is not in doubt is that these adaptions and mitigations are already changing the form of buildings, just as natural ventilation did through the early 2000s. Designing creatively with heat pumps as an alternative to gas could produce new tropes, as we can see emerging at Niall McLaughlin's Saltmarsh House. In the meantime, form factor and how to avoid giving too much energy away through extraneous surface area have reasserted themselves as fundamental design principles. And as solutions are found in deep reveals, Part O looks set to be as influential to our streets as the window tax.