Architectural historian and campaigner who wrote with deep knowledge and passion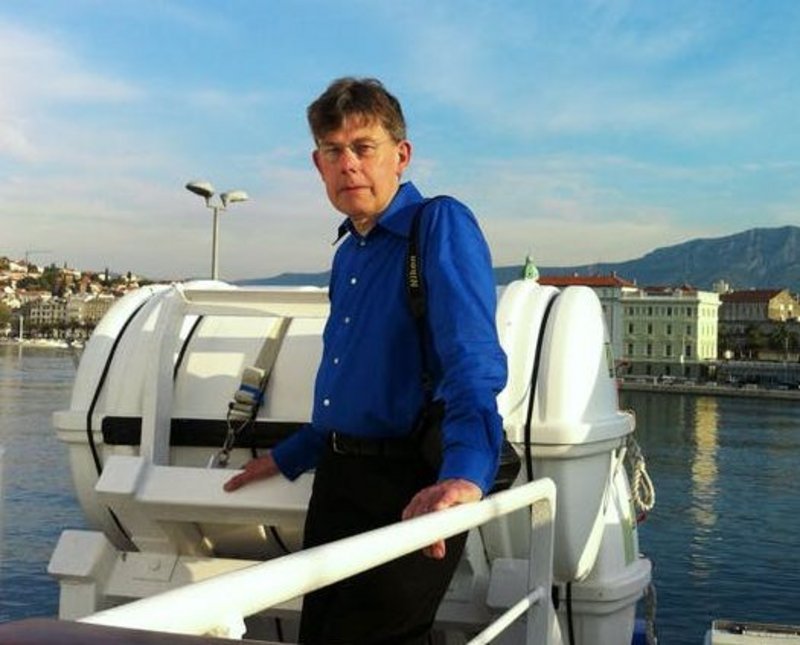 Stamp chaired the Twentieth Century Society for more than 20 years.
Architectural historian Gavin Stamp has died of prostate cancer at the age of 69. His interests spanned the 19th and 20th centuries, and although primarily an expert on UK architects, he loved to travel and immerse himself in new architectural worlds. Whether through his books (he and others wished there were more), his journalism, or his tours, he enabled experts and enthusiasts alike to see buildings clearly and critically, and was never shy of assessing their aesthetic merits as well as revealing their histories.
Apart from a stint in Glasgow, where he ended up as professor of architectural history, Gavin was never part of university academia, and wrote with passion and deep knowledge for a general reader. It was through his work as a campaigner for conservation and his prolific journalism that he was most influential.
Born in Bromley, he attended Dulwich College on a free local authority place, and it was there that he was first exposed to the commanding presence of High Victorian architecture. At Gonville and Caius College Cambridge, he read history and art history, followed by a PhD on Gothic revival architect George Gilbert Scott Jr, son of the architect of the Midland Hotel, St Pancras. Superficially a prime example of 1980s 'foygeyism', Gavin also appeared in The Young Georgian Handbook, co-written by his first wife Alexandra Artley, but he never fully conformed to any stereotype. He was renowned for his lifelong devotion to tweed and corduroy, although one sensed it was as much for practicality than out of any desire for flamboyant dandyism. There was also an element of pragmatism to his adoption of distressed paint finishes and stripped plaster walls at home, but he cared about the architectural authenticity of the places he lived, and made strong statements both by moving to St Chad's Street in King's Cross (when it was still full of strip joints) and by buying a house by Alexander 'Greek' Thomson, whose work he vigorously championed, when he moved to Glasgow to teach at the School of Art. He surrounded himself with pictures, books and objects with stories attached, their diversity reflecting the breadth of his own interests and the juxtapositions he was so skilled at making.
As well as writing at some point for most of the UK's architectural magazines, in the 1980s he was a regular contributor to The Spectator, and since 2004 had been Apollo magazine's architecture columnist. However his longest stint was on Private Eye, where from 1978 he wrote the Nooks and Corners column (started by his hero John Betjeman), decrying architectural vandalism under the pseudonym Piloti. While the Eye was the perfect place for an impassioned lambast, and sometimes much relished venom, the Apollo columns showed a more mellow, kinder side, although they were still strongly opinionated. A recent piece against the proposed Garden Bridge across the Thames was extremely critical, but nevertheless found space to comment that Thomas Heatherwick's 'new London double-decker bus is terrific' and to note that 'the idea of an unorthodox river crossing remains appealing'. He then cited examples of inspirational extraordinary bridges from Isfahan, Iran as well as unbuilt examples by some of his favourite architects (a Lutyens scheme for Dublin and one by Soane), effortlessly sharing both his scholarly knowledge and his imagination with positive intent.
A longstanding member of the Victorian Society – he set up a branch at Cambridge – he was also a founder member of the Thirties Society, which became the Twentieth Century Society. He remained its chairman for over 20 years, campaigning for the retention of Gilbert Scott telephone boxes and Sir Albert Richardson's Bracken House (which was listed and later converted by Michael and Patty Hopkins), as well as broader listing and preservation of 20th century buildings. When the society's interests extended to the postwar period, he remained sympathetic. He was a member of English Heritage's postwar steering group, and had co-curated an exhibition on the work of Ernö Goldfinger in 1983. After he met Pugin biographer Rosemary Hill she joined him on many of his foreign trips for the Twentieth Century Society and he found much happiness in their marriage.
Recently reviewing a new chapel by South African trained architect Craig Hamilton, Gavin reflected on the 'somewhat disappointing history of so-called New Classicists in Britain over the last four decades or so'. He praised Hamilton's building because it 'can be evaluated in terms of a formal language as well as of precedents, allowing the discussion of architecture to be a learned and intellectual affair'. This was his ideal, and his gift was doing so accessibly and enjoyably.
He is survived by Rosemary and by Agnes and Ceciia, the daughters of his first marriage.
---