This candid biography of Gehry is written with affection and admiration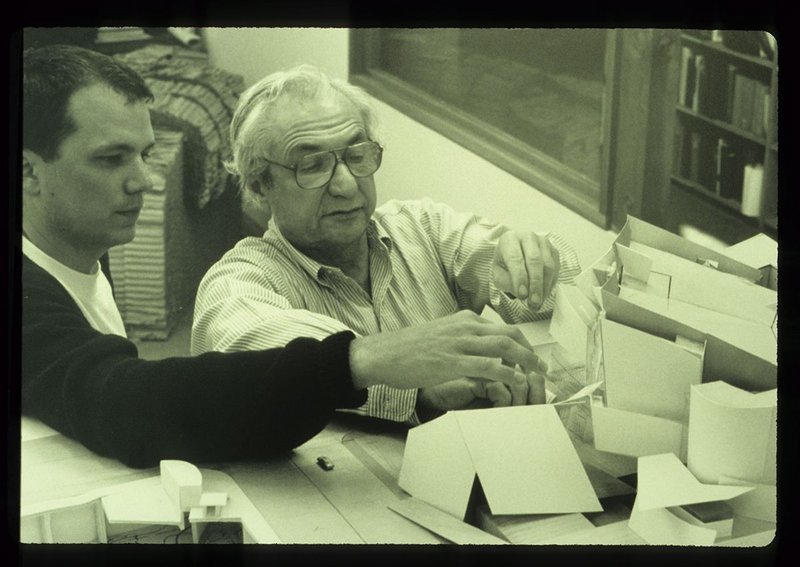 Credit: Gehry Partners
Proper biographies of living architects are rare, very rare. While there are excellent biographies of historic architects – Gillian Darley's of John Soane springs to mind, and Gavin Stamp's of Sir George Gilbert Scott, reviewed in September's RIBAJ it's a very different matter when it comes to the living. For me the only really good one in the last 30 years is Bryan Appleyard's long-out-of-print early biography of Richard Rogers, a remarkably candid if somewhat breezy account published by Faber in 1986 just as Lloyd's of London was nearing completion.
Lloyd's is now a Grade 1 listed building, so it's been a long wait, but finally we have another. "Building Art: the Life and Work of Frank Gehry" by critic Paul Goldberger is in its way an extraordinary thing: an officially-sanctioned biography in which the notoriously touchy subject co-operates but does not get editorial control. Perhaps this is because the two have known each other so long, and Goldberger clearly regards Gehry with affection and admiration, but he hasn't let this get in the way of some very, ah, frank writing. This is an architect whose several careers and reinventions have led to some personal and professional collateral damage along the way – and buildings ranging from masterpieces to complete turkeys. Goldberger shies away from none of this, though he all but retires himself as critic of buildings and lets others make the judgements.
In consequence it's surprisingly gripping. There is a lot of dope-smoking here. Over and over again, Frank and his mates are toking up. A biker friend related at his 80th birthday party: "Sometimes I'd, you know, smoke a bit of marijuana and he would be riding with me and I would think, 'Oh my god, I have the greatest living architect on my motorcycle, and what if I crash?'" Well, this Toronto-born Jewish boy (he changed his name, coincidentally, from Goldberg at the insistence of his first wife Anita, something he regretted but found himself saddled with) hit the west coast of America and quit his marriage nicely in time for the peace 'n' love hippie era. He indulged to the full, it would appear. Already famous is the scene in the book where the wife of a client insists on his driving her home, and then pulls him onto the bed. "What do you do?" Frank recalled later, "He's going to be coming home in about 30 minutes and here I am wrestling with his wife."
Importantly, his second marriage to Berta has endured the stresses and strains of what is by any standards a workaholic lifestyle. Any critic who has ever met and talked to Gehry gets the feeling that he'd rather be in the studio. He is a funny, thin-skinned individual who does not care much for the niceties of concealing his feelings. He lets you know. He can veer from amiability to coldness or sharpness remarkably quickly. His laid-back demeanour hides a core that seems to be partly steel – he's nothing if not determined – and partly jelly - he seems to be psychologically incapable of accepting his success.
Goldberger's key quote here comes from the time of his latest tour de force, the Fondation Louis Vuitton in Paris Feted by all at the opening, with a huge solo exhibition at the Pompidou Centre at the same time, he said to friends later: "I wish I could enjoy it like you're supposed to. I wish I could be that guy—at least for an hour. I wish I could live in the place people are making for me. I want to be popular, but I don't trust it." Perhaps rightly: shortly afterwards, faced with hostile questioning about his shapeist architecture from a journalist at a Spanish press conference, he resorted to giving the question the middle finger. The photo of this act of defiance went round the world. So did his follow-up verbal rejoinder: "In this world we are living in, 98 per cent of everything that is built and constructed is pure shit…Once in a while, however, a group of people do something special. Very few, but God, leave us alone. We are dedicated to our work…therefore, please don't ask questions as stupid as that one."
He was very tired and he apologised later, but you know he meant it, and why not? For all the variability of his output there is nobody like Frank Gehry. He takes big risks aesthetically, and enough of them come off. Goldberger makes the point that Gehry depends on people NOT doing architecture like his, but that he is at heart a traditionalist: "He has never sought to use technology to create the illusion of something that does not exist in the physical world. He creates buildings…that use the ancient architectural tools of proportion, light, materials, scale and space to create the sensations that raise them to the level of art."
Most architects would be satisfied with that. Gehry, you sense, even now, very likely isn't.
---