Do you have a room with a view? Win the chance to have it photographed by leading photographer Hélène Binet and published in the RIBA Journal. New deadline for entries 5pm, 18th June.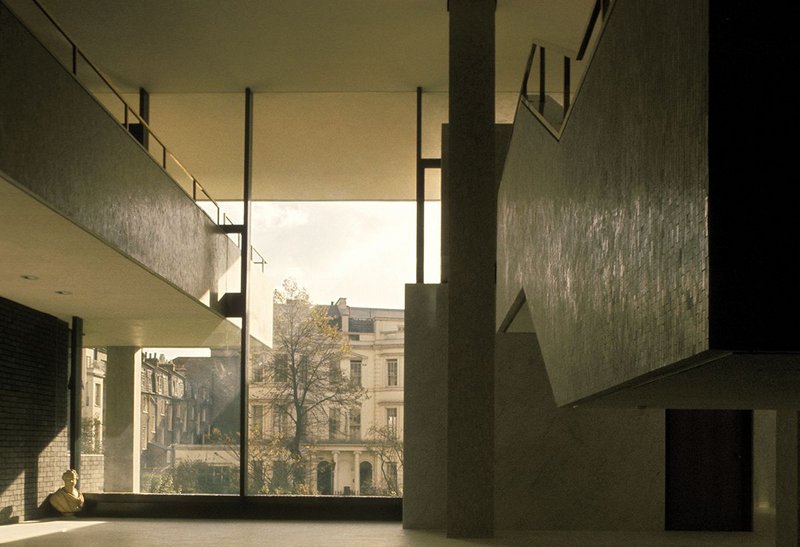 Denys Lasdun's Royal College of Physicians (1960) framing Nash's Regent's Park terraces beyond

Credit: PHOTO: JOHN DONAT RIBA LIBRARY PHOTOGRAPHS COLLECTION
Send in your submissions with amateur photographs and drawings to see if the RIBAJ Origin Global can help you exchange a view for a view.
The RIBAJ Origin Global 'Viewpoint' competition aims to celebrate the forgotten notion of 'the view'. The yukimi-shoji (snow viewing windows) of Japan Edo-period tea houses perhaps best embodied the concept, but the idea that the building be a mere enclosure from which landscape might be consciously observed and appreciated was, in the canon of modernism, generally eclipsed by the aspiration to create buildings that were statements in themselves. Our competition aims to redress this oversight.
We are looking for examples of newly completed buildings that facilitate the context in which they are situated to be read in a new and different way. We are not necessarily just talking about a room with a view, but one that reveals novel or surprising aspects about that view. Have you designed a scheme that has created a modified relationship between inside and out? Has the siting of your project revealed visual axes or alignments that were formerly hidden? Has a viewing window onto a dead space turned a previously prosaic outlook into a poetic one? If so, RIBAJ and Origin want to hear from you.
Andrew Halsall, managing director of Origin says: 'Our popular bi-folds have helped transform properties, liberating beautiful views and reinventing the living space. We're looking forward to seeing even more creative designs in this competition.'
We are looking for projects of any scale or size; private, office or public, that evidence the imagination and architectural skill required to create a particular drama from the act of looking – an intervention that helps us see the world differently. With our team of expert judges we'll be looking for the most skilled and convincing examples and are offering, as a prize, the chance for your work to be interpreted by another expert eye. 'Viewpoint' will commission leading photographer Hélène Binet to carry out a photo shoot of your winning view, taking it from three-dimensions and elegantly capturing it in two.
---
WHO CAN ENTER?
Any member of the RIBA or an ARB registered architect.
WHAT CAN BE ENTERED?
Any building completed in the UK between 1 April 2013 and 1 April 2015.
ENTRY REQUIREMENTS
Entries must be submitted electronically to viewpoint@ribaj.com by 5pm on 18 June 2015.
All entries to be submitted in English and to include:
Contact details and address of the building in question.
A maximum of 300 words explanatory text describing the building and the reason why it was felt important to highlight a particular view or aspect.
Up to six photographs of the space that you are asking us to consider. At least two of these must be external shots. Amateur photography will suffice.
Up to three architectural drawings/sketches of your choice best elaborating the reason for the creation of the specific view. An indication of scale should be given. To be sent electronically as A3 sized pdfs.
The information submitted in your entry may be used on the Origin Windows and ribaj.com websites as well as the magazine. By entering the awards you acknowledge that Origin Windows and the RIBA Journal have the right to reproduce any photographs, drawings and other material supplied in whole or in part in conjunction with the awards, without payment of copyright.
JUDGES
Chaired by the RIBA Journal's Jan-Carlos Kucharek, judges include Hélène Binet, leading architectural photographer, Will Alsop of aLL Design and Jonas Lencer of dRMM.
JUDGING
The judges' decision is final.
Judges reserve the right to disqualify submissions that do not meet the entry requirements.
No correspondence will be entered into by the organisers or judges regarding feedback on entries.
Judges will be asked to declare interest in any entry and withdraw from the process if conflict arises.
JUDGING CRITERIA
Judges will be looking for creative or surprising examples of viewpoints in a newly completed building that proves transformative in some way for the internal space, external space or in the viewer. The nature and quality of the materials used to frame that view will also be considered as well as the implications of the view's creation on the external environment.
WINNING ENTRY
The winner will be notified officially at the beginning of July. Professional photographs of the winning entry, along with a jury citation will be published in the September issue of the RIBA Journal, with shortlisted entries.
The winning entry will be photographed by a leading architectural photographer over the course of a day at a pre-arranged date suitable for the photographer, architect and building owner.