It is the quietest of these artists' contributions on the social impact of regeneration in cities that talk the loudest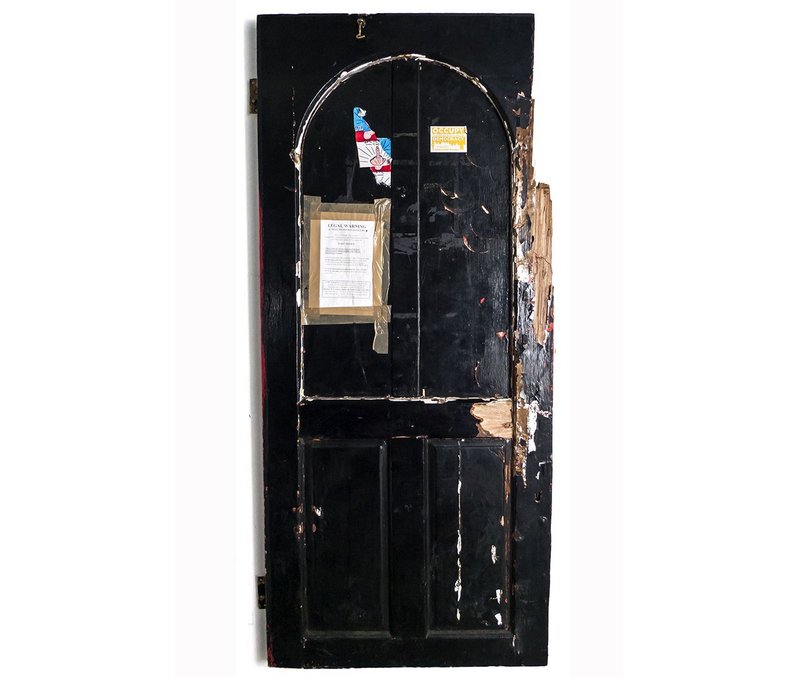 Stuart Semple: '12 Bar Door', 2015.

Credit: Fine Art Society
In the run of grand Mayfair designer boutique entrances, a beat-up black timber door with a possession order sign stuck to it would appear to strike a bum note. But this was removed from the former 12 Bar Club in Soho's Denmark St, closed down as part of the wider redevelopment of the area spearheaded by Crossrail; fans of artist Stuart Semple made off with it in a shopping trolley and transported it back to his studio on a nightbus in a rock'n'roll tour worthy of Spinal Tap.
Sitting in its shop front, it's one of four pieces Semple is displaying in the Fine Art Society's small show 'Ghosts: How We Live in the Future', where six artists were invited to submit work themed on the social effects of urban regeneration. Semple's work has strong links with Richard Hamilton's Pop Art, but have a contemporary emphasis on latent fear and threat rather than Hamilton's consumer culture and glamour.
There are pop links too to the work of MACAY (Chilean-born artist Macarena Yañez), although these pander more literally to its original roots. Her timber shutters layered with montaged cut outs from magazines and painted patterns talk all about the surface, augmented by a video that sees her wallpapering fish onto the walls of condemned Hackney housing blocks. But the act seems trite, uninterrogated; as superficial as the painted pieces themselves.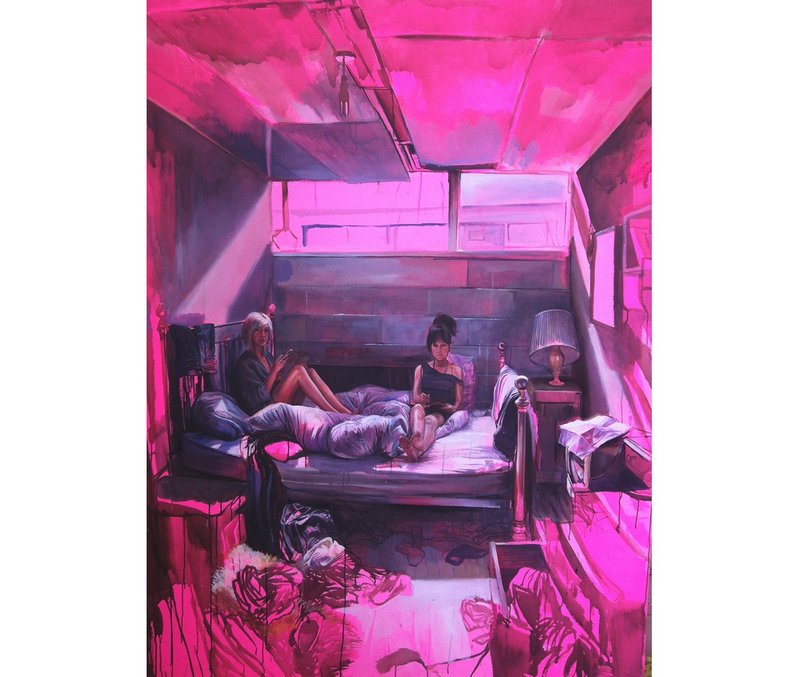 Laura Oldfield Ford: 'Tweed House, Teviot Street', 2012.

Credit: Fine Art Society
This is less true of the work of Laura Oldfield Ford, whose depictions of run-down modernist estates are most likely to be recognised by architects, having illustrated Owen Hatherley's 'Urban Trawl' opinion pieces in BD magazine. Despite the slightly frenzied nature of the images there's a nostalgia to the views that counterpoints the hardness, the pink painting of two girls in a messy bedroom holding our gaze long enough to allow us to shake off some stereotypical conclusions.
But Ford's painting 'Travelodge', looking like a bedroom in a crack den, somehow sums up the show's general tone, setting up the kind of 'in your face' oppositions that leave no room for a nuance. Julianne Losq's incredibly detailed and beautiful paintings of wild, forgotten corners of the city might beguile but changing the world is the furthest thing from her mind. The show's introduction talks of the 'failed project of modernism' as a given, and the works' apparently reactionary resistance to any change, is what finally turned me off the output of stalwarts like psycho-geographer Iain Sinclair. I initially agreed that the Olympic Park which replaced Stratford's famous fridge mountain wasn't an improvement. But that finally gave way to the gnawing realisation that Sinclair actually relished staring out at the white goods. It made me see psycho-geography – and my own view – as perversely conservative; to conclude that 'the revolution will not be refrigerated'. By contrast modernism, despite its 'failure', was the last time we actually believed the future could be better than the past.
In light of that, the artist who most captured my imagination here was the one who, on the surface, proffered least. Tom Price's classic sculptures of black males standing benignly went against what he calls 'the lack of first hand representations of black men in a neutral state' – flying in the face of the high ethnic bias in the UK Police Force's metropolitan crime statistics. I came away feeling the need to recalibrate myself; quiet but firm statements that were ultimately the most political and propositional pieces there.
Ghosts: How We Live in the Future is at the Fine Art Society, 148 New Bond St, London. 4 March-10 April 2015
---