Why should make up just be for people? Giles Round plans to give the RIBA's headquarters building a new look as part of the Annual Commission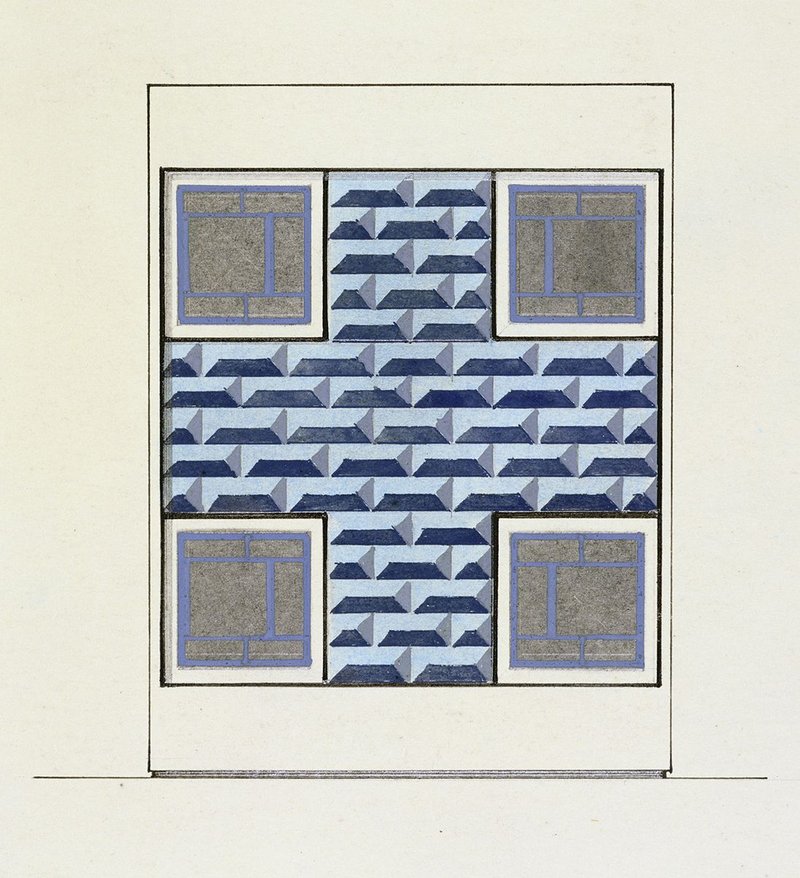 Berthold Lubetkin, Unexecuted alternative design for a prefabricated house front, 100 Houses Scheme, Thorntree Gill Housing, Peterlee.

Credit: RIBA Collections
Ever felt that the august facade of RIBA's 66 Portland Place headquarters could do with a makeover? Planning consent permitting, this autumn it could have just that, courtesy of multi-disciplinary artist Giles Round, who plans a temporary collage across its frontage as part of this year's RIBA Annual Commission.
The collage, to accompany an exhibition by Round inside the building, is part of an extensive, year-long research project into applied facades inspired by the RIBA's archives.
As part of the commission, Round was given access to all the RIBA photographs, drawings (at the V&A), and its models and other 3D artefacts as his source pot. Finding where to start amid such bounty was a daunting proposition even for Round, who had previous experience of archive-based projects and had already used the RIBA collections to research past work.
'Learning how to navigate the archive was the first thing,' says Round, who was struck by the enormous variety of styles even in something as seemingly straightforward as a line plan. 'Going through the archive is endlessly fascinating. I looked at every single Alison and Peter Smithson drawing,' he reveals, adding that he developed a particular interest in drainage systems.
After months of delving, Round's research crystallised around two key works. He was particularly drawn to Berthold Lubetkin's unexecuted 1944 designs for prefabricated house fronts from the 100 Houses Scheme, proposed at Thorntree Gill in the Peterlee new town development. This included what amounted to a style book of 19 varied facade treatments for the same house structure.
In the RIBA's store of 3D objects, Round found four porcelain-enamelled steel panels produced by Venturi Scott Brown & Associates for the now-demolished Best Products Showroom in Langhorne, Pennsylvania (1973-1978) – one of the practice's famous 'decorated sheds' which had a similar approach to the relationship between facade and main building. This led to Round's idea of creating a style book of facade types, drawn from the collection, that are representative of different types of buildings and eras, and which have an engaging story to tell.
The next step was to find further examples, with the help of the RIBA's specialist archive staff. The artist became particularly interested in the tension between facade and building use, especially under repurposing, when a completely new structure is created behind a retained frontage. 'There are great examples of buildings being positively changed. Sometimes it's dangerous to fetishise the facade too much,' he says.
Candidates for the style book were still being finalised when I spoke to Round. Contenders include the Minoan Palace of Knossos on Crete, whose colourful facade 'restoration' by Sir Arthur Evans has proved so controversial. Then there are trompe-l'oeil painted facades such as John Piper's photograph of the Temple Co-operative shop in Donegal – or the Dublin bar we show on the previous page – plus an alternative design for the Spa Green estate; the Gothic former City Museum and Library on Queen's Road, Bristol; and the Templeton carpet factory in Glasgow, whose William Leiper-designed facade is derived from the Doge's Palace in Venice. 'We're keen to show not just heroic modernism but everything from neo-Gothic to Egyptian revival and Cubist folk art,' says Round.
Output from the research will take several forms. The exhibition, the meat of the project, displays many of the Lubetkin drawings and Venturi Scott Brown panels along with the style book of up to 20 facades. The installation aims to bring material from the archive into the 'soft' architecture of the space so it can be experienced in different ways – an image of Drake & Lasdun's facade at Hallfield Estate, for example, will be incorporated into a piled carpet, and a curtain is adorned with an image of Frank Gehry's Chiat Day offices/Binoculars Building in Venice, California.
Visitors will also be encouraged to look through the style book and, if they wish, select a design and have it applied to a ceramic 'blank' vase as an artwork to take away for what Round hopes will be an affordable fee. Half the exhibition space will become a workshop for these creations and it is hoped the kiln can be housed somewhere in the building so that the limited editions can be created in-situ. In this way, the archive image finds a new vessel for a facade and moves from the collection into people's homes.
Other designs will be incorporated into the proposed collage for the front of 66 Portland Place. This is an ambitious undertaking.
'Hopefully it will intrigue people – many don't know it's a public building. I hope it will make people curious and draw them in,' says Round. 'By putting emblems and fragments of ideas and styles on there we're asking the building to be much more vocal about what it could communicate in terms of the eternal stories of its archives,' says RIBA project curator Colin Sterling, who has worked with Round on the Annual Commission.
Round is still finalising the collage but it is likely to include an interpretation of the Donegal/Dublin painted brickwork towards the base of the building as well as rusticated corners, a balcony, a ceramic overcladding for the obelisks and a giant exclamation mark derived from Venturi Scott Brown & Associates' Gordon Wu Hall, Princeton University in New Jersey. Some images will be in colour, others black and white or sepia, some flat, others 3D.
Even if planning permission isn't forthcoming, Round's proposals for the facade will find their way into the exhibition in some form. But I'm rather looking forward to the building wearing its archive on its face, even if it is only for a few months.
---
RIBA Annual Commission: Giles Round, 22 September-23 December 2016, The Architecture Gallery, RIBA, 66 Portland Place, London
---