Art auction reveals architects' views of tomorrow's world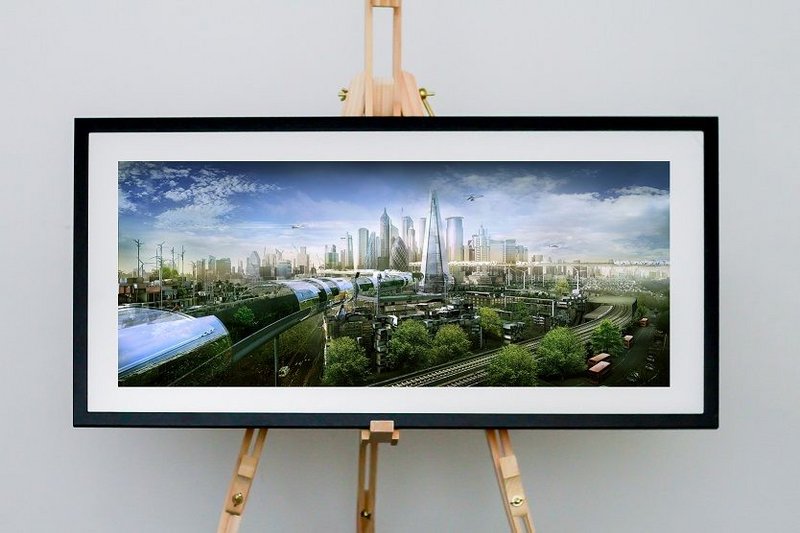 Factory Fifteen- Kibwe Tavares
Predicting what our cities might look like in the future is fraught with uncertainty - the Back to the Future films might have been partially set in 2015, but there's still no sign of flying cars, self-tying shoe laces, or pocket-sized pizzas that expand as they cook. Nevertheless, that hasn't deterred several of the UK's top architects from indulging in a bit of crystal ball gazing and creating pieces of art that illustrate what the London skyline might look like in the year 2145.
To celebrate its 130 years in business, property and construction consultancy Gleeds commissioned 23 artworks. Last night 14 of them were auctioned at an exclusive charity event that took place at the RIBA.
All the proceeds went to The Transformation Trust, an educational charity, in support of its 'Inspire Us 2016' programme. This gives 18 students from underprivileged schools the opportunity to travel to Florida and Washington DC to follow the US election campaign and meet political figures including Michelle Obama and Bill Clinton.
The artworks are a mix of serious, abstract and humorous interpretations of the brief. An elevation-style pencil drawing, by Mark Goldspink, CEO of Purcell, envisions a capital where iconic structures like St Paul's Cathedral, the London Eye and the Tower of London have been raised up on towers over a hundred metres into the air to ensure that viewing corridors no longer present a barrier to new development.
A black pen on paper sketch by Ken Shuttleworth, founder of Make, depicts a city struggling to cope with the demands of over-population, where intelligent, multi-purpose high and mid-rise buildings proliferate and the Thames is vibrant with domestic boats, its banks covered with vegetable gardens.
Paul Nicholls, founder of creative visualisation firm Factory 15, put together a perspective view of London, a composite of a very high definition photo and digital 3D models. Conceived as a socio-political comment, the artwork shows a thriving hyper capital with huge high rises and an elitist elevated transportation system, like a hi-tech DLR, that passes over the top of suburban slums.
Nicholls said: 'We wanted to communicate the growing disparity between rich and poor. However, the presence of multiple wind turbines on the horizon, and extensive greenery, at least demonstrates an aspiration to produce green energy and a more optimistic outlook towards living in the future.'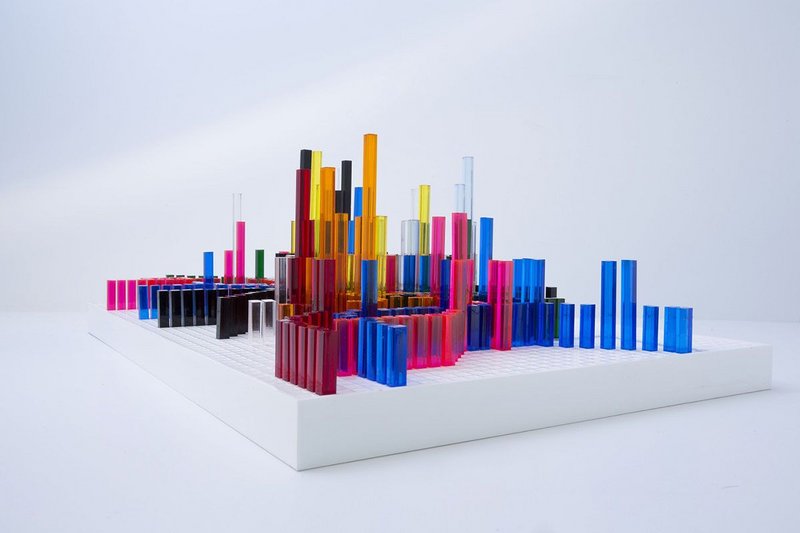 SQUIRE & PARTNERS - Murray Levinson
An initial version of the Factory 15 piece was the size of a wall and included three 50 inch widescreen displays that animated certain sections, such as the wind turbines, trains, helicopters and changing weather. A smaller printed version of the work was sold at the auction.
Many of the constructions depicted are already buildable today, or close to it, says Nicholls, such as the elevated transportation system, which is encased in glass solar panels that provides the power required to run it. 'Given that the sun is the greatest available source of power to humanity, PV has arguably the greatest potential in the future, especially as the technology advances and becomes cheaper,' he added. Who needs a hover board with inspiring tech like that on the horizon?
---