Two individuals on opposite sides of the world have become a tiny global practice
Round here is Staveley; a main route to the Cumbrian Lakes until the bypass was built, and well-connected to the rest of the UK. But it's no tourist town: the Mill Yard has the biggest bike store in the UK; a bakery; offices for North Face, Montane, Inov8; creative designers; quantity surveyors; planning consultants; a clockmaker; Sid the printer; and the Hawkshead Brewery. The yard is partly powered by a hydro scheme off the River Kent.
Opposite our office is the remains of St Margaret's church. The clock tower dates back to 1338, and the graveyard is still in use, maintained by an army of village elders; its replacement, St James, was built in 1865 and has stained glass windows by William Morris and Edward Burne-Jones which featured on Royal Mail's Christmas stamp, 2009.
There are local sustainable initiatives – SENS raises awareness of sustainable issues, while the Big Onion sells locally produced food in the Mill Yard.
Modern architecture is quite rare in the Lake District. The National Park Authority runs a design programme to inspire architects and the public: notable interventions in sensitive parts of the Lakes include Benson and Forsyth's Wordsworth Museum in ­Grasmere beside Dove Cottage; Knox Bhavan's house at Rigg Beck; Sutherland Hussey's trio of ­projects; and Windermere will soon have Carmody Groarke's Steamboat Museum.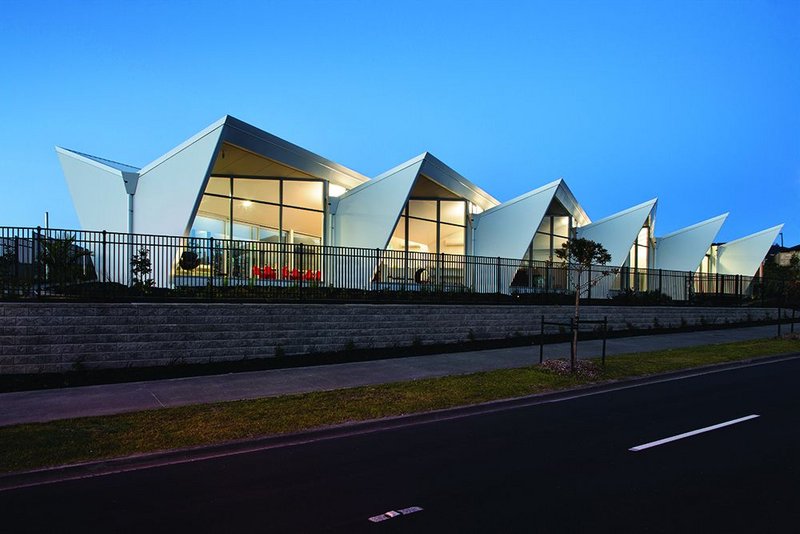 Exterior of Fantails Childcare Early Learning Centre, Auckland, NZ.

Credit: Simon Devitt
You've got to love the rolling 24 hour work cycle when you only have to work half of it
Round here is Remuera, a green and leafy suburb containing some of Auckland's largest houses and the best state schools.
An average day starts at 6.30, by 8am I've dropped off my son at the childcare and am checking my emails in one of the 10 or so village cafés. The café culture here rivals Italy.
Then it's back to the house for the morning session of work which is often a mixed bag – some days concept, others detailing, specifications or client meetings. Today it is filling out building consent forms, made more bearable by the amazing weather. After lunch I go to see a new client about a kindergarten. He is originally from Manchester – banter about Derby County and Manchester United. I decide to pick up my son early and take him to the beach for a swim. By 5.30 we are back at home for dinner and the bedtime routine before I start the night shift. At 11.30 I am handing over to Graham. You've got to love the rolling 24 hour work cycle when you only have to work half of it.
We moved to New Zealand from London eight years ago to escape the daily grind. As working becomes more mobile, lifestyle will be a bigger factor in where people choose to live. We work anywhere by using our skills and networks. This has paid dividends with clients who like the 'global practice' approach while we live where we want to be. The best of both worlds!
We work collaboratively on projects in different parts of the world, without large office overheads or the carbon footprints international travel brings. Last year, using Dropbox and Skype from offices in Montreal, Staveley, London, Tel Aviv and Auckland, we were shortlisted with Sack and Reicher and ESC Studio for the RIBA's York Guildhall project.
We are considering two new collaborations, and perhaps getting in a few bodies to help out. We hope this won't change the way we work, or our time with our families.
---
HERE AND THERE
We studied at De Montfort University together, and then we both worked at Foster+Partners.
We set up Collingridge And Smith Architects off the back of a Kiwi client who wanted something looking at in London. Phil was already in Auckland, having built a house, and Graham had just decided to move to the Lake District, where he was renovating a 300 year old house, and expecting a baby.
On the basis that Staveley was closer to London than Auckland we set up the company in March 2012: Graham had a daughter the next day, and we submitted our first planning application.
---