For a city that was based around the orthogonal grid of a Roman garrison town, my first question would be why architect Rafael Viñoly chose a spiral form for his Colchester Visual Arts Centre.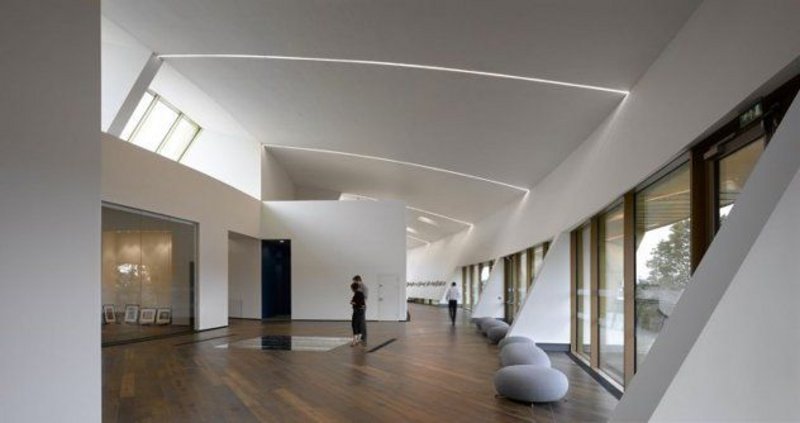 He tells me that Roman forms were traditionally nestled into the landscape and responded to organically to its topography. I contested that surely that was Greek architecture, and that Roman architecture was more about the imposition of orthogonal forms- as a statement, one might suppose, of their having conquered it. I shut up. Maybe Viñoly's 'Firstsite' Arts Centre was more Roman in spirit than I ever imagined.
And the goddess Fortuna has been busy here. Viñoly won the RIBA competition in 2004 despite placing the gallery on a completely different site from the one proposed. But once on site, it was blighted with misfortune. Its complex golden form, spiralling in both plan and section was subject to deflections and dubious drainage, that helped put the hapless contractor into liquidation. By 2008, the building was a derelict shell, and the project only came back on track after the cost consultant had been kicked off the project and the budget had risen from £18M to £28M.
So has the fight been worth it? The golden-clad horn-shaped exterior certainly engages and embraces as spirals down to the east, and it's a bold cantilevering entrance canopy, even if it does seem to be lunging towards you somewhat, but once inside, I find it deeply compromised. Beyond the entrance lobby, you join a wide south corridor that curves you round into the body of the gallery, with all the gallery spaces accessed to the north. These spaces interconnect, so there are a lot of doors, and they look out, so there's a lot of windows; and it leaves you wondering where they are going to actually hang the art. There's a huge wall to the south, but it's high and leans out so widely it's not really suitable for use. With walls, walls everywhere, but barely any for hanging, it's more Coleridge than Colchester. Viñoly waxed about 'flexible space for outreach', adding 'It could be a school'. He's right. It could be; then again, it could be anything. It certainly doesn't feel like a serious gallery. I was glad to hit the destination restaurant at the horn's end- I needed the sit-down.
Maybe it's a macho thing but Viñoly's buildings have always seemed to me to exhibit a certain formal brashness. Charming as he is, he seems the epitomy of the 'napkin architect'- deciding on a form and then squeezing the programme into it afterwards. I saw his Tokyo International Forum way back in 1996- four huge dark conference cubes banged up against a gargantuan glass, eye-shaped lobby, being simultaneously uncomfortably hot whilst energy profligate in those humid Japanese summers. It struck me I haven't liked one of his buildings for over 15 years; and Firstsite- indulgent, way over budget, and pretty much useless for its intended function, just adds fuel to my Bonfire of the Viñolys.