How – and why – a very good architect was often superb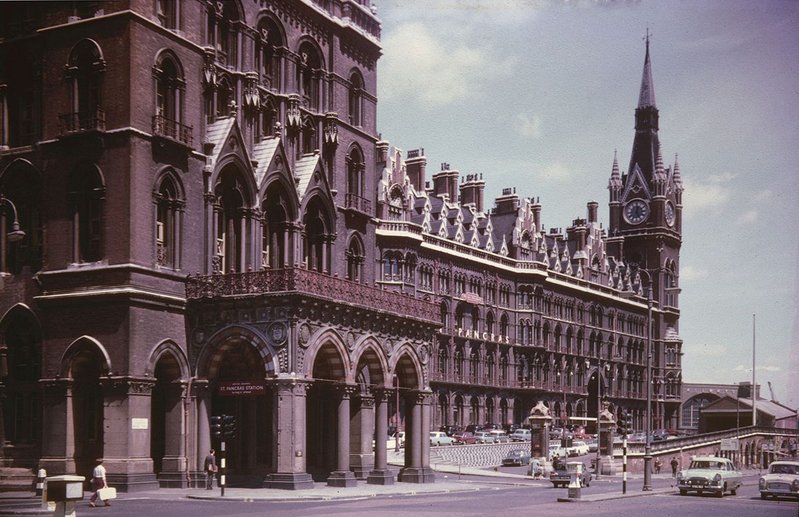 St Pancras Station in 1967 before it was brought back to life.
This excellent book gives us a Scott for our age, as Scott gave us Gothic for the Steam Age. Scott lacks a full scale biography but, as author Gavin Stamp says, the sheer scale of his work, embracing some 800 buildings and designs, makes this an impossible task; in any case we have Scott's autobiography Personal and Professional Recollections. What Stamp gives us instead is much more interesting, starting with an account of the fall and rise of Scott's reputation as the Gothic Revival and all things Victorian went out of fashion, of his abuse by William Morris and SPAB for the destructive restoration of old buildings, and of the threat of destruction to his most notable buildings. Perhaps a rounded assessment of his career and achievement can be made only now, with the glorious restorations of the Foreign Office, Albert Memorial and St Pancras Hotel. This biography's wonderful colour photographs of his major works, arranged by building type, reveal how dependent Scott's buildings are on the superb quality, richness and colour of the materials. Stamp concludes that Scott was a great Victorian, with the largest and most successful architectural practice of his time, and a very good architect.
However, at his best, as at St Pancras, Scott could be superb: 'St Pancras is glorious, unique, romantic, its skyline sheer poetry, its detail exquisite' as even Summerson, the connoisseur of Georgian, was prepared to admit. Scott, not known for modesty, said St Pancras was 'possibly too good for its purpose'. Having come to know it intimately as joint architect for the recent restoration I can vouch for the extravagance of the construction, materials and detailing. I am conscious that this was the perfect vehicle for the skills of the Scott office in adapting Gothic (including Ruskinian Venetian details and even Aesthetic Peacocks) to the vagaries of an irregular and elevated site, giving rise to the great set pieces of the curved meeting rooms and astoundingly complicated grand staircase. Now it is proving fit for purpose as the luxury hotel at the international rail terminus for London. It is not just very good, it is a great building.
The book gives, for the first time, a rounded account of Scott's work on the restoration of churches, where he considered himself a conservative rather than a destructive restorer. This did not stop him unfairly becoming a figurehead for the attack on church restoration by William Morris and the Society for the Protection of Ancient Buildings. I can vouch from my own experience as cathedral architect at St Albans Abbey for his heroic conservative repair of the collapsing tower and leaning south wall, and for the scholarly reconstruction of the rediscovered stones of the shrines of St Alban and St Amphibalus destroyed at the Dissolution – in contrast to the extremely destructive restoration work of Lord Grimthorpe following Scott's death.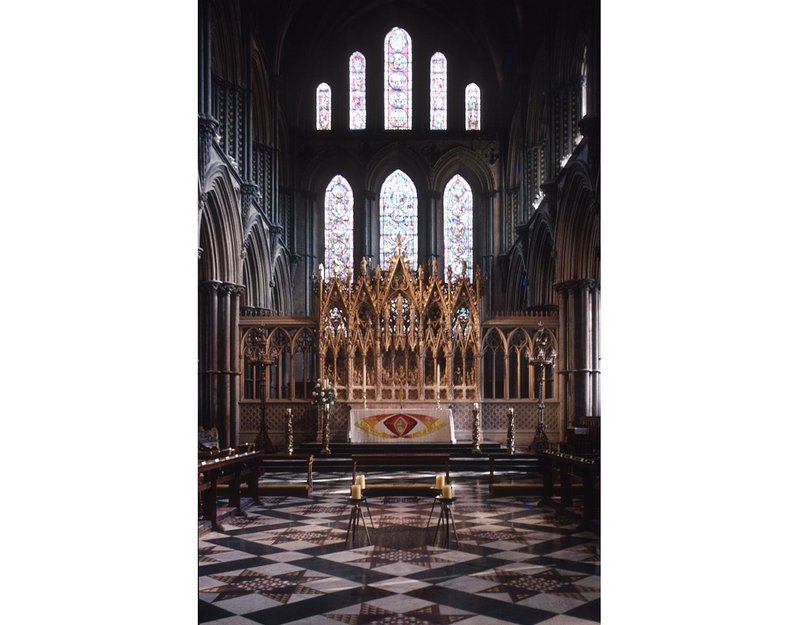 Restoration work showed a sensitivity, as seen at Ely Cathedral choir and reredos. The tiled floor was also designed by Scott.
So what can architects of today learn from Scott's example? Most notable perhaps an awareness of what it takes to form a successful practice, the leading practice of its day, and how this goes beyond design ability. Scott set out with no great wealth or family connections, and started his own practice with Moffatt building utilitarian workhouses before, with his wife's help, ditching Moffatt when he became financially profligate and prone to offending clients. Scott was always thoroughly professional, on time, excellent with clients and accommodating if he failed to convince them of his own intentions, most notably in submitting to Lord Palmerston's insistence that the Foreign Office be classical rather than Gothic; the two versions illustrated in this book make clear that the built design is far superior.
Inevitably, with an office of up to 30 assistants there were accusations that Scott did not do all the work himself, but Stamp makes clear just how much design Scott did carry out, at least for major commissions, preparing the designs and personally approving the detailed drawings. His success depended on a strict work ethic, and the ability to travel overnight on coaches or trains; no wonder he was riddled with guilt for neglecting his wife following her death. But it is also clear the office assistants respected Scott, his kindness and generosity, and many went on to become influential architects in their own right, including Street, Bodley, TG Jackson, Garner, WH Crossland, Micklethwaite, ER Robson and JJ Stevenson. The book also describes how Scott's designs were realised to such high quality through a 'network of trust' with his skilled builders, sculptors and craftsmen, to whom he returned repeatedly. Would this were possible today, when quality is almost always sacrificed to cost and programme.
Richard Griffiths is an architect who has worked on numerous Scott buildings
---
Gothic for the Steam Age, An Illustrated Biography of George Gilbert Scott by Gavin Stamp. Aurum Press, 208pp, £30