On the M1, the rail network, roadworks, even the government website – the designer's work is familiar to everyone in her transport signage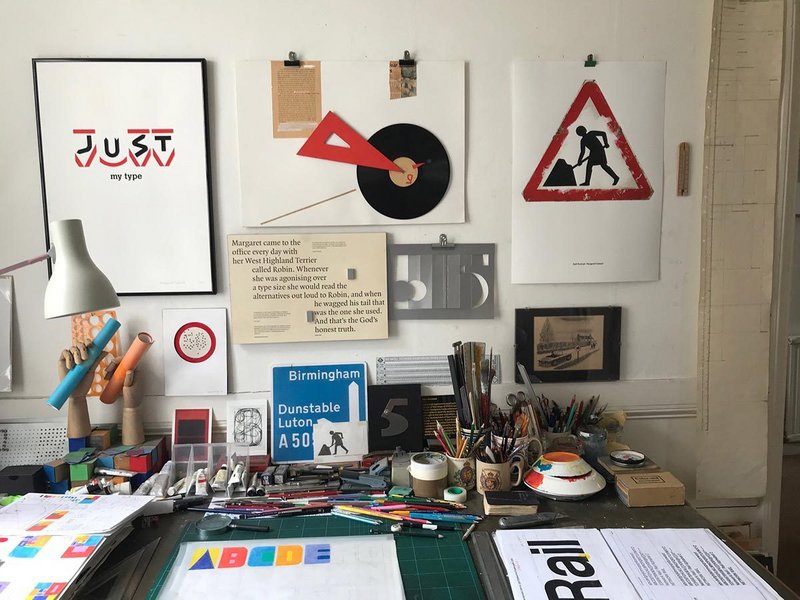 Margaret Calvert's studio from the Margaret Calvert - Woman at Work exhibition at the Design Museum. Her self portrait, a customised version of the road works sign is above right.

Credit: Courtesy of Margaret Calvert
The graphic designer Margaret Calvert is not a household name, yet we all know her work without realising it. Directional road signs all over the land are designed by her (with Jock Kinneir), as well as all those memorable road sign pictograms such as the ones for road works and children crossing. Not to mention many of the nation's rail, airport, ferry and hospital signs of the last half century. Ever looked up anything on the government website recently, perhaps to check the latest Covid restrictions? That's her typeface too (designed with Henrik Kubel, also designer of the RIBA Journal typefaces).
Now in her 80s, she's still going strong, designing the new Rail Alphabet 2 typeface for National Rail, again with Kubel. She richly deserves her own show, Margaret Calvert: Woman at Work, which has just opened at the Design Museum.
While it's a modest display, wrapping around the atrium of the building at first floor level, the exhibition is an enjoyable insight into a designer who according to curator Rachel Hajek, has been responsible for much of Britain's graphic identity. Yet this is not showy design but the everyday, background variety that eases legibility and movement, whether around transport systems, complex buildings or websites, without being remarkable in itself. That so much of her work seems invisible, is, adds Hajek, its genius.
Calvert was talent-spotted young by Kinneir, her tutor at Chelsea College of Art, who took her on as an assistant initially to work on signs for Gatwick Airport. She went on to become a partner in his firm (renamed Kinneir Calvert Associates) and taught for nearly 40 years at the Royal College of Art.
To appreciate the significance of the road sign project, the exhibition gives some context, conveying the complete mish-mash of signage that previously existed on the road network. Kinneir and Calvert's work from 1958-65 was the first to formalise a nationwide sign system for roads, beginning with motorways and followed by all-purpose roads. It was a huge endeavour at a time when graphic design wasn't really recognised as a discipline. Kinneir and Calvert took a rigorous approach, considering size, font, word shape, arrangement, reflectivity and colour, informed by extensive tests carried out for visibility at different distances. The new font, named Transport, was used in upper and lower case within clearly designed signs, with colour-coded backgrounds to denote different road types. Calvert also worked on the pictogram signs. For the children crossing sign she wanted the image to appear caring, so made the girl the older figure holding the younger boy's hand. More than half a century later, the longevity of these signs is testimony to their success, and it was this Transport font that was much later customised as New Transport for the gov.uk website.
Kinneir and Calvert's designs for the rail system also had a huge impact, with the Rail Alphabet typeface implemented within design guidelines across 2000 stations, 45 ships, 4000 locomotives and 230,000 passenger carriages, until privatisation ushered in a variety of different corporate identities. Decades later, Calvert and Kubel have recently adapted this as Rail Alphabet 2 launched at this exhibition as part of a new graphic identity for Network Rail stations and digital text.
Her slab serif design for Newcastle's Metro system was a change from the sans serif normally used in transport signage and was chosen because Calvert felt it suited Newcastle's distinctive architecture. Now known as Calvert, this lettering has also proved long-lasting and is still in use on the Metro after 40 years, as well as on many buses and ferries in the north-east, and is also the Royal College of Art identity. In the exhibition we learn that this design was derived from a proposal for a new town in France, which was rejected for looking too English. The show also includes earlier work for P&O, in which Kinneir and Calvert created a label system for passengers' luggage that didn't rely on language but instead used colour and pattern to convey international regions and different ports within them.
To this day, Calvert prefers to work by hand because she finds the pace it dictates allows her to think through her designs. In the show, there's a photo of her desk full of pens, pencils, paints and design work. Above the desk is her self-portrait, a customisation of the familiar road works pictogram with the male figure replaced by a woman. It's a pleasing reworking, and good to see a large version of that sign in the exhibition too. A recent photo of her holding a handbag incorporating the original road works sign suggests that, unlike pop stars who don't want to play their old hits, she still embraces her early work. And with hits like these, why not?
Margaret Calvert: Woman at Work until 10 January 2021, Design Museum, 224-238 Kensington High Street, London W8 6AG