Peter Aldington's Turn End, celebrated in a new book, should be on every architect's must-see list. His village in a village encapsulates the architect's belief that a new building must be a part of its surroundings – preferably with trees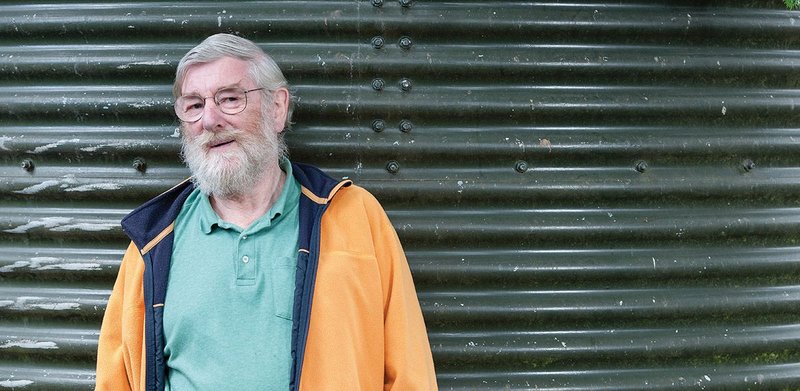 Peter Aldington in the oranges and greens he loves by the water tank of his garden borehole.

Credit: Paul Wilkinson
'This house cost £6000 to build; that new double-glazed unit cost £4000,' says Peter Aldington ruefully. This expanse of glass, invisible behind its veil of translucent fabric layers of blue and green, was imported to replace original single pane window.
His home, Turn End, is the quintessential architect-designed house of the sixties built by an enterprising, hands-on architect and his wife Margaret. Set on what was then the edge of the Buckinghamshire village of Haddenham, it took the local language of historic enclosing white wychert walls (of limestone laden earth and straw) and pantiles. The pair grew a house and a garden around its courtyards and lofty single story volume – and a colony of other spaces, houses to sell, a practice office, a gardener's cottage, flats. Over 50 years hundreds have published, celebrated and visited it, drawn by the domestic vision, the architecture and the gardens. They will be held together in perpetuity by the self-sustaining Turn End Trust.
Early photographs show that the kitchen, its concrete blocks and timber brightened by occasional moments of intense green, has changed very little. A green phone, circa 1970, remains as a decorative relic thanks to its colour; the Bernard Leach pottery has been put on the higher shelves in recognition of its art status. Aldington and I drink from the work of a later Leach – John – mouths on mugs that still bear the granular hallmarks of their earthy origin. Even on a chill March day the depths of the pond look inviting, the rocks and Robinia making a rich miniature landscape enclosed by the wings of the house and the wall it is built onto.

From Walnut Tree to Haddenham High Street, a section through Turn End house and garden.
Aldington has made landscape and Turn End his project since he retired from practice at the age of 53 in 1986. Made miserable by the battle for good architecture, he walked home across the garden from the office Aldington Craig and Collinge for the last time. 'To achieve something you were satisfied with you had to go through hell. It was a pleasure getting the job and a pleasure handing it over but the two years in between were hell.' And there was the way his drawing board was disappearing, quite literally, under a mountain of administration as the buildings got bigger. Yet he has now spent many many hours going through the practice archives, designing and working out how to properly print and publish a book of the houses he designed.
But back to that 6m2 glass, carried precariously through the garden's winding paths on a bitter February day last year. With time for reflection, would Aldington design his home differently now? He is certain he would: 'Regulations change, the walls are thin, energy was cheap. Insulation would be the main thing.' The large single glazed panel just bled warmth. Two layers won't stop ­Aldington donning his pair of orange fleeces but they have made the cold more comfortable.
It seems a humdrum concern for an architect whose handling of space, marrying of landscape and architecture and development of the modernist rural vernacular have won him listings for all nine of the complete houses he designed. But it demonstrates the concerns that drove these – the way people lived, the materiality, the place of architecture. In his practice the briefing process became an art, his non-architect partner John Craig drawing out the brief from the client through discussion and testing. 'It was a long process, maybe six to nine months, but at the end I could look at the document and absorb the brief in half an hour. The design then plopped out very quickly.' In the book those briefs are distilled to their essence, for one house it reads 'an overriding requirement for sun in every room, one room receiving sun from dawn to dusk, part to be capable of becoming a self-contained flat should circumstances change'.
Aldington returns frequently to this process as he thinks of how his clients' homes came into being. 'John was their man in the office,' he says. He had great confidence in the power of the briefs: 'I didn't expect to alter the design and usually I didn't have to.' Take Anderton House in north Devon (1971), now let out by the Landmark Trust. Client Ian Anderton often took his work home and wanted to attend to it with an airy view. May Anderton – an old family friend – disliked the clutter and wanted it tidied away in an office. Craig wrote both stories. Aldington designed a carrel in the living room with a low wall to hide the clutter – and this became the nexus for the house. It took a little convincing though: he tells the story of sitting on a plank at the half built house with the Andertons, and May saying she would put the washing machine in the space. Aldington threatened to walk off the job. It stayed. Later she reported it was the best bit of the house.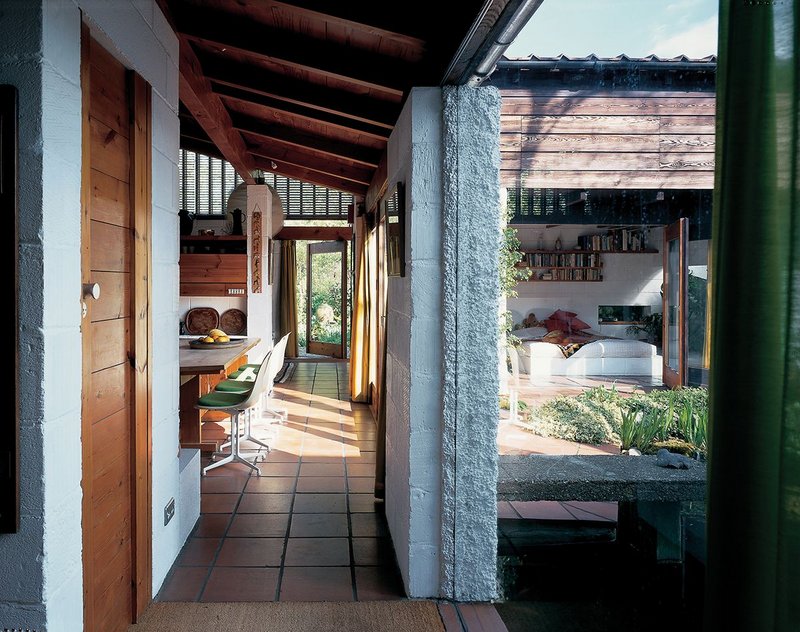 Through that double-glazed unit to the pond landscape on one side, and the path through living spaces to the garden beyond.

Credit: Richard Bryant ARCAID
The first house Aldington designed, Askett Green (1962), he ended up renting back from the client (who has since returned and still lives there). So he got to test some of his ideas, how the snug didn't feel quite as snug as he had hoped as your eye rested not on the stove but, less cosily, ranged over the living room.
'I also learnt not to build fridges into brick holes,' he says. 'I don't think they have ever been able to change the fridge.' More profoundly he learnt something about village building. 'An architect shouldn't come along with hard earned middle class money and plonk a posh house in the middle of a village, but should build a bit of village.'
His own home, Turn End, is dug into the village, low rise in deference to the original permission for bungalows on the site and picking up materiality from the cottages around it. In a warm Lancastrian burr that matches his expansive beard, Aldington focuses, with effort, on talking about his own projects and practice.
But it is obvious that for many years he has been trying to block out the spectre of the new housing that faces him beyond the precious walnut tree at the entrance to Turn End. This was once the outskirts of an historic village, but Wimpey-style homes mushroomed alongside even as Turn End bloomed. Now they stretch for miles.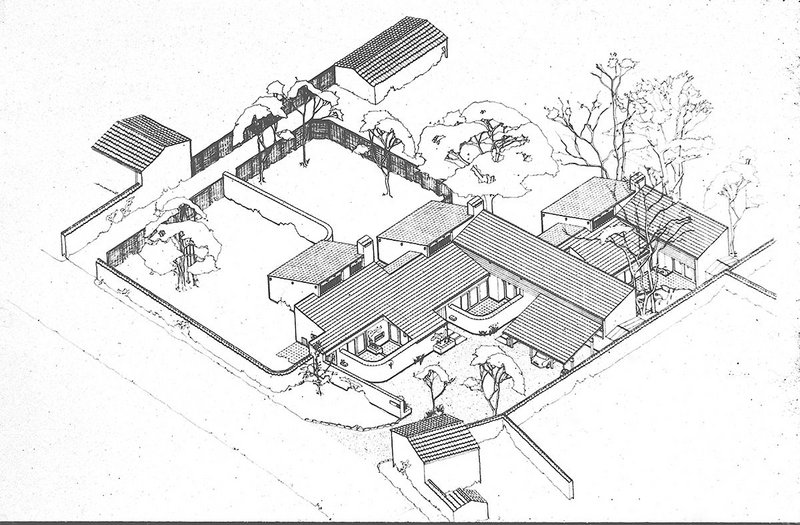 The colony of courtyards, houses and gardens that make up Turn End.
'It is easy to say when you are standing back without a family to support, but I don't think architects should be designing that sort of housing. It brings the profession into disrepute,' he says. Aldington is happier out of those compromises. 'Born to be a plantsman,' he says contentedly as he shows me around the garden, hellebores and snowdrops, a tall pot by Monica Young curling and coiling towards a horse chestnut tree along a beautifully off centre vista.
There were already two books: A Garden and Three Houses, and Aldington, Craig and Collinge. Architect John Pardey, after visiting Turn End, suggested one on the practice's houses but it was when Aldington realised the firm's archive was about to be moved to a new home as part of RIBA Collections that he started systematically pulling together material for this book, designing it himself as he sought the right publisher. Houses: Created by Peter Aldington has come together as a scrap book, though rather more stately than the image of paste and sugar paper that conjures. The houses are presented through contemporary accounts, original photographs, sketches and technical drawings, listings citations and Craig's beautiful drawings, with occasional planning refusals thrown in and even an Anderton House-inspired short story.
Despite his short and rural architectural career Aldington has found supporters for the book in contemporary practice and even as my short Turn End visit draws to a close, two calls come through – one from Sarah Wigglesworth Architects – to arrange a visit. Looking after Turn End is a full time job that he and Margaret share with a gardener and handyman. Ahead lie the projects of replacing its original asbestos gutters and readying the garden for its first openings of the year in May. From behind his walnut tree, Aldington revels in this and the world he has created for himself and for future generations. It is an enviable existence.
Houses: Created by Peter Aldington, RIBA Publishing, 272pp, £40
Listen to Peter Aldington on his life
---