Many of our high-rises, judging by those punctuating the London skyline, are anything but anonymous in shape, loudly competing for either the tallest or the most distinctive form. We all know their nicknames – gherkin, cheesegrater, shard, pint glass. You certainly can't miss them.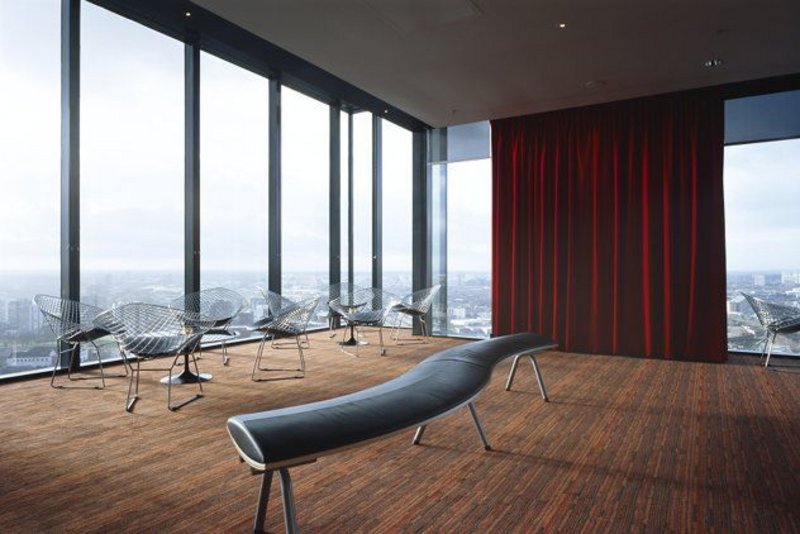 High-rise, the exhibition by artist Peter Bobby, offers a very different take on the tall, iconic building. Instead of familiarity and individuality, his photographs depict buildings that are anonymous despite their height, and are cut-off, dislocated from the city around them and from everyday life.

A series of Zenith giclée prints that focus purely on the pinnacles at night, offer a game of guess-the-high-rise made difficult by the limited, abstract view. The tips are pushed far down the frame and appear insignificant within the expanse of night sky in contrast to their dominance from ground level.

Inside, the unpopulated, slick but often banal corporate interiors perpetuate a sense of gloom and disconnection. A film showing relentless rain on the window of a high-rise blurs the view of the grey city to those from the inside. We could really only be on the first floor up for all we can see and enjoy.

It's all a bit gloomy, but that's the idea, with the work seeking to prompt speculation on the status of the high-rise in society, and issues of privilege and access – particularly pertinent in the case of the Shard. Not that the idea of the high-rise as an emblem of success is any secret – Bobby includes extracts from a tourist guide to Taipei101 – once the tallest in the world – which talk about the tower in terms of power and wealth.'

I saw the show in its smaller version at Bristol's Architecture Centre before it moved onto the Oxford Brookes University. It offered a pertinent and different view beyond the customary 'mine's taller than your's' mentality, seen again this month in the excitement over the height of the replacement for the new World Trade Centre in New York.
---
High-rise by Peter Bobby, until 20th December, Glass Tank, Oxford Brookes University, Gipsy Lane site, Headington Campus, Oxford
---