Downing College's Heong Gallery is intimate and modest, but fails in its professed attempt at outreach to Cambridge's general populous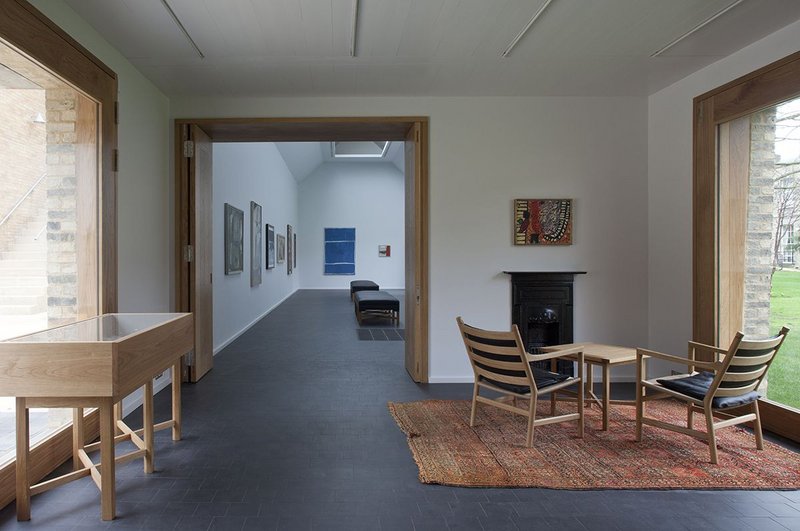 Antechamber to the gallery, gathering around the hearth.

Credit: Ioana Marinescu
Oxbridge colleges have an uneasy relationship with their cites. They really operate best as private communities but in both Oxford and Cambridge their compact satisfying architectural completeness (and often beauty) draws tourists to mill around and stare. And, like all institutions, connecting with the community is now on colleges' to do list. So perhaps it is not surprising that the master of Downing College Cambridge, Professor Geoffrey Gimmett, introduces its new gallery as an outreach.
These two small rooms, a mere £178m2 in total, are set at the entrance to the grand grassy neo-classical courts of William Wilkins' Downing College. They were conjured by Caruso St John from the remnants of stable, more recently used as a maintenance shed. Peter St John writes: 'To make a modest gallery in such a place requires some guile.' But this the place where such a tiny project seemed to find a home.
With a newly converted range of student rooms alongside, it bounds another tiny court for the college. It is the sort of courtyard that draws delight, with a softly patterned brick lining and lettered frieze, held by the strong lines of concrete benches and abstracted by trees. It might have been rather upstaged, but makes for an intimately-scaled entrance to what has been named the Heong Gallery.
The scale inside is domestic too, with large oak-framed windows squarely holding the gallery antechamber, ready to be opened out if it should need to stretch and become part of the wider college for an evening. A cast iron fireplace sets up a corner intimacy, a welcoming hearth that references the embracing homeliness of Cambridge's Kettle's Yard in the old dwelling of Jim Ede. But the other trappings of gallery welcome are absent. There is no cloakroom for bags and coats, nowhere for class groups, nowhere for pushchairs, or to go to the loo. Rather there is the sense of a drawing room for the college. One might imagine dropping in as a student with college scarf hurriedly flung over a shoulder to meditate for a few minutes, or finding some entertainment there on a long summer's evening.
Inside the gallery, the intimacy continues even as the domesticity dissolves. The white walls reach up into pitch of the roof, a wide strip of glass brings in light from above which is subtly modulated by the suggestion of a horizontal ceiling. It is simply and beautifully done. And somehow the sophisticated naivety of the first show speaks to this. The paintings of William Scott, Patrick Heron, the St Ives school and others bring a gentle quality of light and colour to the gallery. The college has leant on its alumni for its first year of programming and this exhibition draws on the collection of Sir Alan Bowness, who through his career, including as director of Tate, was given and paid in the works of artists he was close to. And, of course, there are similarities with the work in Kettle's Yard (closed as Jamie Fobert Architects adds an education wing).
Despite this, the Heong Gallery is perplexing. It may work as a stopping off point en route from station to Kettle's Yard or the Fitzwilliam. It may work to bring an extra cultural dimension to the college. But it doesn't seem to be quite up to 'outreach' of the sort suggested by the college's master and is far from being designed for the public. Its almost accidental siting seems to do most for the college by acting as a foil for the student block. This faces very determinedly away from the college, apart from its civilising new entrance – also designed by Caruso St John – which does open on to the courtyard. In which case it works, as it slips in between the neo-classical and the – very slightly – rougher edged city on Regent Street.
IN NUMBERS
Internal area 178m²
Contract value Confidential
Architect Caruso St John Architects
Client Downing College
---
Credits
Structural engineer Philip Harvey Associates
Environmental / M&E engineer WSP
Daylight consultant Arup
Quantity surveyor / cost consultant / project management Robert Lombardelli Partnership
Planning consultant Beacon Planning
Landscape consultant Studio Karst