Abstract paintings by Johanna Melvin on the plight of the hidden homeless are unexpectedly uplifting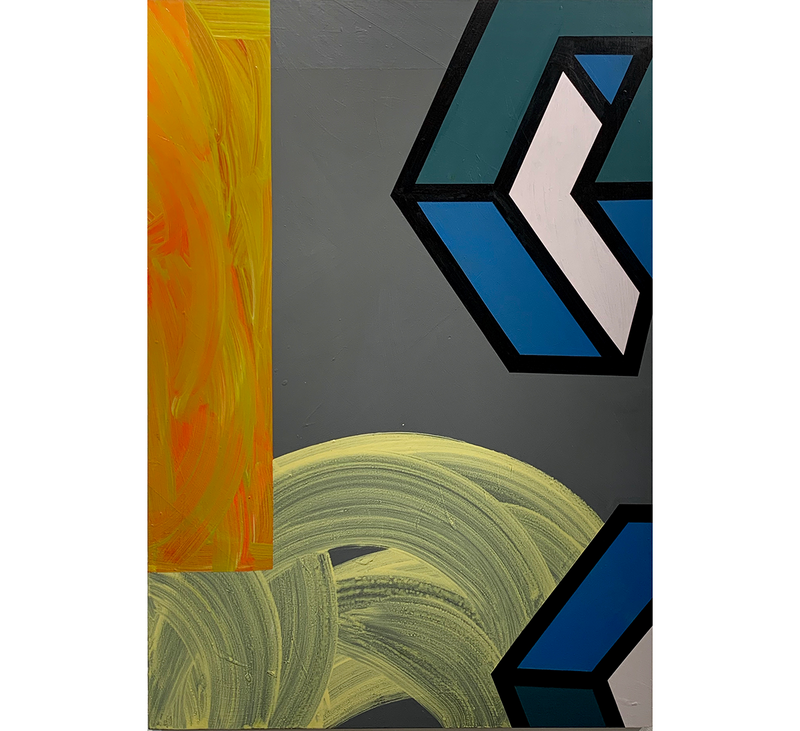 Maquette Series, 2020, by Johanna Melvin for the Hidden Homeless exhibition.
I didn't expect to feel uplifted by paintings on the theme of the Hidden Homeless. But that's the effect of the work of abstract artist Johanna Melvin, who has created new paintings and collaborated with the New Horizon Youth Centre charity for an exhibition at John McAslan + Partners' William Road Gallery. Now, of course, I know that I was lucky to see it at all.
It's a small show that draws attention to a big issue – the thousands of 'hidden homeless' who are living in stop gap accommodation, perhaps on a friend's floor, perhaps sometimes sleeping rough. In London alone, this was estimated to be 163,100 last year, almost as many as the number of rough sleepers. The exhibition also marks the launch of Architects Aware!, a think-tank to encourage future built homeless accommodation projects.
While many artists find inspiration in nature, Melvin has always preferred the nitty-gritty of the urban built environment, drawing on the sharp jutting corners and hard surfaces of the city but combining them with zesty colours and swirling brush strokes.
This proved a good fit for the charity, which works with vulnerable young people who are homeless or at risk of homelessness.
Melvin had previously exhibited at the House of St Barnabas, a charity in Soho to help the homeless back into work, but says she was not previously aware of the extent of the hidden homeless problem.
'I wanted to do something that included their voice in the show,' she says. 'There's a huge demographic of people who are sofa-surfing while trying to work or continue their degrees.'
Melvin wanted to convey both something of the youngsters' homeless experiences but also their aspirations for a more positive future. The result takes up most of one wall in the show – a grid of 28 pieces of bright paper with phrases taken from quotes gathered by the charity from their clients, who are so often unseen and unheard. Some are poignant: 'Last night I slept in a hotel lobby' and 'I miss my family' while many are positive and striving: 'I will change my life', 'I want to be an achiever' and 'Homeless is not Helpless'.
The rest of the exhibition comprises abstract work both large and small created in a very short space of time for the selling show.
'It's very difficult to work as an abstract painter on a narrative theme. I just have to be led by my instincts and intuition,' she says.
'My work has long referenced architecture and things I see in the city – I'm inspired by skips and interesting colours you might see on a side road,' she says.
These textures are certainly present in the work, along with hard edges both of urban buildings and the form of temporary pods made to house the homeless.
According to Architects Aware! founder Heather Macey, an associate at John McAslan + Partners, Melvin's work, with its frequent incorporation of architectural elements amid acrylic swirls, was ideal to launch the initiative.
This first project for Architects Aware! will establish guidelines to support and encourage the delivery of homeless accommodation. First off is a set of design guidelines to set measurable design parameters for 'design quality and psychological suitability'. These are being written by Lacey with Miranda MacLaren and Polina Pencheva, who have secured a grant for it from the RIBA Research Fund.
'We envisage that these will provide clarity about the design components required to create fit for purpose accommodation but also a level of transparency about the end product,' Macey says.
'We want to spell out in design terms a holistic environment that offers more than just a bed,' she adds, advocating a facility that instead offers full support and is embedded in the community rather than segregated.
The second document will provide business strategy guidelines on funding, maintenance and delivery. Both will be completed this year.
---
Hidden Homeless is a selling exhibition which hopes to raise up to £7000 for the charity. Unfortunately access to the show will be curtailed by the coronavirus, but some of the work can be seen online