One half, with husband Bernd, of a famous photographic team which preserved the memory of industrial structures and transformed them into art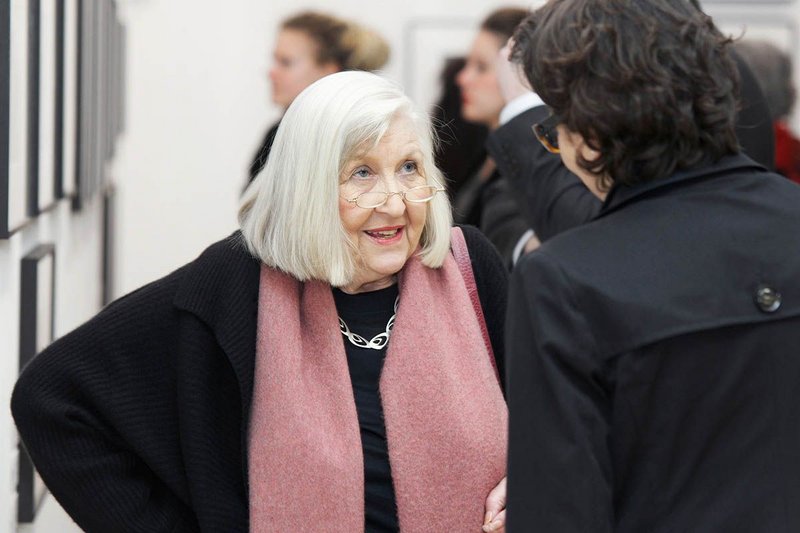 In the digital age it is easy to look at a photograph, or even a series of nine, 12 or 15 similar photographs like those of Hilla Becher, who died last month aged 81, and dismiss it as no more than a snapshot in time. The photograph often doesn't convey the effort and complexity behind it – a certain context, the 'so what' and why.
The photographic oeuvre Hilla Becher leaves behind is and in some sense has always been, part of this misfortune. Now well known within photography and architecture for the images of heavy industrial structures she took with her husband Bernhard from the early 1960s, the apparent photographic simplicity and repetitiveness disguises the duo's radicalism – a consequence which saw them become, initially, more widely known as a result of the success of their students.
The Bechers' genius, as their last interviewer, the academic and author Moritz Neumüller explains, was in their methodology. Trained by the Potsdam master Walter Eichgrün in the large-format 19th century tradition, Hilla Wobeser went to Hamburg aged 20 to work for an aerial photography company, before moving to Dusseldorf to work at an advertising agency in 1957. She met Bernhard (Bernd), an art student at the Academy, and their collaboration began in 1959.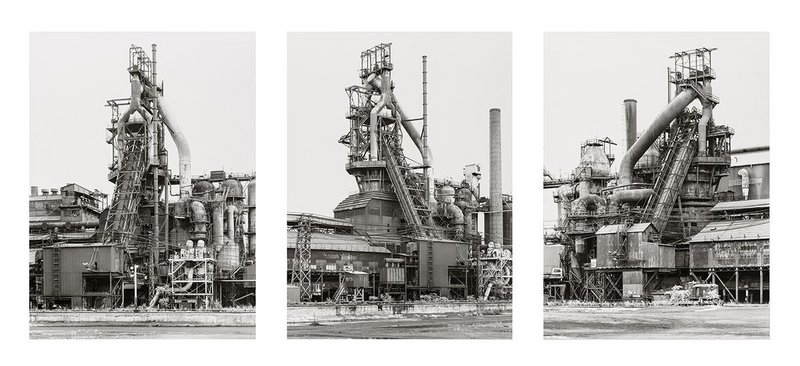 'She was crucial to the work,' explains Neumüller. 'At the time Bernd was not a photographer, but an artist with a brush and pencil. Hilla gave visual form to their ideas. She taught him photography, even if in the end he became the lecturer.' As Hilla commented earlier this year in the British Photography Journal: 'Bernd used photography once in a while, because his subjects were disappearing and he wasn't fast enough to record them.'
They married in 1961 and together developed a way of documenting Bernd's interest in the industrial structures of the Ruhr region he grew up in. Their approach was distinctive for its stated 'objectivity' and straightforwardness – which those close to them suggest resonated with their personalities and took surprising lengths and courage to achieve.
During the Cold War nations were particularly security sensitive to industrial places. From Germany, only 15 or so years after they had been primary bombing targets in the war, the Bechers travelled Europe and the United States, and spent most of their lives exploiting the subject. They got permissions to enter nearly impossible sites. They erected scaffolding in inconvenient weathers and at inconvenient times to get the best views. They found their own routines and cycles, travelling in a Volkswagen caravette with a mattress in the back; one on the ladder passing equipment, the other wavering in the wind.
By day they would take images and by night develop them. When their son Max was born, the quest didn't stop. Rather, while other families holidayed by the beach, they toured post-industrial towns and cities, even taking Hilla's mother to babysit. Max was given the camera too.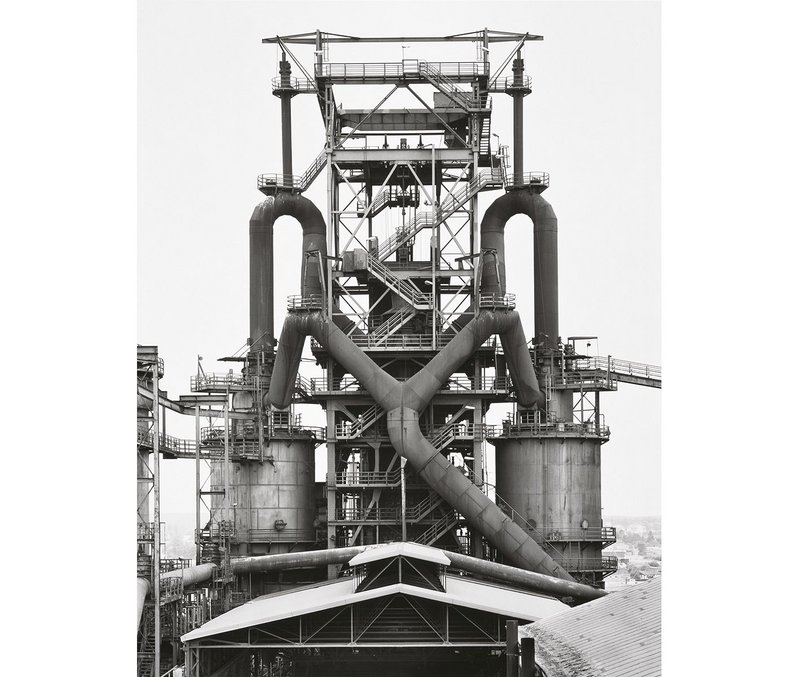 In their pursuit, they became experts at deciphering which motel room would have the darkest bathroom. They photographed everything from water towers, blast furnaces to gas tanks. They developed their own vocabulary to describe differences and called the collections 'typologies'. The only aspect of raw material and industrial production they regretted missing was oil, because getting access to platforms and refineries was too difficult.
At a certain point they defined their method: vertical, front-on, stripped back, structure in the centre of the image frame with nearly the same distance from the edges. Each was a solo portrait from which humans were mostly absent. It had to be a foggy autumn day or rain and cloud to create the shadowless, expressionless images they needed for an object to show its essence in the photograph. Their precision was imperative at the point of capture, photographs were rarely cropped or edited.
Cataloguing and categorisation into geometric grids attempted to make sense of the shapes and forms, posing the question of why there were so many possible variations if these are all supposedly functional buildings at the centre of the work.
'It was the only way of working which made sense to them. They didn't want to be too talkative,' says Neumüller. 'Only from the 1990s onwards had they collected enough material for the image compositions famous today. Before that they were great photobook makers.'
'What we were interested in were the visual and sculptural aspects of the structures,' Hilla once said. 'And because these types of purpose-built structures can't be preserved forever, we wanted to at least hold them fast in pictures, and so we began to collect them. Photography basically means nothing more than collecting.'
In this performance, as Neumüller explains, Hilla was a PR person with the charm to get the rights and convince the sceptics. 'She would gear Bernd in the right direction, but let him think he was boss. She had no problem in assuming the traditional role of the woman and in that way they were very much people of the 20th century.'
On the photographic side the couple's work was influenced by Walker Evans' churches in Alabama and the systematic approach of August Sanders, as well as Ed Ruscha, though far less funny. But on the conceptual art side, they worked in a similar way to Carl Andre and Sol LeWitt.
Ultimately there were two strands of achievements. The first was to preserve the memory of these buildings and the second to transform them into art – the latter marked by their winning the 1991 Venice Biennale Leone d'Oro award for sculpture – because there was no category for photography.
Through their method of encouraging photographers to work with theory, work on a theme and not let loose until it is covered in an interesting way, they influenced many who became more famous and better paid than them, including Andreas Gursky, Candida Höfer, Thomas Ruff and Thomas Struth. Their method continues to form a foundation of most first year photography courses.
However, from architecture's perspective one of their most resounding achievements must be their involvement in saving and securing the future of the Zollverein Coal Mine Industrial Complex in Essen Germany in the 1980s and early 1990s by transforming it into a cultural centre with UNESCO protection, while so many around it were destroyed. The achievement was probably due only to their fastidious effort to collect and demonstrate in their emotive images over the decades.
After Bernd died in 2007, Hilla became a much more private person and a grandma to her son's children in the USA. She died in Dusseldorf from a stroke on 10 October.
Moritz Neumüller is author of Bernd and Hilla Becher Speak with Moritz Neumüller (2005).
---