Both Jeremy Dixon and Edward Jones were steered towards architecture by their mothers. The pair look back on their triumphs, heroes, breakthroughs and dreams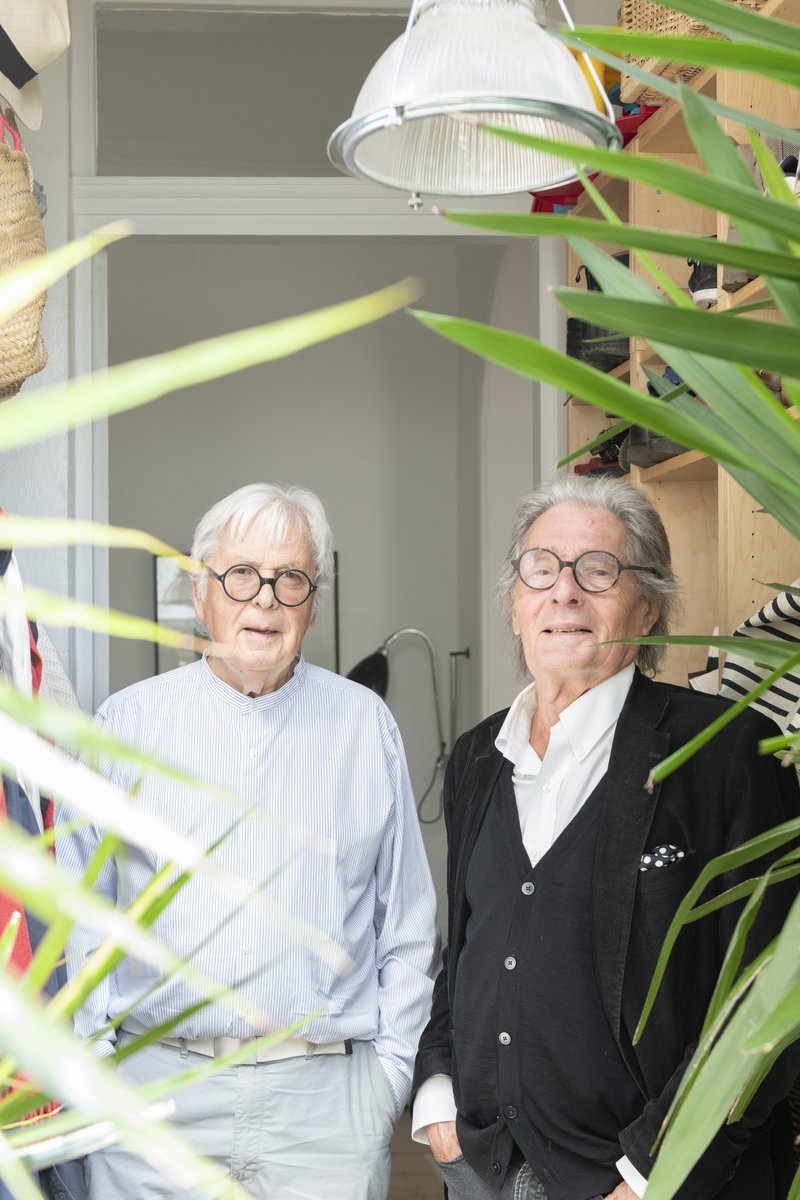 Jeremy Dixon and Edward Jones

Credit: Ivan Jones
Jeremy Dixon (b.1939) and Edward Jones (b.1939) studied at the Architectural Association and formed Dixon Jones in 1989. Key London projects include the Royal Opera House, National Gallery, National Portrait Gallery, Kings Place, Exhibition Road and Olympic Way. The practice closed in 2020.
Knowing what you know now, did you make the right decision to be an architect, and would you still be one if starting out today?
EJ Probably not. Back then, the context for schools of architecture was very different, with the establishment of the Welfare State and new projects for schools, public housing and new towns. This gave a sense of the social role of architecture, which today thanks to Thatcher is non-existent. I feel very despondent about the state of architecture now, although it is still possible to feel positively about projects such as private houses where our contribution is appreciated, and very large schemes such as the Olympic Way steps of Wembley (2016-21). I feel rather less positive about commercial work.
JD  I have a completely different response. I'd be incredibly pleased to find myself at the Architectural Association today, but in its old form, which was year based with a strong peer group ethic. It was a wonderful transformation for me – a magic moment. It was also an extraordinary piece of luck because I didn't pass any A Levels, although I enjoyed making things. I took lots of models to my interview at the AA, and they accepted me. I only applied because it had been suggested to my parents that I should do so, on the advice of family friend, Herbert Read, the art critic.
EJ It was a wonderful place, and a great revelation having been at all-boys public school – suddenly there were women around (although there were only three out of 60 students). I grieve for its present condition.
What sparked your interest in architecture?
JD My mother was an artist who took me around country houses and taught me to have a critical, aesthetic eye. But being an architect was something that was suggested to me. I've always been interested in the huge role that chance plays in life.
EJ My mother was also very influential. She was a portrait painter, my father was a sculptor and my sister a graphic designer. I was subtly persuaded by my mother to be an architect as it was a profession, although secretly I wanted to go to The Slade School of Fine Art and be an artist. Then in 1957, I went to New York and saw the Guggenheim and Seagram buildings under construction. I'd planned to switch to industrial design, but after that seminal experience I became preoccupied with architecture.
How did you two meet?
EJ At the AA. We were part of a group who went on to work at Frederick MacManus & Partners and Milton Keynes Development Corporation, and also collaborated on Jeremy's competition entry for Northamptonshire county hall (1973).
JD We were close friends and colleagues, but didn't have a proper working partnership between the two of us until 1989, when we both rang each other up at exactly the same time to suggest it, and each found the line simultaneously engaged.
Having taken separate paths after working together in the 1960s and 70s, why did you decide to work together again as Dixon Jones in 1989?
JD After five and a half years of working on the Royal Opera House, some of the key people left and I was in dire need of strengthening the whole team to do the project. This coincided with Ed having completed the remarkable competition-winning Mississauga City Hall in Canada, and deciding whether to go to teach at Princeton University or return to the UK. And thank goodness for me he decided on the latter.
EJ Northamptonshire county hall was a great project but it didn't happen. I'd joined Jeremy on the second phase and we'd worked together night and day on the project but it was cancelled. So I always felt there was unfinished business between the two of us.
What was your breakthrough project as Dixon Jones?
EJ There was a group of projects, all within walking distance of each other in Central London, including the National Portrait Gallery (1994-2000), the National Gallery (1998-2005) and Somerset House (1998-2000), as well as the Royal Opera House (1984-2000). All involved revising listed buildings and re-presenting them to the city and populous.
JD It was a time of lottery projects, and we found ourselves with a whole sequence of arts buildings which fell our way and established a reputation for the practice after Ed had joined me.
What do you think was the secret of your success?
EJ We're fairly different in lots of ways, although we have similar tastes. We both care hugely about the design.
JD Although we're different, there is an intimate connection of differences. Like chemistry, we combine in interesting ways.
We worked very effectively together on the early part of schemes and competitions, and thereafter, one or the other of us took over. Interestingly, I realise now that we never discussed who should do what – it just happened.
What have been the ups and downs of leading your own practice?
EJ The ups are when you are doing a competition and you're in good company – you feel alive. That's a real plus, even more so if you win, and I think we won a total of 28 over the years. The downs are when you find out in the press that the thing you won isn't happening any more, but no client has rung you up to tell you. Or when a project of yours has been celebrated, but is then taken over by others.
JD I don't mind when our buildings are changed. If they are successful, they have a public life and that engenders change. There's no point being cross about that.
EJ That's a very generous point of view. For me, the feeling of authorship of a project is always alive. So there can be a down, personally, if it's changed.
What were the biggest obstacles to overcome?
JD Competitions are lotteries. There's no point going into one unless you're prepared to lose. But there's also no point doing one if you don't do your best. So you're caught.
EJ We wouldn't enter a competition if there were people who were conceptually our opposite on the jury – there's no point. And you need to have good clients, which we were fortunate to have with Charles Saumarez Smith at the National Portrait Gallery, Jeremy Isaacs at the Royal Opera House, Duncan Wilson at Somerset House and Wafic Saïd for the Said Business School in Oxford.
JD You need clients with strong will-power to make things happen, with good taste, and with a sense of the challenges of getting something done well – they have to be major motivators. We also had that with Peter Millican at Kings Place, David Shaw at the Crown Estate, and Daniel Moylan, who was a real champion for the Exhibition Road project. We were very lucky to have those clients to work with.
What buildings are you most proud of?
EJ Personally, of our more recent work, I think the steps at Wembley are splendid, and I'm pleased with the odd private house for individuals who appreciate what we do, rather than bureaucrats.
JD The Royal Opera House (started with Bill Jack of BDP) was a unique experience and a wonderful thing to work on, with two companies, Opera and Ballet, in the same building. Also, I have a personal interest in Kings Place and its concert hall. I like it when projects that engage with their urban situation mine it, and settle into it, so as to appear as if they've always been there. That is very satisfying.
What has given you the most satisfaction in your work as architects?
EJ Working with intelligent clients.
JD Having the opportunity to be part of the team rebuilding the Tatlin Tower for the Art in Revolution exhibition in 1971, working out its design and actually physically building it ourselves, after hours every evening at the Hayward Gallery.
EJ Teaching – you begin it early in your career to pay the bills but then realise you are quite enjoying it. I taught at the RCA and was part of University College Dublin's 'Flying Circus' of visiting tutors in 1970-3.
Did your priorities and approaches in practice in partnership change over the years?
JD Mine did change a lot. There was a period when public housing in London was heading towards the difficulties of maisonette blocks and towers and I found myself looking for alternatives. At St Mark's Road Housing (1975-9, with Fenella Dixon) I allowed myself to do something modelled on the traditional ingredients of the residential street, which at the time seemed quite radical.
EJ This coincided with a time when cracks were appearing in the Modern project and there was an emerging, new appreciation of the city as it had been. We believed passionately in projects with a social brief, but then Thatcher came along and closed architect offices in boroughs, and suddenly that work disappeared. Later we shifted to civic projects, and housing for the market.
Was your time in practice a good period to work in as an architect?
JD Yes, we had a rich diversity of work responding to broad changes in the politics of national funding policy ie social housing, lottery arts projects, universities and private developments. It is difficult to imagine such a wide range for a practice starting now.
Did it get easier, or harder, to get high quality buildings built over your time in practice?
EJ We had excellent support from our staff, so as buildings became harder, it got easier with the help of our very good people.
JD Quality does go back to the quality of the clients, and how they look after the buildings after they're finished, which makes a huge difference.
We believed passionately in projects with a social brief, but then Thatcher came along and closed architect offices in boroughs, and suddenly that work disappeared.
Do you think the profession took too long to get to grips with the need to design sustainably?
EJ I'd say sustainability as far as I'm concerned is about common sense.
JD We bridged a time from when sustainability wasn't much considered to when it was considered far more. We were led by two clients to be much more conscious of it. Responsible clients such as Peter Millican at Kings Place (2002-08) set a brief that was far advanced in terms of community sustainability and outreach, and at Regent Palace Hotel (2006-13), our client at The Crown Estate insisted that the building had the highest possible rating in terms of environmental responsibility. So the impact of responsible clients is very significant.
Is there anything you wish you'd done differently along the way? Do you wish you had had a succession plan in place?
EJ In hindsight, succession would have been an economically prudent thing to have done. But we're not corporate people, so we didn't really consider the question of succession. Also, as we'd always avoided a house style and instead had a style for each job, that made succession not so obvious.
JD We were overtaken by events. Suddenly we weren't getting on lists for projects - clients with a view to long-term projects looked at us in our 80s and didn't think we were a great bet. We left negotiations with our staff about succession too late and so it didn't happen, as no-one wants to take on a practice with a huge debt.
When you build up an office over time, it's a valuable, complex thing, a precious object. When you end an office and it's disbanded, it's a great loss for us all. We'd like it recorded that we were extremely appreciative of our staff, who were very special people.
Is there a 'the one that got away' project that you wish you'd manage to win or get built?
JD There are two international competitions that we won but weren't built – Northamptonshire county hall and Venice bus station (1990), which were both studies in pure form: a pyramid and circle respectively.
EJ I greatly regret that we didn't build the Portrait Gallery of Canada in Ottawa (2003).
When I was in Paris, I went to Corb's office, and was rather relieved to find he was away in India, as my French was very poor.
Looking back on your work over the years, who have been your biggest influences?
JD When I was a student, Le Corbusier was endlessly fascinating. As a teacher, Alan Colquhoun was very influential and so was Nicholas Taylor, who I heard lecturing on the importance of Lutyens and Edwardian London. Michael Craig-Martin was extremely influential in redirecting my thoughts to a more abstract world of minimalism.
EJ William Wilkins was always there in the background for me – he'd designed my old school of Haileybury College, as well as the National Gallery and University College London.
I'm generally in agreement with Jeremy's architects. Certainly Le Corbusier, and on the London scene the likes of Alan Colquhoun, John Miller, Bob Maxwell and James Gowan should be mentioned, but above all Jim Stirling has been consistently the most influential and supportive. He was the main assessor on the Mississauga and Venice bus station competitions, and his presence on both juries was a reason for entering. Leon Krier was also very influential, whirring away in the background. I would also include Colin Rowe and his essays (including Mathematics of the Ideal Villa and Collage City) whose influence I came under while teaching at Cornell on three occasions in the 1970s and 80s. Rowe, not unlike Robert Venturi, gave a place to the likes of Palladio, Lutyens and others in our pre-modern architecture enthusiasms.
I tried to visit lots of the people we held as heroes. I went to see Louis Kahn's Richards Medical Research Laboratory in ­Philadelphia, and being very impressed, went to his office afterwards. He answered the door himself and I asked to see the drawings. He said no, but said I could come in and ask an important question. I had tea with Mies and when I was in Finland, I went to visit Alvar Aalto. When I was in Paris, I went to Corb's office, and was rather relieved to find he was away in India, as my French was very poor.
Do you have a dream project you'd still like to achieve?
JD I'd love to build a house for my family. I found a wonderful site in my favourite beech woods on the edge of the Chilterns, overlooking the Oxford plain, but it was too expensive.
EJ Having enjoyed producing houses in London, Canada and in France, with my wife Margot, I anticipate with great pleasure producing an ideal courtyard house for my daughter Jemima in Somerset soon.
What is your most treasured possession?
EJ The prints and drawings I have hang up in my house including work by my father and mother – I've made the staircase into a gallery. I've also got an Edward Bawden linocut of Liverpool Street Station that was a 21st birthday present from friends at the AA – it's been on my wall for the last 60 years. I also value hugely my John Roque 1746 Plan of London.
JD My Steinway piano. I went with Peter Millican to the Hamburg factory to choose pianos for Kings Place, and felt motivated by the extreme craftsmanship to have one myself. I had some money from my mother and felt she would have approved of that use. I can't play it that well, but I can have people come to the house and rehearse recitals, and those are extremely precious moments. I'm in complete awe of musicians – if I could have been anything else in life, I would have been a cellist in a string quartet.
---
Dixon Jones 1 Buildings and Projects 1959-2002 by Ian Latham & Mark Swenarton, and Dixon Jones 2 Buildings and Projects 1998-2019 by Ian Latham, are published by Right Angle Publishing