The founder of Chetwoods looks back on his career, from the Stirling shortlisted Sainsbury's Millennium Store to his dream project which is just getting going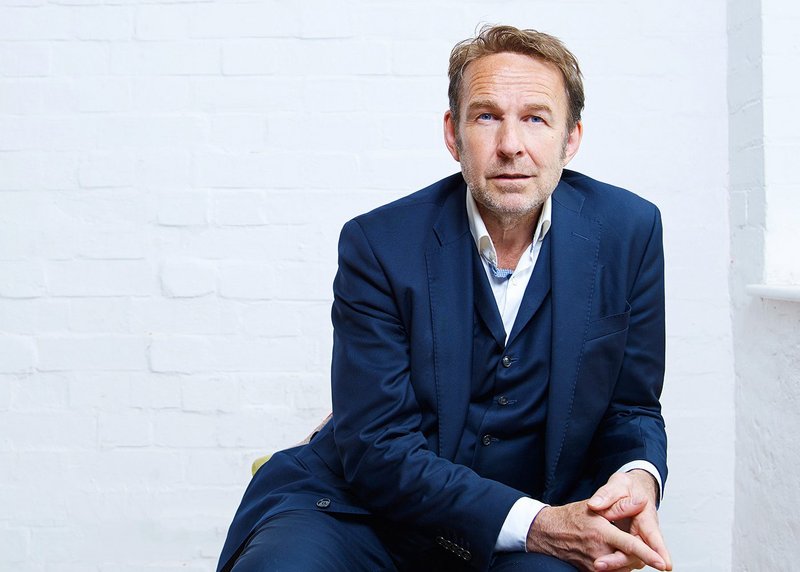 Laurie Chetwood
Laurie Chetwood, is the founder and chairman of London, Birmingham, Germany and China-based practice Chetwoods. The practice was shortlisted for a Stirling Prize in 2000 and Chetwood himself has won three Gold Medals for show gardens at the RHS Chelsea Flower Show.
Knowing what you know now, did you make the right decision to be an architect?
I don't regret it. I've made a great practice in the field and there have been some really fun moments. But I am slightly disappointed as I thought it would be a more creative profession than it turned out to be. However, I have some really innovative projects in the pipeline over the next few years which I am looking forward to, so that disappointment may change.
What sparked your interest in architecture?
When I got to the end of my school days I thought of doing art. My dad, who was a building contractor, went white and suggested architecture instead. He also got me quite a lot of work on building sites, so I already had an understanding of what happened to architects' drawings during construction. It was interesting to learn how the architect wasn't generally the favourite person of those on the site.
I thought it would be a more creative profession than it turned out to be
What ambitions did you have for your practice when you set up nearly 35 years ago? Have these changed?
We set up with a big loan in the middle of a recession, so our initial aim was to survive, which we managed to do. I wanted to bring more art and landscape into our architecture but we just had to pick up any work we could and we took on mainly commercial projects at the start. We had to make sure we could pay the mortgage and we're proud that we've employed people all the way through without having to make mass redundancies at any stage.
We have, however, managed to push boundaries along the way. We were shortlisted for the Stirling Prize for our Sainsbury's Millennium Store in Greenwich and we designed the world's first net-zero carbon for construction verified building.
Yet now we're really expanding our horizons. We think wellbeing and mental health considerations will significantly change architecture in the coming years. We're working with the University of Cambridge on the ability to scientifically measure people's emotional responses to their environment, based around the senses. Linked to this, we're also in the first year of a five-year, not-for-profit project to convert our Butterfly House in Dunsfold, Surrey, into a circular economy, experimental R&D space where different groups of people can visit and use the building and grounds for their diverse requirements. The next few years look set to be busy yet exciting for us.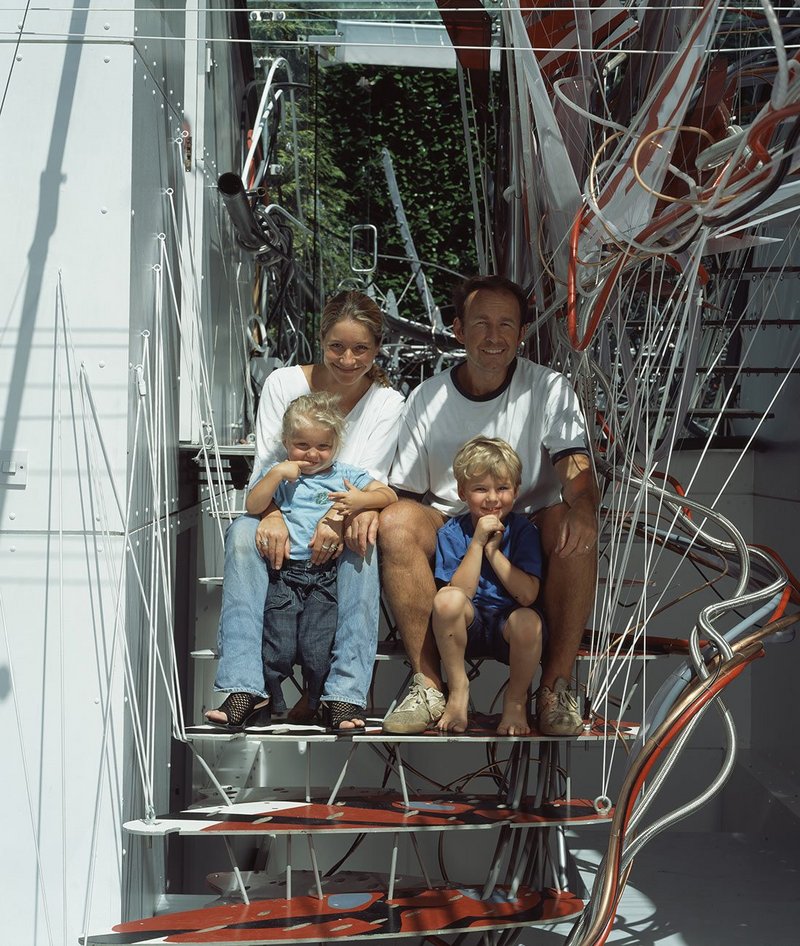 Laurie Chetwood and young family at the Butterly House, 2003.
What was your breakthrough project?
The Sainsbury's Millennium Store in Greenwich, south-east London (1999). We did the very best we could with a supermarket, bringing in daylight through north lights and in doing so, increasing the dwell time of shoppers. Paul Hinkin helped me design it and was the driving force on the environmental side. When it opened, the store scored the highest ever official environmental rating for a retail building and was the first store to be awarded an Excellent BREEAM rating.
What project are you most proud of?
The Butterfly House (2003), which was very experimental. Most architects dream of designing their own house. It took longer than it should have done because I'm the most irresponsible client you can think of! It was really good fun and a bit of an indulgence – we had seats made from rowing machines and stairs where every tread was a different shape. Now it's time for change and I'm drawing up plans for a new scheme on the site.
What has given you the most satisfaction in your work as an architect?
Bringing as much art into architecture as I can. I'm an external examiner in architecture, and I think there's too much science and process in architectural education. However, I am starting to see art and drawing coming back into the profession, and I like to think I've made a bit of a difference in helping to educate people in drawing – I get a lot of pleasure from it.
What has been the biggest obstacle to overcome?
The process. There are so many people involved in creating a building that it's difficult to come up with a starting idea that is preserved from start to finish. If it isn't the client, it's the stakeholders or the contractor. That first ice cube of an idea tends to melt away.
Is it easier or harder to get high-quality projects built now than when you started out?
Harder. It's more and more difficult for architects to cover everything. We have to be lighter on our feet. The liability side is very difficult. You have to be really rigorous now in a way that I don't think architects used to have to be, especially in the UK. Other countries tend to be braver when it comes to design. Over the past few years, we have opened offices in Germany and China and have had some really interesting projects there. For example, last year I was invited to design a new urban plaza for the United Nations Biodiversity Convention (Cop15) hosted by the city of Kunming, China in 2022.
What do you think has been the secret of your practice's success?
Our people. We pride ourselves in hiring individuals who are not only good at their jobs but who we like. We are lucky to have very loyal people in the practice.
A key to our day-to-day success is the continuous collaboration across our different teams, which is why our studio spaces are really important to us. Currently we're looking for a retrofit project to create new London premises where we can use the studio space for three days a week and find other uses for it for the rest of the time. In our opinion, a traditional office that sits empty for a few days a week should be a thing of the past. Spaces need to be flexible and should work for multiple groups of people and different uses, whether that be corporate or the wider community.
Looking back on your work over the years, who has been your biggest influence?
Gaudí has always been my inspiration. The Sagrada Familia is the only building that's made me cry. I'd have loved to have designed a project like that; the Butterfly House was my poor imitation! I admire the inventiveness, the decoration, the colour, the art, the lack of logic. It's emotional and inspirational and the opposite of everything I don't like.
Is there anything you wish you'd done differently?
I'd be a bit more cavalier from the start. By necessity, the practice went in a particular direction and while I am proud of our past work, I am now seeking to push boundaries further and question convention more than we have done in the past. That's the curve we're on now and we've got the ambition to do it.
Do you think the profession has taken too long to get to grips with the need to design sustainably? What needs to be done to tackle this?
I thought the profession did initially make big strides towards designing sustainably, but I think we could do better, especially on the education side. In my experience, sustainability is not always embedded in student coursework. It should be a key ingredient in every student project.
Do you have a dream project you'd still like to achieve?
My new scheme in Dunsfold, Surrey – something that's good for people and incorporates art, architecture and landscape with research. We're trying to adapt the architecture and capture what is wellbeing and what is happiness. It's a campaign. And around it, other interesting projects are beginning to pop up.
What is your most treasured possession?
A pencil and the ability to draw. Also, there's my car: a 1973 Aston Martin V8, which is a thrill to drive.
---
To see more reflections on architectural careers see.ribaj.com/hindsight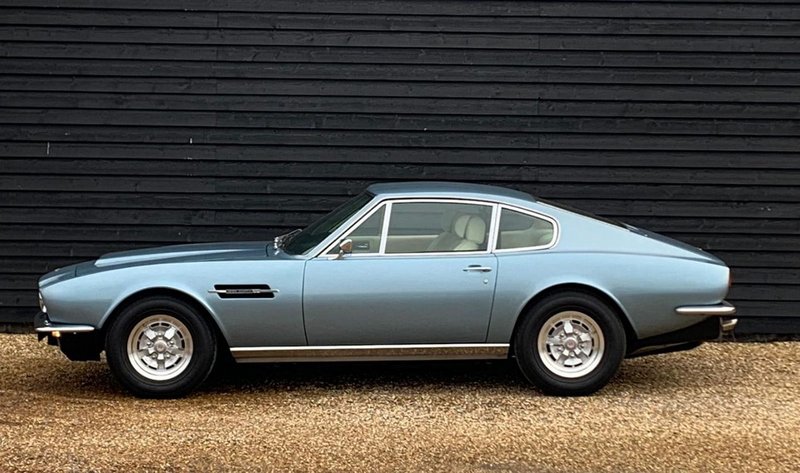 Aston Martin V8, 1973 , one of Chetwood's most valued possessions.