We weren't so much drawn to post-modernism as it was drawn to us, says CZWG co-founder Piers Gough as he talks about nearly 60 years in architecture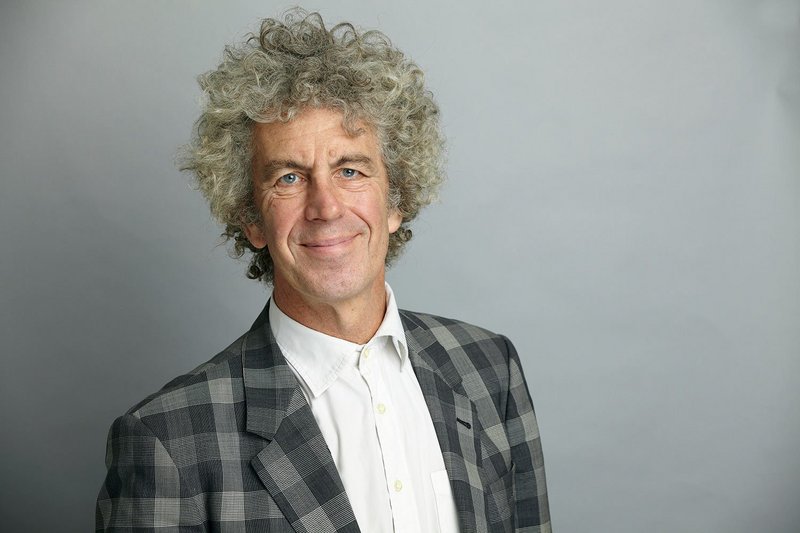 Piers Gough, co-founder of CZWG
Piers Gough, 75, studied at the Architectural Association and co-founded CZWG in 1975 with Nick Campbell, Rex Wilkinson and Roger Zogolovich.
Knowing what you know now, did you make the right decision to be an architect?
Yes. It was the result of a pincer movement between my dad and my art master when I was 16, because I was quite good at both science and art. So, I was persuaded and relieved - I thought that as most modern architecture was so terrible, I could probably crack it and succeed.
I'd recommend being an architect, although you do have to love it more than is sensible, and be a bit crazy to do it. You have to have a bit of mania because it's not frightfully well paid, and architects have become rather like sub-contractors, so you can't be someone who cares too much about status.
You co-founded your practice nearly half a century ago. Have those years been a good time to be an architect?
It sure was at the start. Architects were looked to as being knowledgeable, good at what they did, and respected as a profession. The opportunities were there. The 60s were about freedom, and there was no problem getting a good job when you finished your studies, or starting up your own firm. We set up the forerunner to CZWG while still at the Architectural Association, and started off designing boutiques and groovy 60s things. We started out in an annexe of the AA which had that magic item, a telephone.
There was a definite optimism about the future and plenty of construction going on. We set up CZWG in an office in Holborn in 1975 and did our first major job, and we thought the phone would never stop ringing, although it did. The 1980s were good times for us and we got some interesting clients. Since then it's been rather up and down with various recessions and now Covid. We have also reached an age where some of our best clients aren't now so active. It's a bit odd without Nick and Rex, who have recently retired as partners, but I'm still a director and I still very much enjoy designing buildings with the team.
When and how were you drawn to postmodernism?
We weren't so much drawn to postmodernism – it was more that post-modernism was drawn to us. I didn't read Robert Venturi's Complexity & Contradiction in Architecture until after I'd left the AA. None of us really read architectural magazines or books – we were trying to find our own way and look to other arts, although we obviously thought Stirling and Gowan were great. We were doing something hopefully more playful and using Pop Art as an inspiration for more colourful architecture. But if anyone was postmodern it was us. We raided history, the modern and the vernacular – all the influences we could – and then mixed them up in buildings to get an architecture with more emotion and drama to it. We were breaking away from the dour hairshirt practice of modernist architecture.
Our biggest aim was to make it enjoyable, and to design housing that was distinctive rather than anonymous - too often it is seen as a filler. Docklands was good to us and we did four developments next to each other – Dundee Wharf, Cascades, Millennium Harbour, SeaCon Tower. People called it Gougham City but quite wrongly, as they were actually all designed by Rex.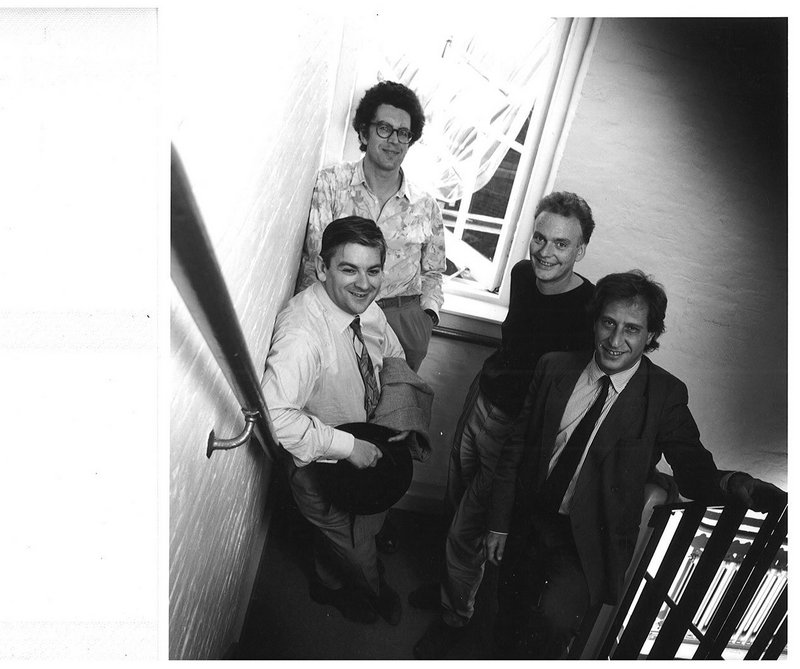 CZWG partners circa 1985. Left to right: Roger Zogolovitch, Piers Gough, Rex Wilkinson and Nick Campbell.
What was your breakthrough project?
Two on the river we finished at the same time. I designed China Wharf, which was framed by Victorian warehouse architecture and was exuberant to say the least, putting its feet in the water and with three quite strongly different elevations. Meanwhile Rex designed Cascades, a 20 storey housing development quite like a grain silo with funnels and all sorts of delights. They were very much appreciated by the public and each ended up on the cover of one half of the London phone book, which was then a seriously important publication – there were more copies printed of that than the Bible. We still have those covers, framed.
What project are you most proud of?
Canada Water Library. I love it because it's a public building and we have done remarkably few of those. It was an absolute pleasure to work with the library department of Southwark, which was an exemplary client.
What do you enjoy most about being an architect?
Knowing I'd be hopeless at anything else! Architecture has its ups and downs but there is such a range of activities – one day I might be at day one on a concept sketch and the next working out a detail at the end of the design. And teaching architecture students has been an inspiration. It's great to be able to have a long term effect and know that your buildings can continue to give pleasure for years. It's incredibly satisfying.
What has been the biggest obstacle to overcome?
Imposter syndrome. It can be very weird to go onto a building site and see 200 people building your design. You think, how have they all agreed to do it! And then there are times when you suddenly realise how little you know. But I've managed to mug my way through with a lot of help from people in the office.
Did you ever feel like giving up?
No, I'd never do that. Even when you have a firm around you, if I've told a client I'll do something I'll do it. The thought of letting anyone down is unthinkable. I might have thought of having a sabbatical, but there's never been a moment when I could conceive of giving up.
Is it easer, or harder, to get high quality projects built now than when you started out?
You certainly have to work harder as an architect. Postmodernism meant there was no right way of doing anything anymore, so the level of detail necessary to build a building is very high because there is no normal. So each building is like starting from scratch each time, which in some ways is wasteful of human endeavour. So in terms of what's needed, it's got harder, especially for planning, where you have to nail everything down to the last detail. That aspect of construction is now hugely onerous, and takes four or five times longer than when we started.
Looking back on your work over the years, who or what has/have been your biggest influences?
Many and varied. As a place, I love Brighton. I love the exuberance and the idea of an architecture of pleasure. Growing up, that influenced me away from post-war austerity and towards the Baroque. Brighton and Vanbrugh were the things that got me going in architecture. Along with Pop Art and rock/pop music, they all very strongly influenced the joie de vivre architecture we've been trying to produce. Also, the other students and staff at the AA were exciting.
As time went on, I started admiring many other architects – I have this conceit that all the best architects of the twentieth century began with a G, such as Gaudi, [Hector] Guimard, Gehry, and [Bertrand] Goldberg. Bruce Goff was also very fabulous – completely exuberant and exotic. And I admire Stirling, Zaha – and Eero Saarinen because all his work is so different. He did the best airport terminal (TWA) and the best office (John Deere). Each achieved a perfect version of itself. I used to take the bus past the Lloyd's Building every day just to get the buzz of it. But now I do like austere things as well – it's a real rag-bag of enjoyments.
Do have any regrets?
We should have been braver and entered more competitions for public buildings. That's definitely a big regret. You have to be prepared not to win, and I've never been a good loser.
Do you think the profession took too long to grasp the need to design sustainably?
I'm not sure that architects were the ones who were slow on the uptake. They were just impotent. The building industry was notoriously slow on R&D, and that should have been going on since the first inkling that sustainability would be important. Embodied energy was on the radar at least 25 years ago. People didn't do enough to overturn the norms of the construction industry.
How do you feel that history will judge postmodernism?
Overall it's been greatly cathartic and necessary, opening up what some might call a Pandora's box, with great opportunities for architects to express their ideas. Postmodernism threw out the rule book and it's a tricky style to tackle if you're not very good – I think there is a lot of poor postmodernism out there, and I understand why that has a bad press. But history will show that there were also a lot of good practitioners who could handle all those influences with élan, such as Stirling, Outram and Dixon Jones. Many of the rising stars in architecture today also have a distinct postmodernism to their work.
We were chuffed to bits when several of our buildings were listed because our work was never mainstream and seldom won awards, although people loved that we did naughty buildings. At the time, it was said they would go out of date and be embarrassing, but the listings have proved the opposite, and that they are still very much appreciated by the public.
Do you have a dream project you'd still like to achieve?
I'd love to plan a seaside town – design Brighton all over again! We once won a competition for one at Granton near Leith, but it was derailed in a recession. I'd love to have another go, but possibly next to a warmer sea.
What is your most treasured possession?
My swimming pool. I have an indoor pool that I built myself in a 1950s factory building, which was so robust that I could put the pool on the first floor without having to strengthen the structure. When I was 30, I was partially paralysed in an accident. Swimming is my one exercise pleasure, and the one physical activity that my son and I can really do together.