Chris Wilkinson on how drawing, painting and high-tech have inspired and shaped his work, and what makes Maggie's Oxford and Stratford Market Depot so special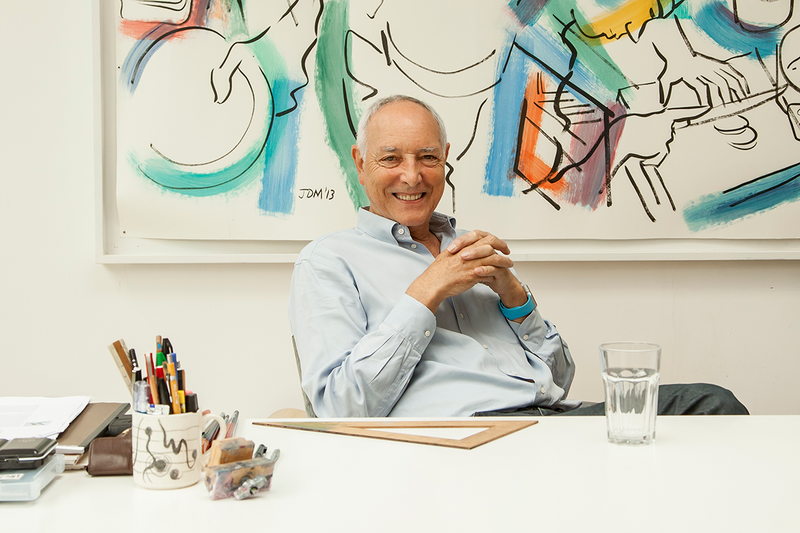 Chris Wilkinson. Photo © Rob Greig
Chris Wilkinson founded Chris Wilkinson Architects in 1983 after working for Norman Foster, Richard Rogers and Michael Hopkins. Now 75, he co-founded Wilkinson Eyre with Jim Eyre in 1987.
Knowing what you know now, did you make the right decision to be an architect?
Definitely. I wasn't a good pupil at school but I became interested in architecture and that interest grew into something much more. I studied art for a year before going to architecture school and that changed my whole attitude to life.
I really enjoy being an architect, the creative opportunities that come with each project and the satisfaction of seeing them turn into buildings. It can certainly be very frustrating. You have to chase the opportunities and make something out of them which is a challenge I enjoy.
Has it been a good time to be an architect?
I think I'm the luckiest person because I've worked through such exciting times. Working in modernism, which I did in Denys Lasdun's office after I left Regent Street Polytechnic, was very interesting. After that I took a break in Greece for three months on my own and when I was there it suddenly became clear to me that the work of Foster and Rogers was the future which I wanted to be part of. So I rushed home, applied to both and was lucky to be accepted at Foster's in 1971, when the practice was still very small and creative. Later I joined Michael Hopkins when he started his own office – I was the first person there and I stayed for five years. After that I worked at Richard Rogers' office for another five years. So I feel fortunate to have experienced the technological approach to architecture in these offices which was all very exciting and informative. They were great people to work for and I had the opportunity to be involved on a range of interesting buildings including Lloyd's of London.
I decided to set up in practice when I was 38 because I felt it was now or never. It was a gamble – I had a mortgage, a family with two kids at expensive schools and no income but Richard and Michael sent projects my way which helped me get started. My problem was working out what sort of architecture I could develop with a different approach to my peers. I was still very interested in technology but also art so I tried to find a way of bringing the two together and this has become my focus. All these years later, I'm still working because I enjoy it so much.
What was your breakthrough project?
Stratford Market Depot on the Jubilee Line Extension in 1991. When I started in practice on my own in 1983, someone said to me that the first 10 years or so would be the most difficult and they were about right. When we won the job, we were only seven or eight people and we hadn't completed any major buildings. With a stroke of luck, my first book Supersheds came out at just the right time and this helped to get us on the competition shortlist. It was a subject Jim and I were both interested in at the time and I'd had experience of designing big sheds earlier in my career when I was working for Norman Foster, Richard Rogers and Michael Hopkins. We won the competition which helped set up the practice and a series of exciting projects followed on.
What building are you most proud of?
Maggie's Centre in Oxford. I'd never designed any hospitals or medical buildings before and the brief was remarkable. Charles Jencks had made it clear that the aim was to create uplifting spaces that would help people at a time when they are at their lowest ebb. The project took a long time to happen because we were given a site in the middle of a carpark which I didn't think was suitable. Fortunately, we found an alternative site nearby that was covered in trees and dropped away from the road by 4m. It turned out that the hospital only owned half the land so it took a long time to acquire the rest of the site. Eventually I was able to design a tree house high up and in amongst the trees which was near the oncology unit. It required a complex geometry to fit in between the trees but it was worth it because the windows, rooflights and floor lights bring the interior spaces close to nature.
What has given you the most satisfaction in your work as an architect over the years?
What has become more and more important to me over the years is art and its connection with architecture. There are a lot of architects who consider themselves to be artists as well as architects and I'm one of them. I've been painting since the early 90s and my paintings give me a sense of freedom. Like all architects, I work from the brief and the site but when I go on site I do drawings and paintings as well. This often helps to develop a narrative which I find is an interesting way to approach a project and it often leads to unexpected possibilities.
I'm also very excited by innovation and I've enjoyed experimenting with new technology. I see every project as a challenge and an opportunity to try something new.
What has been the biggest obstacle to overcome?
The mundane answer is keeping a steady workflow which is very difficult for architects. We have to compete for so many jobs and only a few will go through to completion. I have also found that building up a successful practice is quite difficult. You want to give your colleagues the opportunities to fulfil themselves and for everyone to enjoy the process but that's not easy to manage.
Did you ever feel like giving up?
No, never. It is disappointing when you lose a competition that you thought you had the right solution for but you have to learn to get over the failures and enjoy the ones you win. I joined up with Jim Eyre 30 years ago and we have a great team at WilkinsonEyre all working successfully together on an exciting range of projects so I want to keep on going.
Is it easier, or harder, to get high quality buildings built now than when you started out?
It's easier. There is a much greater interest in architecture these days. People are more concerned with the quality of the environment they're living in and we all have to tune in to a more sustainable way of life.
Looking back on your work over the years, who have been your biggest influences?
Norman Foster opened up a whole new ball game for me in my formative years. His work was fresh, new and exciting and it was the same working with Richard Rogers and Michael Hopkins.
Is there anything you wish you'd done differently?
When we won the Stirling Prize in two consecutive years in 2001 and 2002 with Magna and Gateshead Millennium Bridge, it was great in many ways but it caused us a few problems. Some articles were written about us that were a bit personal so we decided to lie low for a while rather than making the most of every opportunity that came our way. Instead, we looked for work in China where we won a project for a 420m mixed-use tower in Guangzhou. This led to other work in China and Singapore which turned out to be a good move but, in some ways, I wish we had concentrated more on the home market.
Is there anything you'd still like to achieve in architecture?
Yes and it goes back to my interest in art. I'd love to build an art gallery and I've been working on one for Sir James and Lady Deirdre Dyson which they would like to be open to the public. We've had some difficulty with planning permission but I'm very hopeful that we will be able to go ahead with it in the New Year.
Why do you think the profession ignored the need to design sustainably for so long?
It was not just architects but the whole world that was slow to understand the importance of sustainable design. It's very clear now but for a long time the problems weren't fully understood even though we were already heading for disaster. We became aware of the issues when designing the low energy Davies Alpine House at Kew in 2006 with Atelier 10 and went on to design the semi-autonomous Crystal in the Royal Docks. The Cooled Conservatories at Gardens by the Bay in Singapore, again with Atelier 10, was all about climate change. Like the rest of the profession, we have learned a lot and we are becoming aware that the re-use of existing buildings is also now a high priority. Our King's Cross Gasholders and Battersea Power Station have reinforced the potential of this approach to us. Sustainable design and biodiversity are now of the upmost importance.
Do you think Covid-19 will have a lasting impact on architecture and the architectural profession?
It has taught us a few lessons – that you don't have to all be in the office at the same time (although architects do need to meet at the design stages) and that you don't necessarily have to fly to meetings and site visits around the world.
I think there will be an impact on architecture because there will be a re-evaluation of lifestyle, not only because of Covid-19 but because of sustainability. People are becoming much more interested in being close to nature so we have to look at bringing nature and biodiversity into buildings. It's not just about architecture, cities will have to change too and there has to be an opportunity to look again at how we plan them.
What is your most treasured possession?
I'm not a great one for possessions but I do have a collection of architectural drawings that I'm very fond of, including a small Le Corbusier painting and drawings by Carlo Scarpa and Jan Kaplicky. I particularly like the idea of the character of the architect coming out in the drawings. I also have a limited edition print of Daniel Libeskind's Jewish Museum in black charcoal on white paper, which exactly encapsulates the concept of the building. To be able to show all of the drawings together is an ambition of mine which I'd like to fulfil sometime in the future.