Historic England wants help to record and publicise local acts of remembrance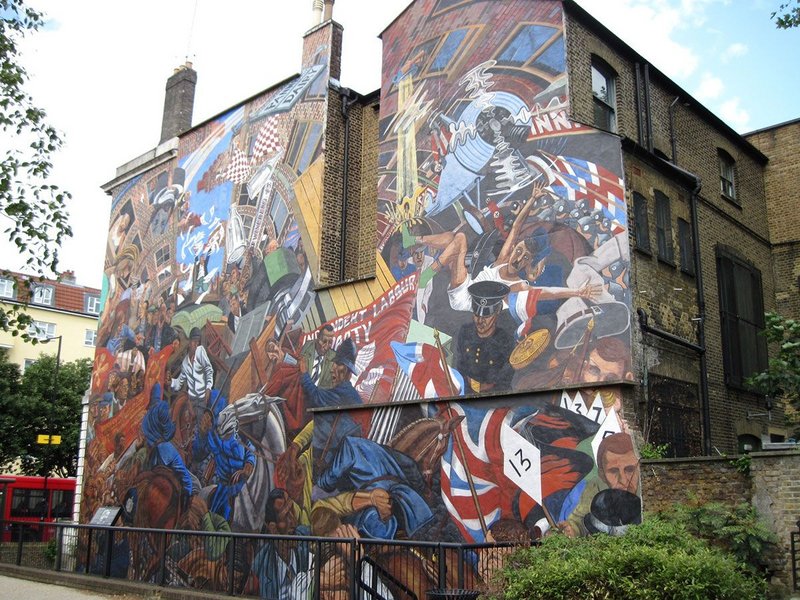 The Cable Street Mural, East London, commemorates the Battle of Cable Street, Sunday 4 October 1936. Anti-fascist protesters, including local Jewish, socialist, anarchist, Irish and communist groups, clashed with the Metropolitan Police. The work is inspired by Diego Rivera and Goya.

Credit: Jo Marshall via Wikimedia Commons
From the David Bowie mural in Brixton, to the Women of Steel monument in Sheffield, our built environment comprises countless examples of grassroots acts of remembrance. Now Historic England has launched Immortalised, an initiative encouraging the public to seek out and share images and information on the UK's vernacular memorials. The intention is to record and publicise little-known, forgotten or even secret tributes of local significance, and in certain cases acquire listed status for them.
A YouGov poll conducted for Historic England (HE) in January 2018 revealed that up to 14% of women and 10% of men claim to have created a memorial of some description. This suggests that the construction of tangible memorial structures is frequent and widespread but often does not involve architectural input nor apparently require it at the time.
The survey, of 2162 adults, also showed that while 70% of the population believe that official monuments succeed in representing 'those who have made a significant contribution to our history', there is a discrepancy between the views of the old and the young. Whereas only 12% of 55-year-olds disagreed with the statement, this rose to 20% among 18-24 year-olds. This is a likely consequence of recent highly publicised controversies such as the student-led 'Rhodes must fall' campaign, as well as the realisation that there is a lack of representation of women, people of colour, disabled people, the LGBTQ community, and those of working class backgrounds within our public monuments.
Importantly for architects, Historic England will be publishing guidance called Dealing with Contested Heritage, aimed at local planning authorities and those working within the context of disputed or problematic historic buildings or structures. Full details of the documentation have yet to be released. Other events in the season include an exhibition of photographs and archive material, planned for September, and a debate organised by Intelligence Squared, Contested Statues: how should we memorialise the past?.
HE researchers are interested in seeing how unofficial memorials come into being and how communities construct memorialising rituals which in turn contribute to collective memory, identity and place-making. According to HE chief exective Duncan Wilson, 'We are creatures of memory, and every generation has commemorated people in the built environment… exploring the stories and histories of less well-known people and groups is an important part of [Historic England's remit]'. The Immortalised campaign integrates three of the stated targets in Historic England's three-year corporate plan: to 'promote interest, engagement and understanding of the historic environment and important issues like "disputed heritage"'; to 'encourage celebration and protection of LGBTQ history in the built environment'; and 'to promote citizen action'.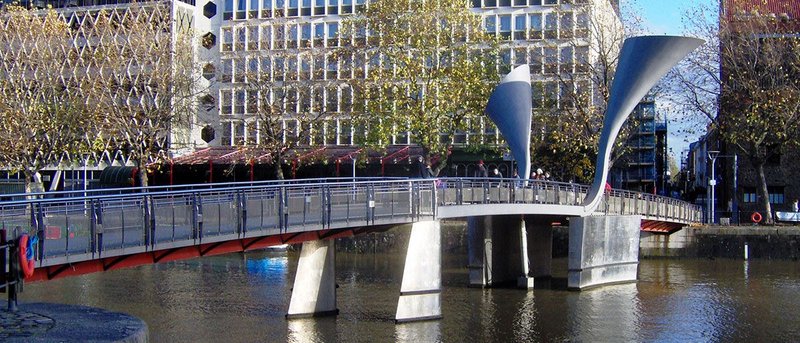 Pero's Bridge is a pedestrian footbridge that spans Bristol's floating harbour, named in honour of a slave called Pero Jones.

Credit: Nilfanion, via Wikimedia Commons
Architectural examples already contributed to the project include the Construction Workers' memorial in Tower Hill, as well as Pero's Bridge, designed by Eilis O'Connell with Ove Arup & Partners in 1999. This bascule pedestrian footbridge on Bristol harbourside, with its distinctive counterweights, commemorates African slave Pero Jones who arrived in Bristol in 1765 with a plantation owner and remained for 32 years. The bridge is not only a tribute to Jones; it is a physical reminder of how slavery shaped Bristol's cityscape. Another example is Basil Spence's Coventry Cathedral, with the Cathedral of St Michael integrated into the site design as a permanent ruin.
January's poll reiterates that there is an appetite or deep-seated need for memorialisation within the public consciousness, at varying scales and degrees of permanence. This enthusiasm for memorial structures could present an opportunity for the profession; architects are uniquely equipped with the skills to contribute meaningfully to this area of design.
---