Design Museum's walk through the futuristic designs of the past is both nostalgic and prescient
Visiting the Design Museum's thought-provoking new exhibition Home Futures, it's easy to smile at outlandish past visions of the future that clearly never came to pass (so far, at least). From Archigram's walking cities to Superstudio's vision of a sleek life support grid spreading through the landscape, and the Smithsons' famous 1956 House of the Future, these make for great if familiar retro future images that are always a pleasure to peruse again. The inclusion of Villa Arpel from Jacques Tati's 1958 film Mon Oncle, in which modern technology comically causes trouble, is a particular joy.
But as this endearingly meandering show makes clear, what's rather more remarkable is how much of what seemed so unlikely turned out to be, if not entirely accurate, than strangely prescient, from omnipresent surveillance and screens to fully-automated houses, domestic robots, and micro living spaces.
Home Futures allows us to enjoy the nostalgia of futuristic visions of the past while shining a light on how we live today and may live tomorrow. Above all, it encourages us to question the very nature of home and whether our concept of the home is becoming less bound to a physical space. In particular, we are asked to consider how our embrace of technology is challenging the notion of domestic privacy. Throughout, a sprinkling of provocative quotes, for example 'Less is Enough' (Pier Vittorio Aureli) and 'A Home is not a House' (Reyner Banham) in the form of large posters give further food for thought.
The exhibition identifies persistent themes in past visions of the future – technology, nomadic lifestyles, shrinking domestic spaces and self-sufficiency.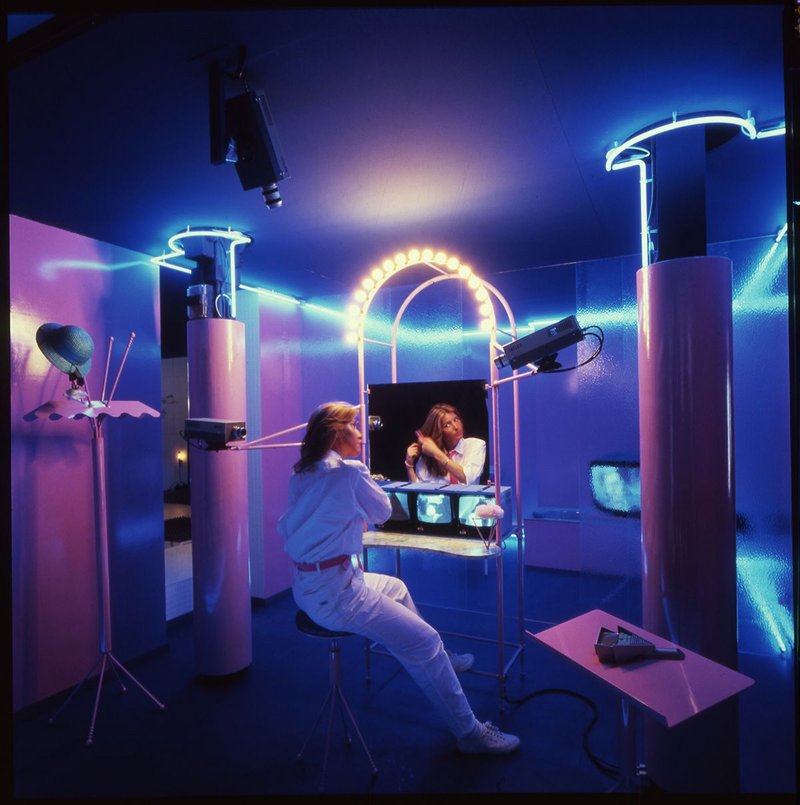 La casa telematica by Ugo La Pietra (1983).

Credit: Courtesy Archivio Ugo La Pietra, Milano
Ugo La Pietra's Telematic House from the 1983 Milan Furniture Fair is particularly fascinating. In this, telescreens are incorporated everywhere within the furniture to dominate the domestic environment, anticipating our current screen-obsessed lives to an extent, but never imagining that technology would become mobile rather than static. The Environment Transformers' 'wearable architecture' headsets of 1968 prefigured some aspects of augmented reality while Dunne & Raby's Technological Dreams explores the complicated matter of human-robot dependencies.
At a time when digital natives in particular increasingly live with fewer physical possessions and in more compact homes, it's fascinating to look at past visions that explored these ideas. Sottsass' Micro-Environment, for example, was designed to liberate the home from consumer goods while Joe Colombo's 1.5m3 Mini-Kitchen of 1963 and his Total Furnishing Unit from 1972 compressed all the house's functions into a single piece of multi-functional furniture. Presented in The Architecture of Minimum Dwelling, a recent project by Pier Vittorio Aureli and Martino Tattara of Dogma, are 48 examples of minimal living - ranging from a monk's cell to contemporary co-living. We are asked to consider whether there is an absolute miniumum, and whether squeezing more functionality out of less space still responds to our human needs.
Hats off to Hans Hollein's 1969 Mobile Office concept, in which the designer is shown working outside in a transparent bubble – even that structure, it turns out, was unnecessary. Enzo Mari's 1974 Autoprogettazione DIY guide to making furniture, meanwhile, finds common ground with today's Open Source systems. But it's Superstudio's Supersurface universal grid concept from 1972 that hits home - in particular for its resonance with the concept not of the physical grid originally suggested but of the invisible, all-powerful network of the internet.
Exhibition partner Ikea has entered into the spirit of the show with a 'design fiction' catalogue of the future including a self-growing and cleansing moss-like carpet, gardening drones, and furnishings that are programmable to change their patterns.
This entertaining exhibition ends with a series of talking heads pondering what makes a home today. I think architect Peter Barber gets it right when he suggests that home remains fundamentally about the relationships between those within the house, and with the city, rather than about technologies. But it's clear from this exhibition that technology has been, and will continue to be, a persistent disruptor of domesticity, for good and for bad.
---
Home Futures, until 24 March, Design Museum, 224-238 Kensington High Street, London W8 6AG