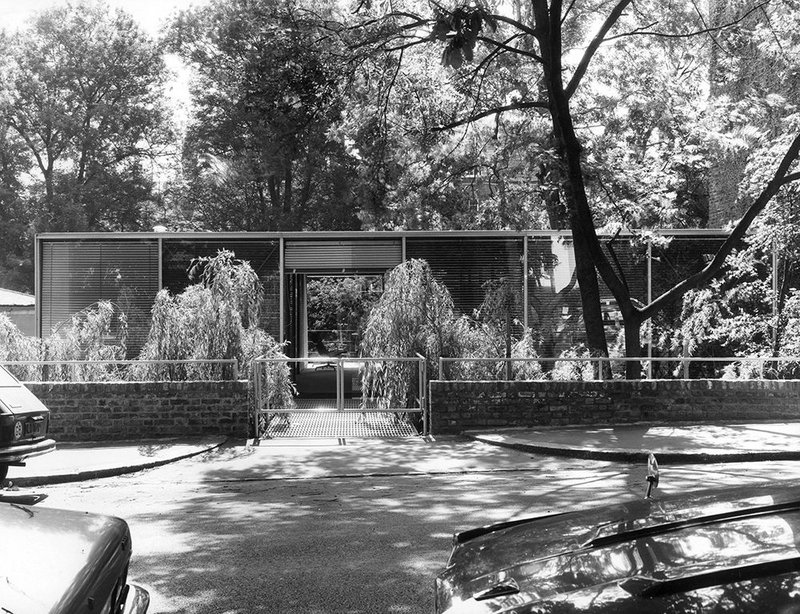 Architectural Press Archive / RIBA Library Photographs Collection. More photographs at ribapix.com
Built of steel and glass, engineered to create a simple, slender and almost impossibly light structure, this house was an opportunity for Michael Hopkins and his wife Patty to experiment with ideas they would revisit for larger commercial projects later in their careers. Designed as both a family home and an office for their newly established practice, the architects were 'fantastically influenced' by the Eames' Case Study House of 1949 which they considered exemplary. Employing industrial building materials on an intimate scale, with corrugated metal sheeting forming the side walls and huge sliding glass panels enclosing the front and rear elevations, the internal space is open and flexible with many of the functional spaces defined only by free-hanging venetian blinds.

The house, completed in 1976, occupies a verdant posi­tion in a Hampstead neighbourhood of Victorian mansions and Regency villas and it exploits the sloping site to present a sensitively unobtrusive one-storey facade to the street. Entered via a footbridge on the upper office level, the second, lower floor containing the domestic spaces is revealed below and accessed by a blue spiral staircase.