The latest editorial panel meeting took place at MawsonKerr's office in Newcastle with a number of local early-career guests. We listen to what works and doesn't - contribute your thoughts too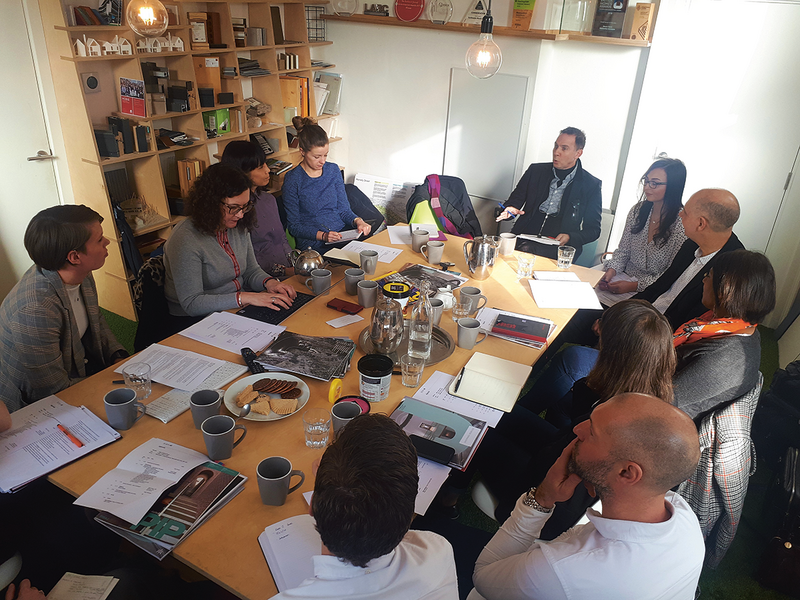 How splendid it was to jump on an LNER express at King's Cross and – with a lot of wind-generated power that day humming down the catenaries to reduce our carbon production – speed to a meeting in Newcastle on Tyne. No conventional meeting: this was hosted by that fine practice Mawson­Kerr, among whose many accolades was the RIBAJ MacEwen Award in 2019. Its studio is in Charlotte Square, a modest survival of the old city in Grainger Town, just inside the original city walls, a short walk from John Dobson's magnificent central station.
There the RIBAJ editorial panel assembled. We meet periodically to discuss what's going on at the Journal and our various associated publications and activities, online, in print and live. We receive views and suggestions as you'd expect, getting feedback on what we do. What works well, what could be improved or scrapped, what new avenues we might explore. We ask questions too. Our chair Mark Kemp, from PLACE architects in Launceston, Cornwall, is adept at taking the temperature of the profession – how business is going with the others in the room, what areas of work are expanding/contracting, how to smooth pathways into the profession.
Our chair Mark Kemp is adept at taking the temperature of the profession
It behoves us to know what the concerns of our members are. For this reason our editorial panel contains a number of practitioners from around the country as well as us editors/publishers and representatives from the Institute. Apart from being useful and engaged, they are an invigorating bunch to work with so I'm going to name them. After Mark with his Westcountry and national experience, step forward Úna Breathnach-Hifeárnain (one of our Rising Stars) of McGregor Coxall in Bristol: Grace Choi of Grace Choi Architecture, Newcastle; Yoshita Marriott of rg+p in Leicester; Chithra Marsh of Buttress in Manchester; and Natalia Maximova of Sheppard Robson's Manchester studio.
For our Newcastle meeting we were joined not only by Will Mawson and Dan Kerr of MawsonKerr but also by three of early-career guests from the region, namely Shannon Walker of GSSArchitecture, Hayley Stafford-Jones from Ryder and Jennie Webb of Medical Architecture, along with Amanda Kahn, director of RIBA North East. What, we asked, were the issues facing those entering the profession? It's not giving away any secrets to say that the work/life balance was to the fore but so too was the question of which way to progress in architecture – as a general practitioner or as a specialist?
Then there were the matters of technical competence – fire protection in particular – seriously addressing climate change, and social mobility: the burgeoning apprenticeships route into architecture is strongly supported. It wasn't just us journos listening: panel member Adrian Dobson, the RIBA's executive director of professional services, was pitching in too.
It was an invaluable real-time encounter. In February we also ran a broader online survey of members canvassing your opinions of what we do. We really want you to email us with your views, no matter how trenchant: do so at letters.ribaj@riba.org. It's good to talk.