After 14 years Hugh Pearman is stepping down as editor of the RIBA Journal, leaving a strong legacy of 'most trusted' magazine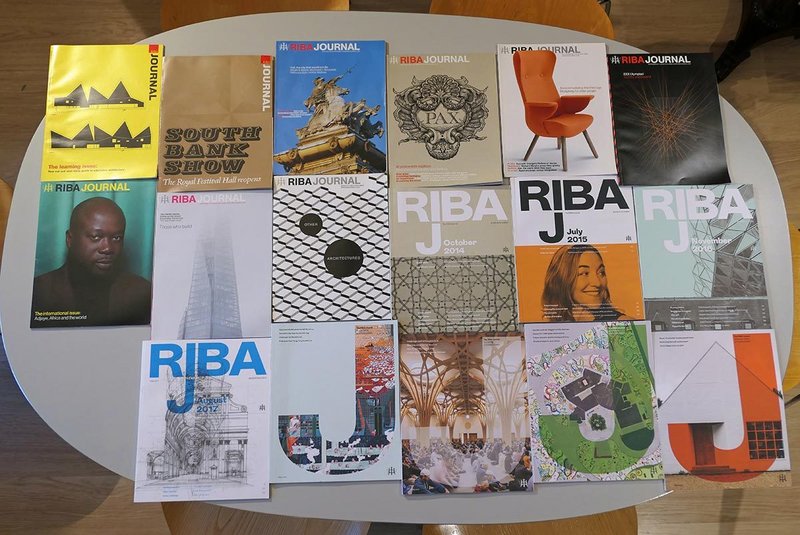 Evolution of the RIBAJ over 14 years on the Pearman kitchen table. Credit Hugh Pearman
Hugh Pearman is stepping down as editor of the RIBA Journal at the end of December 2020, after more than 14 years. As our longest serving postwar editor, he has been in charge of some 170 issues for four consecutive publishers and has overseen our transition into a multi-platform publication, updated online daily, with a strong social media presence.
Hugh has chosen officially to retire from the post but as he says, writers don't really retire any more than most architects do: he's reverting to his freelance existence which he interrupted back in September 2006 when he became editor. His last issue at the controls will be January 2021.
The RIBA Journal made a great leap forward in 2013 when – following in-depth research with groups of RIBA members nationwide – the team rethought the RIBAJ from first principles and called upon the acclaimed graphic designer Matt Willey to redesign it, working with typographer Henrik Kubel for our bespoke fonts. This imbued the printed journal with the design and production qualities that are in line with its editorial standing and our audience of visually conscious architects. Its design has continued to evolve with the popular 'big J' cover, designed by Linda Byrne, launched in January 2019.

Hugh is not cutting all his ties: he will join RIBA Journal's roster of contributors.
Over the last 14 years, the journal online has gone from strength to strength: in 2020, annual page views of RIBAJ.com are set to surpass the million mark; over 50% of its readership online is under 35. The journal is right now the most 'widely read' and 'trusted' architecture magazine in the UK (Construction Media Index Report, October 2019).
Hugh is also the founder of two significant journal initiatives: the Eye Line drawing competition and MacEwen Award. In 2012, he established Eye Line, seeking out the best architectural images internationally from practitioners and students to publish in the August issue of the journal. In 2015, Hugh introduced the MacEwen Award recognising architecture for the common good: built projects with a clear social purpose, enhancing the lives of people and communities, with an ambitious environmental agenda.
He says: 'Deciding on the right moment to go was always going to be tricky and like the rest of the world I never expected 2020 – the year I'd pencilled in – to turn out the way it has. But I am particularly impressed with the way the RIBAJ team has responded to the extraordinary challenge presented by the pandemic and how that affects not only architects, but everyone, far into the future. Having seen that through thus far – with Eleanor instrumental in shaping our coverage – it seems the right moment to hand over.'
Alan Vallance, RIBA chief executive, says: 'I would like to extend thanks to Hugh on behalf of the RIBA, staff and our members for developing a magazine that is inspirational and informed. He has steered the ship with passion and his encyclopaedic knowledge of architecture, personality and strong editorial style will be greatly missed.'
Helen Castle, RIBA publishing director, adds: 'As The Sunday Times architecture and design critic for 30 years (1986–2016), Hugh brought an authority to the publication and a distinct voice, which differentiates it from competing titles. He has created a wide-ranging, eclectic and fiercely independent magazine with a keen awareness of history. His writing is informed and conversational in tone, highly readable. He has a deep engagement with the culture of architecture and place.'
In June 2019, Hugh was awarded an MBE in the Queen's Birthday Honours list for Services to Architecture. He was made an honorary fellow of the RIBA in 2001.
It's all about continuity and stewardship, he says. 'Editing the RIBA Journal means nurturing something valuable. It had flourished in the hands of my predecessors including RIBA librarian Bobby Carter in the 1930s and 40s, social activist Malcolm MacEwen in the 1960s, Monica Pigeon and Peter Murray in the 1970s and 80s, through to Amanda Baillieu, just prior to my stint. I've been honoured to be in charge of the Journal for 11% of its lifespan since it was founded in 1893, and very fortunate in the lovely people I've worked with. Keep it up!'

From left: Eleanor Young becomes acting editor, Jan-Carlos Kucharek acting deputy editor and Isabelle Priest acting managing editor.
Taking on the mantle will be people you are familiar with, who are all set to step up into new positions. Eleanor Young will become acting editor, Jan-Carlos Kucharek acting deputy editor and Isabelle Priest acting managing editor. Hugh has undertaken to continue to write in future as one of our roster of contributors. In addition we are advertising for the new part-time role of contributing editor.
Eleanor says: 'It has been a pleasure to work with Hugh and drive development on the RIBA Journal as a team. Right from the start he has been plugged into shifts in architecture from the resurgence of brutalism and post modernism to the need to bring discussions back to social value. I look forward to expanding on the legacy of these years with an outward looking RIBA Journal full of pieces that architects can get their teeth into.'