Japan's Junya Ishigami first attracted attention with his invisible architecture; now, through exploration of landscape, memory and scale, it is the architect himself who is disappearing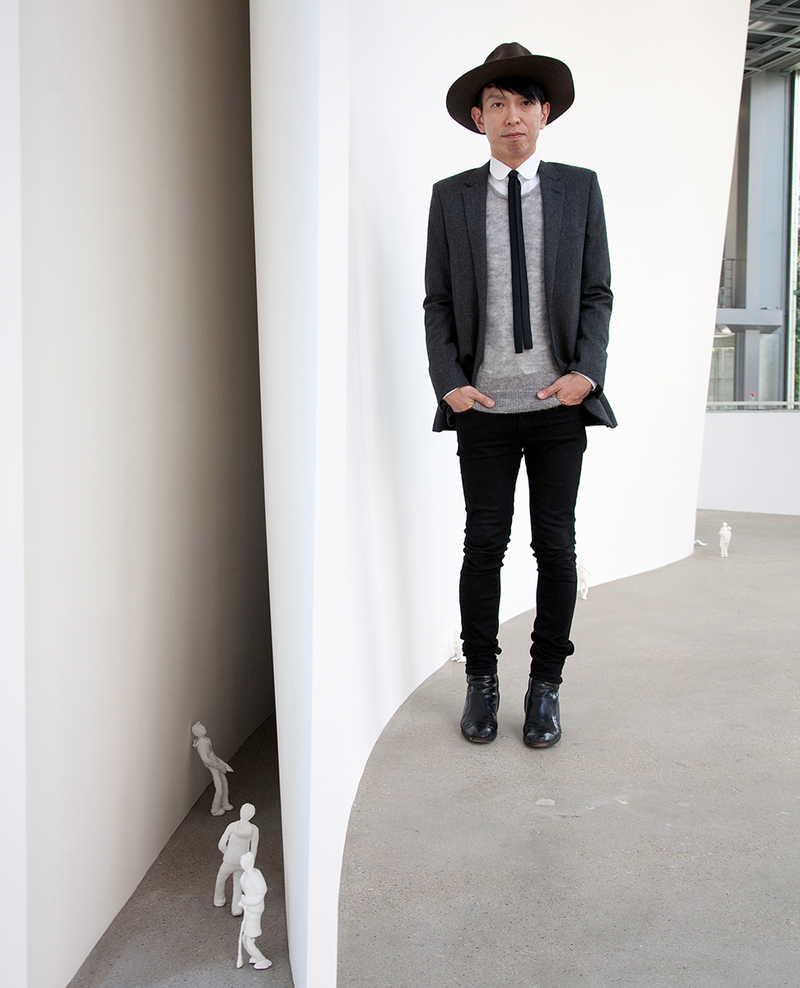 Ishigami beside the large-scale model of his 'Chapel of Valley' in Shanding, China. Tall and narrow, it is, he claims, a distillation of the valley itself.

Credit: Oliver Knight
Junya Ishigami's hat has got bigger. Back at the 2010 Venice Biennale, when he won the Golden Lion award for his installation 'Architecture as air: study for Château la Coste', to become architecture's next bright young thing, from memory he was only sporting a fedora. A delineation of space using almost invisible nylon microwires as structure, his ephemeral display was apocryphally ruined one night by a Venetian cat tramping over it.
Eight years on, at the press opening of his solo architecture show at Paris' Fondation Cartier, wearing black, skin-tight designer jeans, Cuban stacked heels and black pencil tie outside his jumper, Ishigami is the antithesis of invisible; and with a gallery chock full of built and on-site projects behind him, I sense he's not inclined to answer questions about those more diaphanous early years. He's also now wearing a wide-brimmed Stetson. Perhaps he's got his gravity-defying engineer Jun Sato to fashion a larger diameter ring beam round his old hat and disperse its felt over the wider surface area – either that, or fame is directly proportional to brim size. Looking at the model of the new Kanagawa University canopy, a single, 12mm thick, punched steel plate stretching 110m across its sunken site, I implausibly assume it's the former.
But this is how it should be. Ishigami's show, the first devoted to an architect at the Fondation, is entitled 'Freeing Architecture' and its 20 projects, like that award-winning 9.5m long, 3mm thick pancake flat metal table he designed back in 2005, revels in pushing the boundaries of implausibility. Here you'll find 1km long cultural centres on Chinese lakes, paper thin walls of concrete higher than the depth of rural gorges they're sitting in, or cast as clouds floating on Copenhagen city harbours, and a propositional piece where a reservoir reveals a manicured landscape as water levels change.
Ishigami has a very un-Japanese demeanour, with all the politeness but none of the deference. As he conducts his walkthrough with me a translator is there but he has no need of her; that instilled cultural fear of getting it wrong is not present in him. If he can't think of the right word or phrase he plucks out another, without breaking his train of thought. This shouldn't come as a surprise; ­Ishigami has come a long way since his four years at SANAA, the spatial fascinations of that global practice now sublimated into his own material and conceptual ones. He may have started with invisible installations or a one tonne aluminium balloon the size of a supertanker's prow floating ethereally in a Tokyo art gallery, but he now has projects all over the world and is a visiting professor at Columbia and Harvard; the confidence is thus a given. It also takes its toll – balancing all that with running a busy office must be tiring – and at 44, he's not as fresh-faced as I was expecting. With normal work hours reportedly running from 10am to midnight (that fits with the level of industry evident at this show), he looks as old as his overworked young interns must feel.
And what becomes rapidly evident from looking at the work is that it is not about 'style'. Despite his professed admiration of Corb and Mies, there's very little formally that connects any of his projects; his response seems more contextual and instinctive. 'We live in a hyper-connected world and it's easy to go anywhere so I think the role for architecture is to create something specific to the client, the site and the culture in which it is placed – and I think that demands a "freer" mode of thinking from architects,' he explains, justifying the title of the show.
Other architects might come out with a similar assertion, but what seems different, and arguably uniquely embedded in Japanese culture, is the traditional symbiotic relationship of its architecture to the landscape in which it sits, of its Zen-like consideration of 'nothingness', of its acknowledgement of temporality. What other culture could justify the logic of destroying and rebuilding its temples every 20 years; that structure can, and sometimes should, be 'removed'? Yet all that is present here. 'For me it's very important that a building should integrate with its environment, to activate and maximise the potential of its context,' Ishigami tells me. 'Some structures and buildings should be as transparent, or as heavy, as the landscape in which they are placed; so I want to embody the nature of that spirit in my designs.'
It expresses a more rounded thinking that seemed absent from the gravity-defying thrall of his first installations. He admits evident levity in the 60m high 'Cloud Arch' in Sydney and lightness to the wilful 'House of Peace', his concrete cloud seemingly floating in Copenhagen harbour for the Danish NGO HOPE. These projects might accord more with his earlier studies, but there's another dimension to his recent output that gives form to the notion of weight as much as lightness.
In this territory you'll find a 2012 competition win: the 40,000m2 Moscow Polytechnic Museum, restored above ground but now perched on revealed 19th century foundations at the end of a long, landscaped descending ramp, to create a new subterranean world of gallery space dug out from the voids between footings. Their onerous density and weight counterpoint the delicate caprice of his 2008 Kanagawa University KAIT workshop of random columns, forming copses and clearings, like Moscow, for users to appropriate as they wish. Or the polarised scales of the concrete 'Chapel of Valley' in Shandong, China. 'I want to make the same kind of space as the valley feels,' says Ishigami. 'It's just 130m² and 1.3m wide at the entrance but it's 45m high so feels tall, dark and narrow – it's like a more extreme valley.' Even the construction method oddly suits the context, the slip-form technique used to build dams.
But there's also that consideration of the landscape – so as to not to unduly interfere with it but still making evident the intervention of the architect. So at the Park Groot Vijversburg with Studio Maks, 'the plan was defined by enclosing the existing park path to create the new glass building but so it just disappears'. This, he says, helps you read the park in a new way, adding 'It's the same old route, it's just been re-framed.' Likewise, at his Botanical Farm Garden Art Biotop in Tochigi prefecture in Japan, in order to develop a hotel site, Ishigami has, Macbeth-like, moved a wood to an adjacent meadow and re-contoured the whole to create a new, constructed wetland landscape of islets with a tree on each. Building on his earlier concept, these telly-tubby hillocks will appear and disappear as water levels change. 'Originally the site was a forest, then paddy fields and now it's a meadow,' he explains 'So I wanted to superimpose the three histories on the one site to reflect all of its pasts. The environment's history is important to me.'
Maybe so, but in the dramatic outcrops of Dali in Yunnan province near Tibet, it seems Ishigami's wrestling with his own conflicted response to the potential destruction of its landscape through over-development. In his eight villas aside a stream, the indigenous megaliths found in the area form the structure for the 300m long villas' over-sailing roof, with all the living areas consigned to spaces between the found boulders. 'I want to keep the real landscape protected inside the building as outside it will inevitably change,' he says, resigned; but in doing so he creates designer homes that, behind their formed glass walls, will be as a museum or nature reserve – perversely frozen in vitro while the inevitable happens outside. It's like an architectural reading of Wilde's Dorian Gray.
But it's when Ishigami engages with memory and the passage of time that his work verges on the sublime; when the logic by default leads him to cancel himself out of the design equation altogether. His Noël house and restaurant in Yamaguchi prefecture, for the famous chef who in 2008 commissioned Ishigami's ultra-thin tables for his French restaurant, responds directly to the client's desire for a modern space bearing the hallmark of age, 'wanting it to feel like a wine cellar, but in a modern, architectural way.' The result is a structure where the earth acted as a mould for his concrete pour before the interstitial soil was dug away to reveal his strange, cave-like form. Encrusted in the ground it was cast from, it bears the imprint of time in a way no new material ever could, Ishigami feels: 'Natural age is more real than any architectural phenomenon (simulacrum?), and over time and use, this too will be worn away'.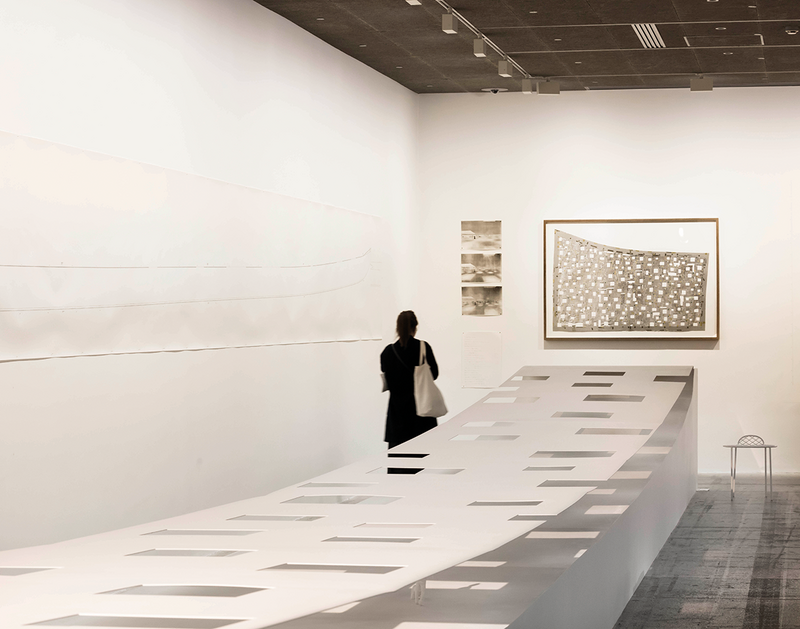 A huge, thin steel shade stretches out to create the Multipurpose Plaza at Kanagawa University.

Credit: Luc Boegly
Most affecting, though visually the least arresting, of his projects is a dementia care home in Japan. For Ishigami, who's also designing a new family home on the site of his grandmother's house fuelled by his own childhood remembrance, the power of memory is everything. Thinking laterally, and aware that the common tatami mat module would facilitate their easy linking, he proposed assembling 40 houses marked for demolition from all over Japan at the Tohoku site. The aim was to create an inter-connected complex of small buildings with old materials, carpentry and techniques, whose spaces would act as a form of mnemonic device for its elderly users; familiar rather than institutional. It's a shame the project has been mothballed, but Ishigami seems sanguine: 'The idea of old things and accepting their value and relevance to new architecture is part of what I mean by "freeing it"; that it can be repurposed.'
Conceptually, that's what he's attempting at his grandmother's house, where encroaching development has eroded the purity of his childhood memory. Here, a grand curved timber roof sweeps down dramatically to face the south garden, its eaves just 1.2m above a lawn that stretches up away from it, a single line of low glass keeping the eye trained on this patch of garden and not the changes around it. It's of no matter to Ishigami that the window is totally unsuited for adults viewing without stooping; the play on scale is integral to the design. The position we're being asked to adopt is one from our past, when 'a table to an adult is a building to a child.'
You might bear that analogy in mind if visiting Ishigami's future Multipurpose Plaza at Kanagawa University, its students' heads protected from stray baseballs from the nearby training ground by his 7,700m² column-free, wafer-thin steel plate roof. 'The building is conceived as a megastructure but despite its size it adopts a domestic scale – about 3m in height,' he says, before inserting one critical detail. 'The soffit actually changes according to the climate. On summer days when the steel expands, it will drop to around 2.3m,' he adds excitedly. 'Really?' I reply, alarmed, trying to visualise a slump that large in something that heavy, that's that close. No wonder he wears a hat.